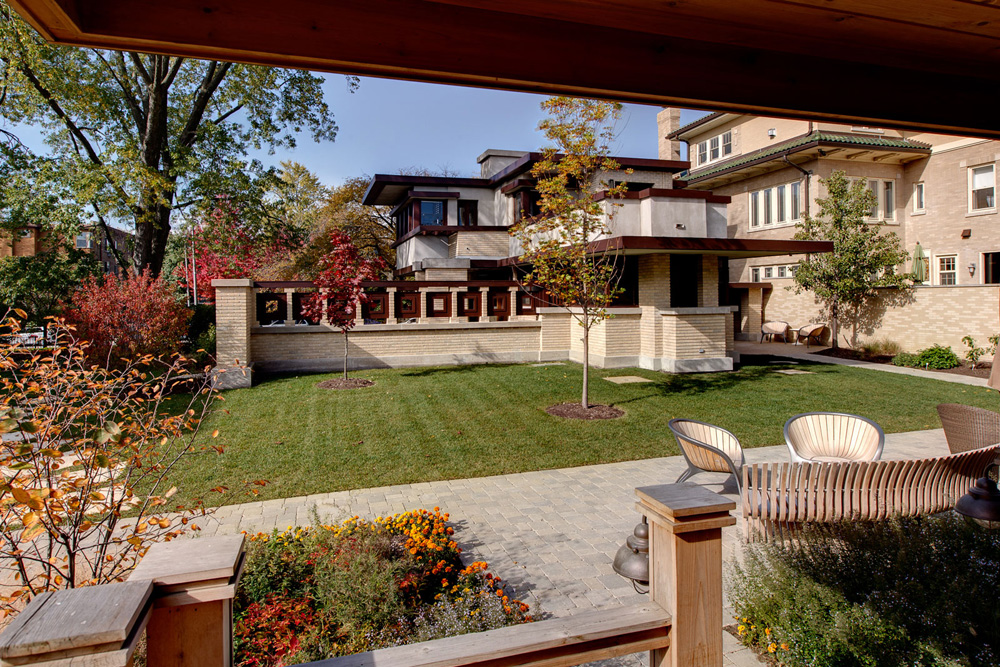 When choosing a place to stay in Chicago, there's always an array of unique choices—from Airbnb rentals to splashy new hotels, the city's vast accommodation options don't disappoint. For architectural fans and for those looking to explore Chicago's neighborhoods, there's an opportunity to stay in a home designed by acclaimed architect Frank Lloyd Wright. On Chicago's Far North Side, in the Rogers Park neighborhood, the Emil Bach house at 7415 N. Sheridan Road, gives travelers the opportunity to enjoy a unique experience, especially since it's the only Frank Lloyd Wright home in the city taking vacation reservations.
Built in 1915, for Emil Bach and his wife Anna—the home was named a Chicago Landmark on September 28, 1977, and added to the U.S. National Register of Historic Places on January 23, 1979. Staying at a luxury rental with this much history doesn't come cheap. The current going rate for one night is $1,495 per night, but keep watch because there are specials you can take advantage of. The house can accommodate five people under the same reservation. On the second floor, there are two guest bedrooms, one with a king bed and the other with a queen. There is also a study with a trundle bed to accommodate an additional guest.
Besides having the opportunity to stay in a landmark of one of America's most acclaimed architects, guests can enjoy a home with modern amenities including a fully functional kitchen, luxury guest rooms with plush bedding, and essentials like WIFI and Flat screen cable TV (but with a city to explore, you may not even need it!). Just a few feet from the main house lies the Japanese Tea House and Gardens—perfect for entertaining a handful of guests, up to 100.
If you don't have the budget for an overnight stay, check out their tours—enjoy 45 minutes of a Guided Interior Tour and learn everything you need to know about the Prairie style home. Tickets are $12 for adults, $10 for students and seniors (65+) as well as active military.
For history buffs and travelers looking for a unique Chicago experience, we suggest booking the Emil Bach House. For reservations, call 773-654-3959 and for more information, visit emilbachhouse.com.