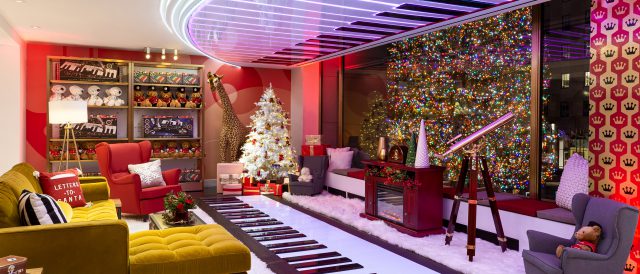 Are you looking for a little holiday magic this season? This FAO Schwarz Airbnb listing will let one New York City family experience the magic of the iconic toy store for one night only. The special promotion will allow a family of four to stay at the two-story 20,000-square-foot retailer on the night of December 21st for just $25.
The guest will experience a private tour of the store by a real FAO Schwarz toy soldier (albeit six feet about with masks on, of course), a shopping spree, a luxurious feast, as well as a music lesson on the iconic piano that was featured in the 1988 film "Big" with Tom Hanks. Adult guests will comfortably sleep in a whimsically-designed sleigh bed, while the kids sleep in bunk beds with a slide.
The booking experience will follow strict COVID-19 guidelines, and guests must prove that they reside in New York City and are a part of the same family. If interested in this experience, request to book on December 15th at 12 p.m. EST at airbnb.com/happyholidays.
For those looking for magical holiday experiences, Airbnb is hosting a slew of online experiences that guests can enjoy no matter where they live. Some of the experiences include a magic lesson hosted by FAO Schwarz Professor Abracadabra, a crash-course in slime making by FAO Schwarz Professor Atlas, and a book reading by a FAO Schwarz toy soldier. These experiences can be booked starting on December 9th at noon EST.