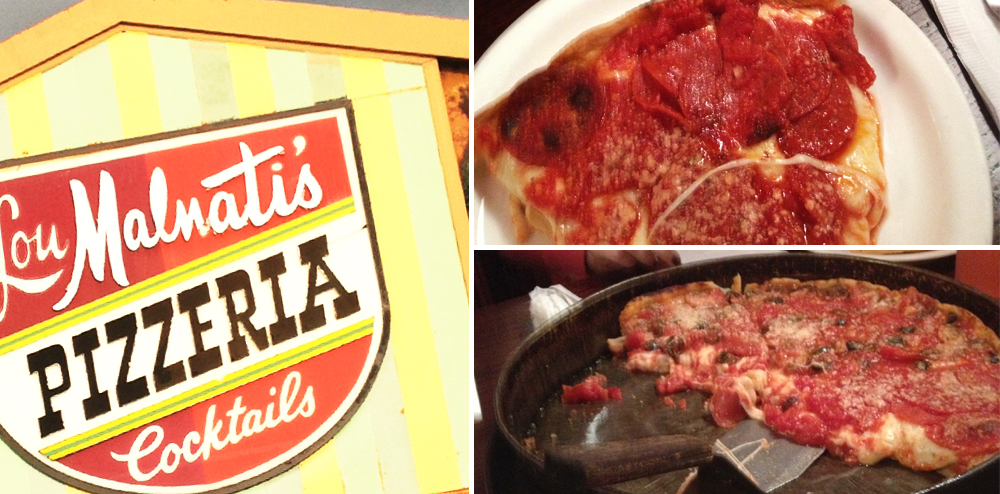 You might think that Chicago pizza is all about the deep dish, but these best pizza restaurants in Chicago will open up your eyes to one-of-a-kind pizza styles…you might find a new favorite!
1. PIECE BREWERY AND PIZZERIA
www.piecechicago.com | 1927 W. North Ave., Chicago | 773-772-4422
When it first opened, I could not stop hearing all the buzz about this great place in Bucktown, so my wife and I just had to try it. And, as I expected, it was as great as the buzz. You can pick a white (plain crust brushed with olive oil, diced garlic, and mozzarella cheese) or red pizza (traditional tomato sauce and mozzarella pizza) and your favorite toppings. Its perfect thin crust and not so perfect circular shape will make this a great dining experience for that homemade feel. Another specialty at Piece is the small batches of hand-crafted brews right behind the bar serving several barrels of award-winning beers.
2. LOU MALNATI'S
www.loumalnatis.com | Several locations in Chicago | 1-800-LOU-TO-GO

Lou Malnati's is one of Chicago's top restaurants for deep dish pizza! It's a cheesy dish with all of your favorite ingredients, and you can't deny the fantastic taste of the crust. While you wait about 30 to 45 minutes for it to cook, you must try the Malnati Salad (Romaine lettuce, tomatoes, black olives, mushrooms, crumbled Volpi salami, and gorgonzola cheese with their sweet vinaigrette and romano cheese). I am not personally a fan of salads, but this one will make you think twice. Even my picky kids love it.
3. BRICKS CHICAGO
www.brickschicago.com | 1909 N. Lincoln Ave., Chicago | 312-255-0851
If you are new to Lincoln Park or just looking for a place after a walk at the Lincoln Park Zoo, this is the one! This place can be a bit of a trick to find—a small entrance to a basement is the gateway to Brick's Pizza. With excellent beer and very creative pizza names on the menu, this is an experience for any day of the week. Their pizza is hand-tossed and full of your favorite ingredients.
4. GINO'S EAST
www.ginoseast.com | 162 E. Superior St., Chicago | 312-266-3337 (other locations)
If you feel like leaving your mark on Chicago before you head home, check out Gino's East! I think it's the only place in the city that you can write on the walls if you find any space left. Can't say no to this place for deep dish pizza filled with flavor, so filling you might feel that one slice is good enough.
5. PIZZERIA UNO
www.unos.com | 162 E. Superior St., Chicago | 312-266-3337 (other locations)
This tiny place on Superior St. that usually has a long line of people waiting outside can only mean one thing—what you are about to eat is good. Don't get upset thinking that you will be waiting a long time outdoors. You can check-in and start your order with them, and when you sit down, your order comes right out of the oven. And remember, a deep dish generally takes about 30 to 45 minutes to cook.
This is our list of the best Chicago pizza restaurants! If we are missing your favorite, send us a tweet!
While you are in Chicago, check out 10 things everyone has to do. There's so much to experience in summer as well as winter! Also, free is always good so don't miss Chicago museum free days. Some of our favorite immersive museums to visit besides the Shedd Aquarium, Museum of Contemporary Art and the Art Institute include the wndr Museum, and Hebru Brantley's Nevermore Park in Pilsen.