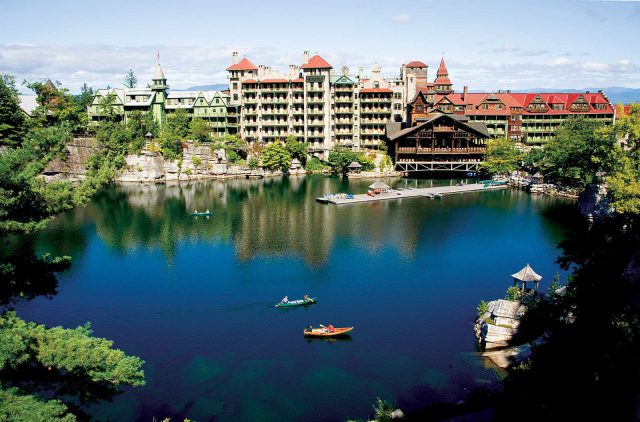 When we started watching Amazon Prime's Upload—a 10-part series that began streaming on May 1st—we couldn't get the afterlife scenes out of our mind. We thought it could be a movie set or plain old movie magic, but were ecstatic when we found out it actually exists! The afterlife hotel is known as "Lakeview" is actually Mohonk Mountain House in Ulster County, New York.
"The Mohonk Mountain House is a national treasure so it's not surprising that productions want to film there," Laurent Rejto, director of the film commission, said in a statement. "It's as idyllic and picturesque on the screen as it is in real life."
If you haven't seen the show yet, the trailer for "Upload" features several shots of the Mohonk Mountain House. The house was founded by the Smiley Family in 1869 and is nestled in the Hudson Valley surrounded by 40,000 acres of forest, making it a true bucket-list destination. The Victorian castle resort is around 90 minutes from the hustle and bustle of New York City.
Who says the digital afterlife can't be dreamy?