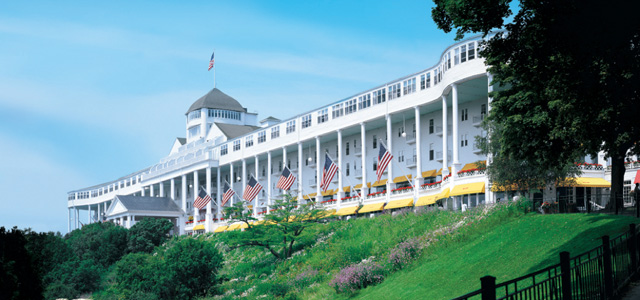 The Grand Hotel is America's summer place for a nostalgic and unique getaway. The historical landmark is a destination for celebrities, political leaders, couples, and families, many making it a tradition to return year after year. Accessible only by ferry or plane, the island offers respite against the hustle and bustle of city life. Like a step back in time, the only forms of transportation are horse-drawn carriages, bicycles, and walking.
As its name suggests, nothing about the Grand is mediocre. Guests have the option of various accommodations from the 385 rooms, where none are decorated the same and some have been named after famous personalities, along with multiple packages to chose from including horseback riding, golf, spa, and sightseeing. Wind down from a day of activities by basking in the panoramic views of the Straits of Mackinac and beautifully manicured gardens from the longest porch in the world, by poolside, or over an elegant dinner in the hotel's main dining room. As part of the experience, evening wear is required in all areas of the hotel after 6:30 p.m., so remember to dress up.
Dining at the Grand Hotel is the highlight of every guest's experience. Exceptional food, service, and ambiance, make each meal an event designed to tantalize your taste buds. Whether you prefer a five-course dinner at the swanky Main Dining Room—which overlooks the Straits of Mackinac, or the more casual The Gate House, there are a variety of dining options available for every palate. Health-conscious guests are free to indulge in any of the Grand's seven restaurants; as part of the hotel's Live Healthy Live Grand program, healthy menu choices created by Grand Hotel Executive Chef Hans Burtscher are available throughout the hotel.
There is so much to enjoy at the hotel and on the Island, you will want to come back again and again. Plan your next weekend vacation at the beautiful Grand Hotel on Mackinac Island and begin your own tradition, adding new experiences every year.