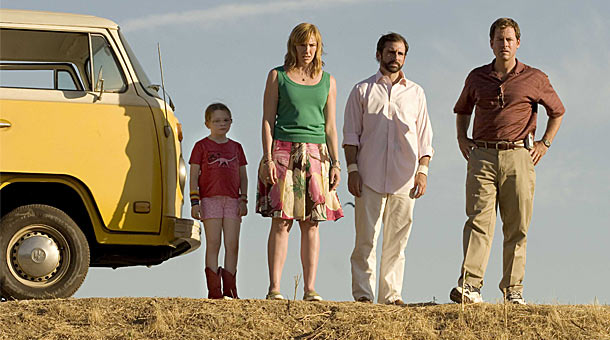 Hollywood is the perfect place to get travel inspiration—from wine-infused trips like Sideways to family adventure with National Lampoon's Vacation, Hollywood is chock-full of vacay inspo. Here are a few of our favorite films to inspire our next getaway.
Nothing like a storyline that includes guzzling loads of wine in the sunny Santa Barbara countryside as we venture into middle age, just like in the movie "Sideways" (2004). Spend your weekend like Miles (Paul Giamatti) and Jack (Thomas Hayden Church) as they drive up the California coast between San Luis Obispo and Santa Barbara, stopping at local wineries along the way.
Vacation like the Griswold family did in "National Lampoon's Vacation" (1983) by taking on an all-American classic road trip. As you blast "Holiday Road," make sure to visit the real-life national parks that they did: Death Valley and Grand Canyon.
One of the most memorable road trip movies of all time has to be "Thelma and Louise." For your own outlaw experience (minus the murder), stop at the filming locations with this handy guide as you travel. They met up with Brad Pitt at the Vagabond Inn in downtown L.A. Other iconic spots include Moab, Utah, Arches National Park, Canyonlands National Park, and Monument Valley.
Looking to take an adventurous road trip with your best girlfriend? Don't do it without scoping out this list of the best female road trip movies. Whether you're inspired by Britney Spears's 2002 movie "Crossroads" (guilty pleasure!) or Reese Witherspoon's 2014 movie "Wild," find some travel inspiration for your next adventure sans your guy.
The iconic Route 66 road trip from Chicago to Los Angeles has been featured in some of the best Hollywood films. Here are a few: "Grapes of Wrath" (1940), "Thelma & Louise" (1991) and "Little Miss Sunshine" (2006). Enjoy 2,448 miles, eight states and three time zones, plus lots of bragging rights for doing a road trip that everyone's nostalgic about.
Still can't decide? That's OK! Metacritic has ranked the 30 best road movies of the past 30 years. Surely you can gain some inspiration from this list. No genre has been left out, so you'll find everything including horror, sci-fi, comedy, crime, adventure, drama, and Western.