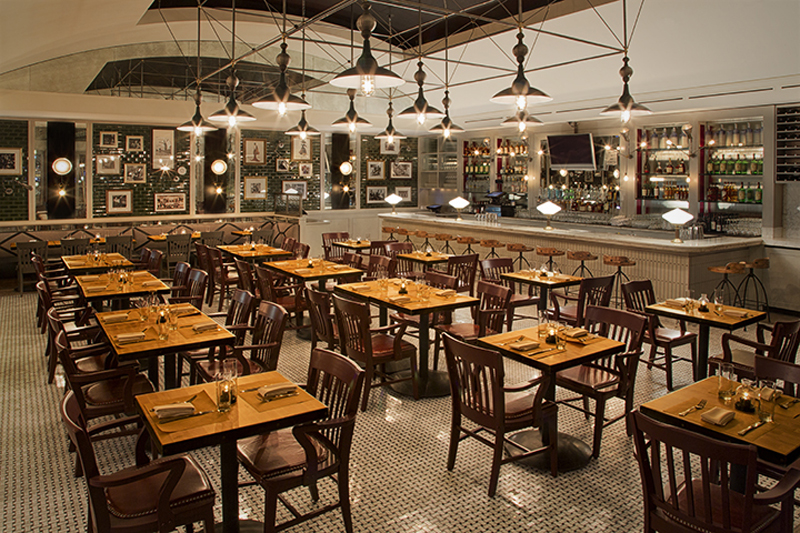 Gambling can bring on cravings for comfort food, and we know just the spot in Vegas to score some superior tuna melts. New to Mandalay Bay, Citizens Kitchen & Bar prides itself on "real food" for "real people." (Just check out the tagline!)
The bright, bustling spot has the feel of a high-end diner. The interior is decked with vintage-style lamps, tiled floors, and gleaming counters filled with overstuffed sandwiches. On the night we were there, other customers included cute kids doodling away, so parents and aunties take note: this is a family-friendly spot.
If you're watching your Weight Watchers points, steer clear of this spot. There's an extravagant number of lethally tempting eats. Our picks? The piled-high French dip sandwich, made with thin-sliced prime rib, and the adorably retro Turkey TV dinner, which comes slathered in gravy. But no matter what you do, do not miss out on the Mahi Mahi tacos. Stuffed with guacamole, slaw, and chipotle aioli, these fishy bites are still swimming through our minds.
The spot is open every day for breakfast, lunch, and dinner, and if you do have wee ones in tow, take them to the hotels' Shark Reef afterward. Still have an appetite? The Light Group (which also backs Citizens) is about to open a brand new spot, Kumi Japanese Restaurant + Bar, at the hotel.
If you have cravings for comfort food in Vegas, definitely try Citizens Kitchen & Bar. For more information, please visit www.mandalaybay.com