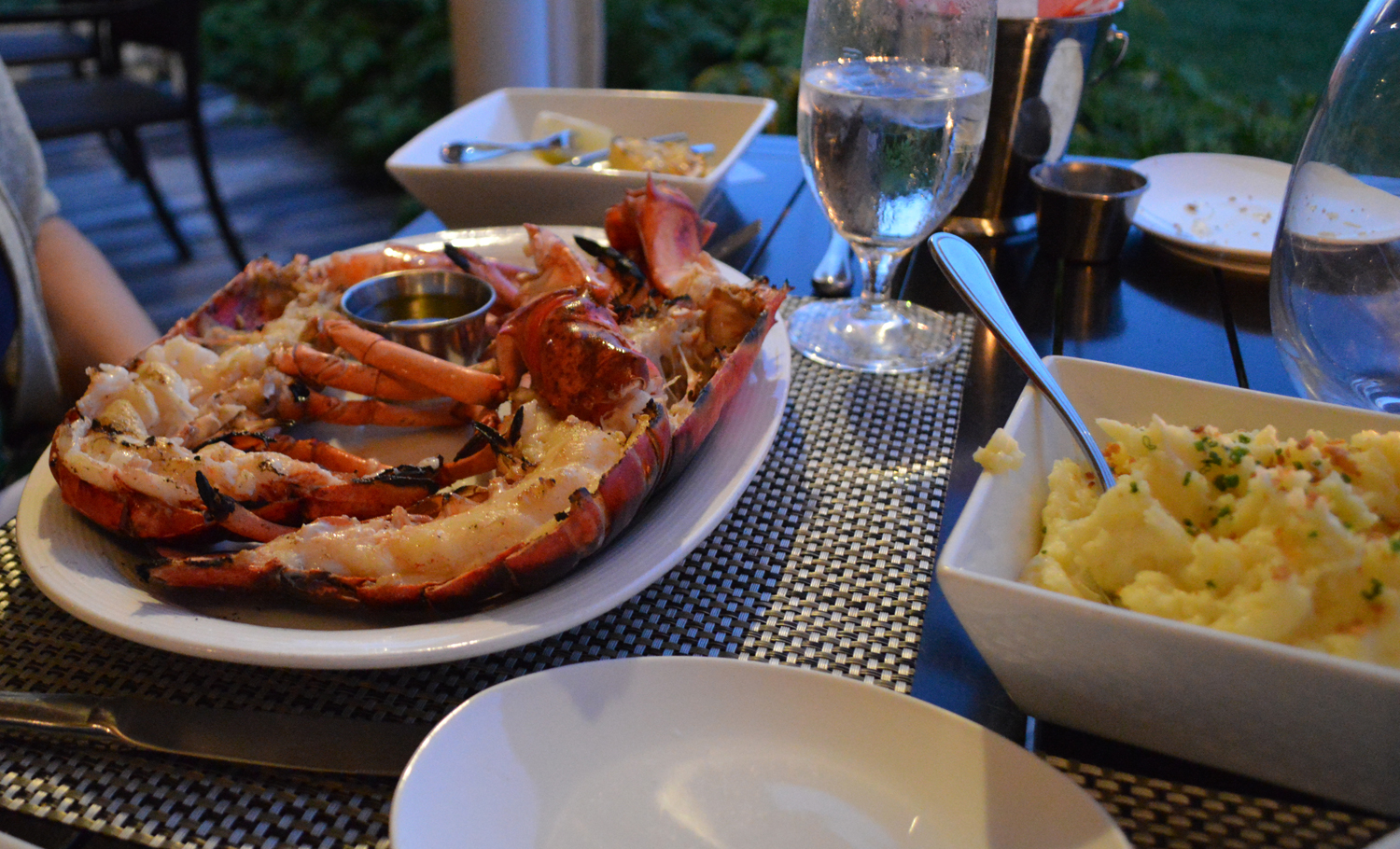 Nantucket, Massachusetts, is the ultimate all-American destination. This tiny island off of Cape Cod is one of our favorite summer locales with beautiful beaches, gorgeous cedar-shingled homes surrounded by colorful hydrangeas, and cobblestone streets. One of our favorite things about this destination is undoubtedly the food, and these are just a few of our favorite eateries not to miss.
Brant Point Grill
Located onsite at The White Elephant hotel, The Brant Point lounge was our go-to place for relaxing meals overlooking the harbor. For breakfast, we enjoyed fresh berries, and staples like omelets and waffles. However, we couldn't help but notice one breakfast item. For those feeling decadent, opt for the Billionaire's Benedict consisting of the finest ingredients —Champagne Poached Eggs, Two 4 oz. Filet Mignon, Lobster Claw, Sturgeon Caviar, Crème Fraiche, Potato Pancake, English Muffin. For dinner, start off with 2 Dz Oysters with Cherry Tarragon Mignonette and a Nantucket crab cake and indulge in a 2 lb. Lobster for your main course, or Confit of Duck and Foie Gras Bolognaise with Shredded Confit Leg, Foie Gras and Orange Tour Chon, Forest Mushroom, Rigatoni. Whether you dine for breakfast, lunch or dinner, taking in those harbor views will make you want to stay for hours.
Address: 50 Easton Street | www.whiteelephanthotel.com/restaurant
Sayle's Seafood
Always one to find out where the locals go and really wanting some great seafood, we heard Sayle's was the place to go for tourists and locals alike. The restaurant is very casual and you can eat onsite or take back to your rental or hotel. We say go for the lobster dinner, served with clam chowder, corn on the cob, steamed red potatoes and coleslaw. Other favorites were the lobster bisque, fresh bay scallops and crab cake.
Address: 99 Washington Street | www.saylesseafood.com
Corázon del Mar
If you're looking for exotic fare, check out Corázon de Mar. To start, make sure to get something from their ceviches and raw bar like the local lobster & shrimp ceviche tostada or the mini local yellow fin tuna tacos. For the main dish, we loved the Catalonian Seafood Fideo —scallops, littlenecks, Spanish chorizo, English peas, and saffron-lobster vermicelli. Trio of Tecate Battered Baja Fish Tacos with pickled carrots, chipotle mayo, avocado salsa, midnight beans and red rice was another hit. Don't miss out on the cocktails of the casa like the Hibiscus Margarita—el jimador blanco + hibiscus + fresh lime + chili salt, Corazón del Diablo—svedka citron vodka + mango juice~chili infusion and the Holly Golightly—herradura antiguo blanco + cucumber + fresh lime + agave nectar.
Address: 21 South Water Street | www.corazonnantucket.com
The Juice Bar Homemade Ice Cream
Forget about the usual line that you will see in this place in a hot summer day the wait is worth it. I can still remember the cherry ice cream with real cherries in a waffle cone.
A Few More Recommendations:
Oran Mor | 2 S. Beach St., Nantucket, MA