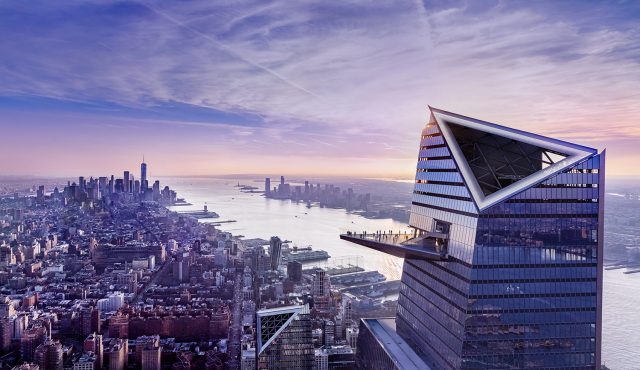 Seeing a city from a higher vantage point is always on our to-do list when visiting a new destination. In Dubai, it's the Burj Khalifa, in Los Angeles, the Skyslide, a 45-foot slide 1,000 feet above, and in Chicago, we have the Hancock Observation Deck and the Ledge, where brave tourists step outside 1,353 feet in the air, extended 4.3 feet from the Skydeck. Now New York City has unveiled Edge at Hudson Yards, giving people a unique viewpoint of the city. It's located in Hudson Yards, near the High Line, shopping and restaurants and 14 acres of public plazas.
Guests will start their experience with a 52-second elevator ride. The Edge is 1,131 feet up and is billed as the highest outdoor observation deck in the Western Hemisphere at 7,500 square feet. What's unique is the outdoor deck extends 80 feet out from the 100th floor giving guests a whole new look at the city. Not only will guests get a 360-degree look at New York City's skyline, but also take in 80 miles of New Jersey and New York State.
A champagne bar perfect for toasting special occasions is located on the 101st floor and a restaurant, bar and event space dubbed Peak from Hospitality Group RHC are expected to open.

Edge will open to the public on March 11th. Guests can expect the Edge to be open 365 days a year from 8 a.m. to midnight. Tickets can be purchased at edgenyc.com or at the box office for $36 for adults and $31 for children or $34 for New York City residents.