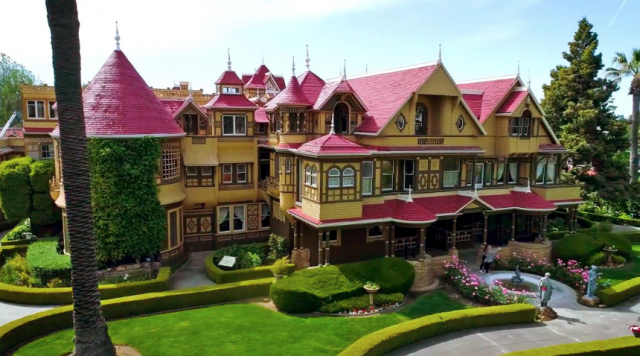 Winchester Mystery House is currently closed to the public because of COVID-19, but if you're interested in taking a tour, it can be done virtually. The mansion—which is a California historical landmark and on the National Register of Historic Places—is located in San Jose, California, and was formerly owned by Sarah Winchester, the widow of firearm magnate William Wirt Winchester.

Sarah Winchester inherited millions after her husband died of pulmonary tuberculosis. She was told by a medium that she should move west and build a house not only for herself but also for the people that died because of Winchester rifles. Contractors worked day and night on the mansion and it was continually built between 1884 and 1922. This is the reason why the house has many odd features such as stairs and doors that go nowhere and windows that overlook other rooms. It was believed that these oddities would confuse the spirits that lived in the house.

"For nearly 100 years, passionate caretakers and skilled craftsmen have looked after Sarah's mansion and offered informative tours in order to share her amazing story. We depend on our guests to help us continue her legacy and keep the history and intrigue of the house alive," said Walter Magnuson, Winchester Mystery House General Manager. "We understand that these are uncertain times, but we hope you will consider supporting Winchester Mystery House by purchasing a voucher for a future visit, so we can continue to share this remarkable Estate and history with generations to come." This also allows them to continue to pay those that upkeep the mansion. The voucher costs $26 (a $13 discount from the box office) and it can be used until May 1, 2021.

The 40-minute online tour guides guests through the historical mansion and takes you through a variety of rooms like the carriage house, Sarah Winchester's main bedroom, the séance room, as well as the North and South conservatories. If your kids love history (and haunted mansions), we highly recommend it.

Keep up-to-date with news on their Facebook page, including walk-through updates of the estate.