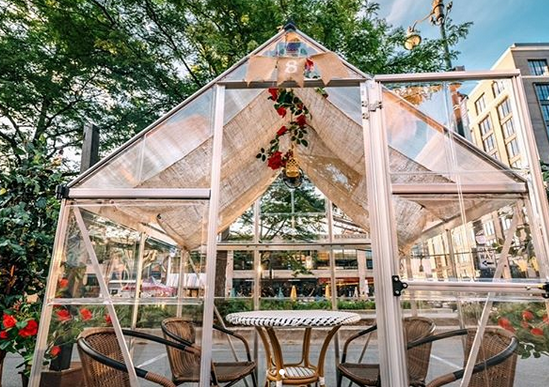 It's safe to say that the coronavirus pandemic has forced restaurants to get creative. Taking a cue from Amsterdam, Chicago's own The Darling (905 W Randolph St.) in the West Loop has the perfect socially distancing greenhouses.
The Darling, situated in the West Loop, has taken full advantage of Randolph Street closures with charming little greenhouses for your intimate dinner party. Featured in the Rose Garden, the ten outdoor greenhouses can each accommodate two to four guests. After each reservation, guests can feel confident that this is safe as each greenhouse is completely sanitized. Also, guests can see the menu online, making for a contactless experience.
Highlights on the menu include the J.P. Graziano's X The Darling Sandwich featuring smoked salmon, basil, caper cream cheese, English cucumbers, and red onions arugula, and J.P. Graziano's truffle vinaigrette on a D'Amato's sesame roll. The short rib stuffed beignets with peanut dipping sauce and the traditional British sausage rolls served with a delicious rosemary aioli also can't be missed.
The cocktails are also something special. We suggest the Fox and the Hound, which features bourbon whisky, barsol pisco, plum puree, apple cider, lime juice, and a pinch of cinnamon and salt. The Darling Buds of May is another hit that features passion fruit puree, apple cider, agave syrup, and basil. Scroll down for images to see why these cocktails are major standouts (almost too pretty to drink, if you ask us!).
The Rose Garden is open from Friday to Sunday. Reservations are required as well as a $10 deposit per person.