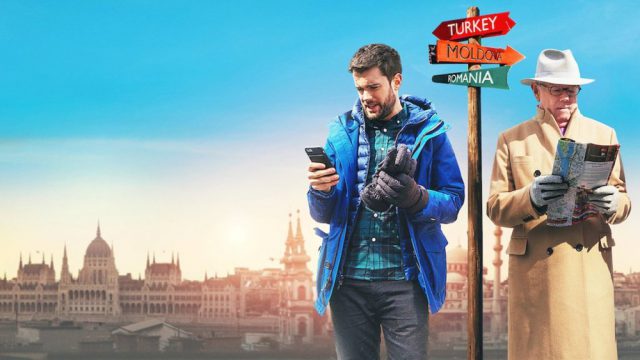 One of the biggest reasons why we travel is to experience new cultures and destinations. While travel is shutting down across the world due to COVID-19, escaping, planning bucket lists, and living vicariously through others is what we have to fulfill our travel dreams at the moment. Here are the travel shows we are binge-watching on Netflix right now. Whether they are culinary-focused or show off multi-generational inspirational travel (with humor, of course!), this is how we are passing the time to get inspired for when we can get back to doing what we love—which is travel the world.
Jack Whitehall: Travels With My Father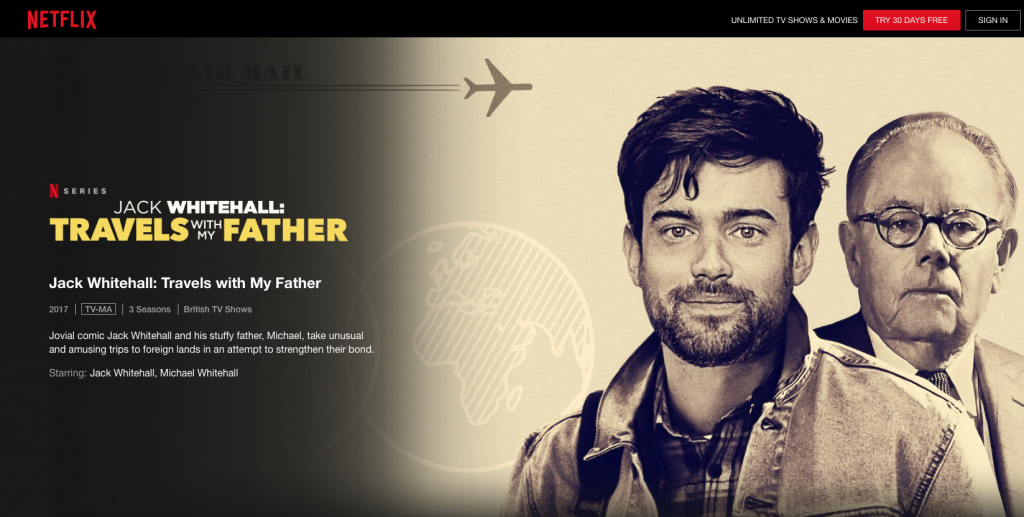 Are you looking for some comic relief? Jack Whitehall: Travels With My Father is helping us through the tough times. Comedian Jack Whitehall takes his conservative father, Michael on trips around the world as they try to strengthen their father/son relationship.
The Deets: 3 seasons, 13 episodes
Stay Here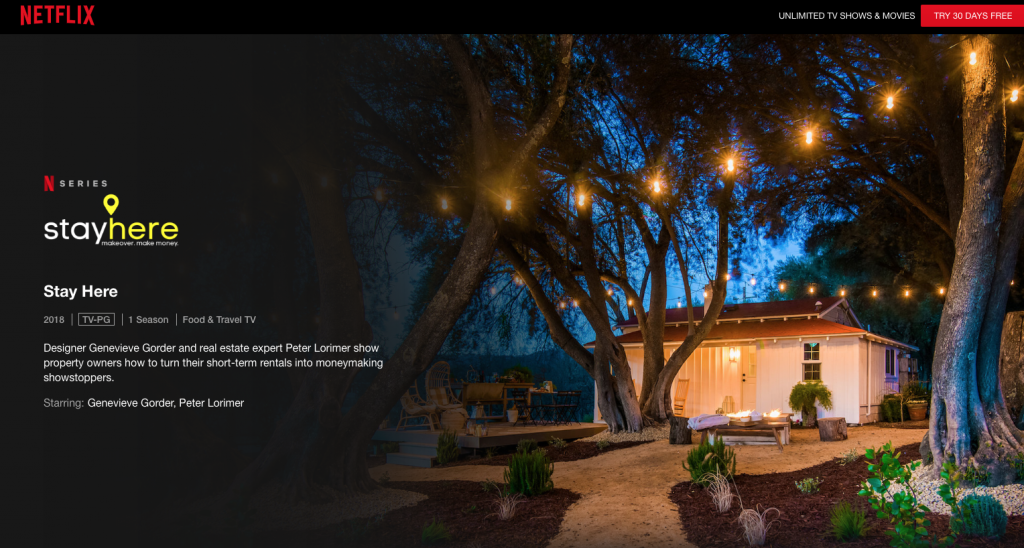 Stay Here follows interior designer Genevieve Gorder and real estate expert Peter Lorimer as they teach the world how to turn their properties into short-term rentals for the likes of Airbnb and VRBO. With spending more time at home, we can get inspiration to take our home projects to the next level and rent out our spaces when this is over.
The Deets: 1 season, 8 episodes
Ugly Delicious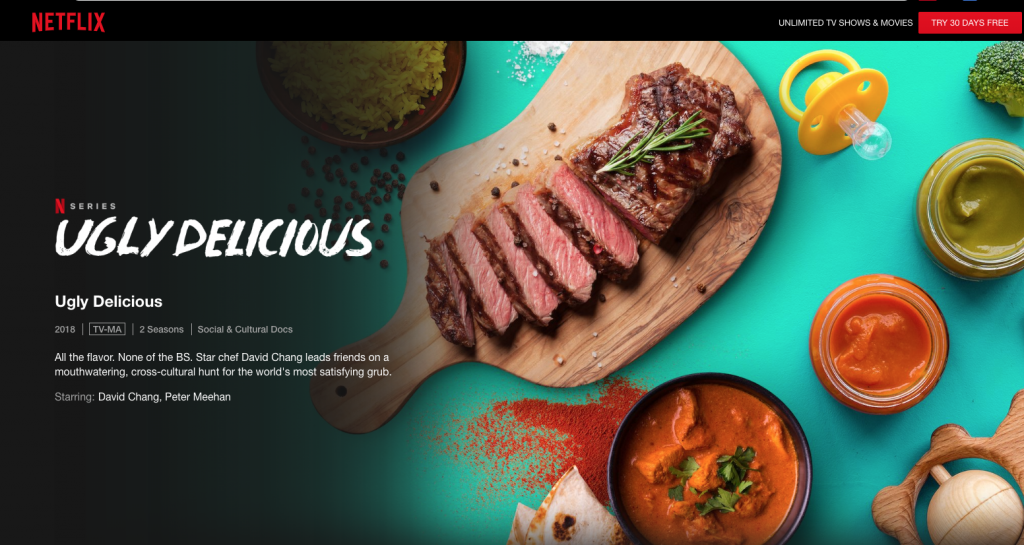 Food is always the best thing about traveling the world and since we can't do that right now, check out Ugly Delicious. The show follows James Beard Award-winning chef David Chang on a cross-cultural hunt for delicious food around the world. We don't know about you, but this is inspiring us for a future culinary adventure.
The Deets: 2 seasons, 12 episodes
Breakfast, Lunch & Dinner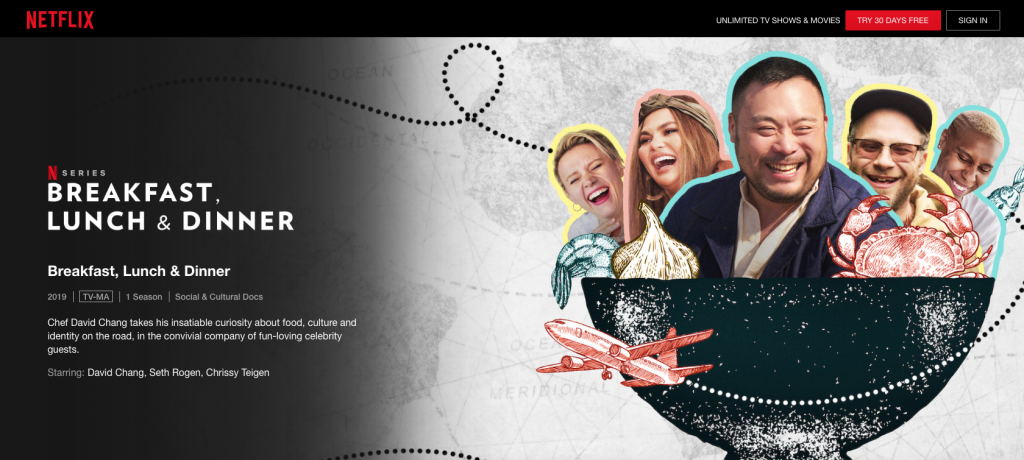 David Chang's Breakfast, Lunch & Dinner is a follow up to his Netflix series Ugly Delicious. The show follows Chang and celebrity guests as they eat their way through cities around the world. In Episode 1, you'll follow the famous chef and actor Seth Rogen in Vancouver, Canada. After smoking a joint, the duo makes pit stops at Lee's Donuts in the Granville Island Public Market (where Rogen has been going for years) and Sun Sui Wah Seafood Restaurant for dim sum. Other episodes feature Chrissy Teigen eating her way through the Moroccan city of Marrakesh and SNL's Kate McKinnon exploring Phnom Penh, Cambodia.
The Deets: 1 season, 4 episodes
Dark Tourist
When it comes to vacations, most people plan for trips that include luxe beaches and breezy itineraries. This doesn't hold true for New Zealand filmmaker David Farrier. He explores the world of dark tourism in his documentary Dark Tourist, visiting offbeat destinations. What to expect? In Episode 3, David meets a Jeffrey Dahmer enthusiast in Milwaukee, takes tours dedicated to JFK's assassination in Dallas, and dines with vampires in New Orleans. In Episode 5, David participates in a World War II reenactment, visits a disturbing museum, and travels to Cyprus to see the ghost city of Famagusta. If doomsday travel is for you, add this to your queue.
The Deets: 1 season, 8 episodes