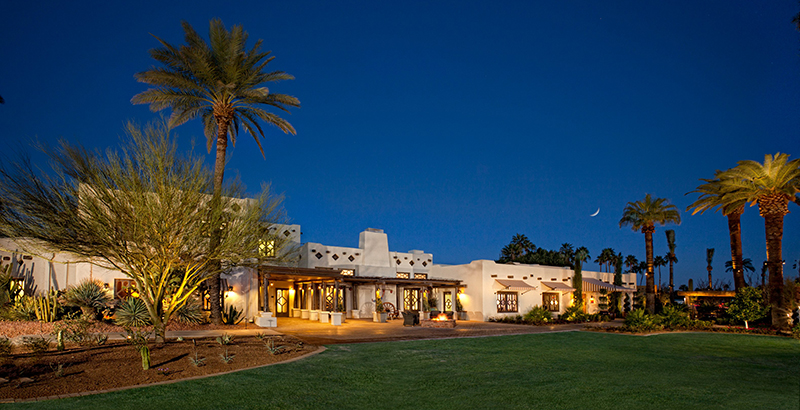 From the moment you pull into The Wigwam: Phoenix Arizona Resort , you can't ignore the Southwestern architecture and luxurious charm. The resort opened its doors in 1929 for just about 24 guests, and now 331 rooms later, it's an exceptional place for relaxation, spectacular dining, entertainment and family fun.
Rooms are very spacious with a balcony or patio depending of your floor, and the master bathroom just may be the biggest I've seen in a suite—and let's not forget, an incredibly comfortable bed for the best night of sleep. While staying at the Wigwam, you won't be bored. In the couple of nights I spent there, I enjoyed a wine tasting featuring Provencal and chef pairing (that happens monthly) that was hands-down the best way to start the night. After finishing a 4-course meal and a great dessert, we enjoyed our new friends at the table (many of whom were Phoenix area locals!) and continued the night at The Wigwam Bar, where live music and great weather kept us going for a couple more hours.
The following day due to the time difference between Chicago and Phoenix, I woke up very early and went for a walk to the Wigwam's golf course, just steps from my room. I wasn't the only one that thought this was a great idea. Plenty of golfers already started their day practicing their best shot. However, for me, I couldn't get enough of the views, the sunrise and the much needed heat. Right after breakfast, there wasn't a better way to spend the day, but at Tower Bar & Grill's poolside cabana. With plenty of water, constant refills of margaritas on the rocks, chips and salsa, and a light pool-side lunch.
The Wigwam Resort has the perfect balance of Southwestern charm with top amenities that will make you want to come back again and again. It's truly a place I didn't want to leave.
Accommodations at The Wigwam: Phoenix Arizona Resort