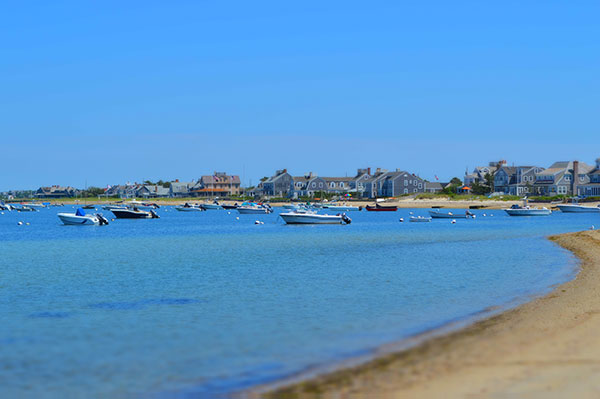 Nantucket is the perfect peaceful island for your summer vacation, just 30 miles south of Cape Cod. Always one to take my travel assignments very seriously, I couldn't wait to take on the town with the highest median property values of any zip code in Massachusetts (according to Forbes). I relaxed, ate, spa'd, and shopped my way through America's most beautiful island all in the name of research (you're welcome!).
Where to Stay
Where to go Shopping
Nantucket style is that perfect combination of laid back Americana. I felt as if I stepped off the plane and into a stylish Ralph Lauren ad (I'd like to point out that Ralph Lauren is one of the only chain stores you will find on the island). The men pulled off crisp, colored pants in hues like sea green with their polos and the ladies looked sleek and stylish in their colorful, printed halter dresses. There were a ton of great shops on the island – you'll find everything including great fashion, home décor, jewelry and antiques.
Milly & Grace
I truly fell in love with this store. Store owner Emily Ott named her boutique after her grandmothers, Milly (the sassy one) and Grace (the sweet one) and stocks everything from fashion (dresses, stylish tops, and tunics) to baubles (everything from bold statement necklaces to delicate monogrammed necklaces) and even must-have home accessories (pillows, plates and hostess gifts).
2 Washington Street
www.millyandgrace.com
Current Vintage
Looking for a perfectly paired vintage wine and dress or a unique piece of jewelry? Look no further because this store carries it all. On the fashion front, you'll find coveted labels like Hermès, Pucci, and Missoni. And, just like the clothes, the wine selection is just as edited. Browse rare wines that are difficult to find elsewhere. We call this one-stop shopping.
4 East Street
www.currentvintage.com
Trillium
Nantucket seriously had me wanting to throw the perfect coastal dinner party. The home décor stores were insane! I came upon Trillium and couldn't get enough of their home accessories & furnishings (if only I could fit it all in my suitcase and on our 10-seater plane)! You'll find gorgeous pillows, tableware, and much more to decorate your home in true Nantucket style.
15 Washington Street
www.trilliumnantucket.com
Where to Eat
Brant Point Grill
Located onsite at The White Elephant hotel, The Brant Point lounge was our go-to place for relaxing meals overlooking the harbor. For breakfast, we enjoyed fresh berries, and staples like omelets and waffles. However, we couldn't help but notice one breakfast item. For those feeling decadent, opt for the Billionaire's Benedict consisting of the finest ingredients —Champagne Poached Eggs, Two 4oz Filet Mignon, Lobster Claw, Sturgeon Caviar, Crème Fraiche, Potato Pancake, English Muffin. For dinner, start off with 2 Dz Oysters with Cherry Tarragon Mignonette and a Nantucket crab cake and indulge in a 2 lb Lobster for your main course, or Confit of Duck and Foie Gras Bolognaise with Shredded Confit Leg, Foie Gras and Orange Tour Chon, Forest Mushroom, Rigatoni. Whether you dine for breakfast, lunch or dinner, taking in those harbor views will make you want to stay for hours. 50 Easton Street
www.whiteelephanthotel.com/restaurant
Sayle's Seafood
Always one to find out where the locals go and really wanting some great seafood, we heard Sayle's was the place to go for tourists and locals alike. The restaurant is very casual and you can eat onsite or take back to your rental or hotel. We say go for the lobster dinner, served with clam chowder, corn on the cob, steamed red potatoes and coleslaw. Other favorites were the lobster bisque, fresh bay scallops and crab cake.
99 Washington Street
www.saylesseafood.com
Corázon del Mar
If you're looking for exotic fare, check out Corázon de Mar. To start, make sure to get something from their ceviches and raw bar like the local lobster & shrimp ceviche tostada or the mini local yellow fin tuna tacos. For the main dish, we loved the Catalonian Seafood Fideo —scallops, littlenecks, Spanish chorizo, English peas, and saffron-lobster vermicelli. Trio of Tecate Battered Baja Fish Tacos with pickled carrots, chipotle mayo, avocado salsa, midnight beans and red rice was another hit. Don't miss out on the cocktails of the casa like the Hibiscus Margarita —el jimador blanco + hibiscus + fresh lime + chili salt, Corazón del Diablo —svedka citron vodka + mango juice~chili infusion and the Holly Golightly — herradura antiguo blanco + cucumber + fresh lime + agave nectar.
21 South Water Street
www.corazonnantucket.com
Things to Do
Bike the Island
Another fantastic way to see Nantucket is biking the 14-mile island. Young's Bicycle Shop is a 3rd generation family-owned shop where you can rent bikes for your adventure ahead. Whether you're taking a scenic ride through Sconset or a ride that will end at Surfside Beach, it's the perfect way to spend the day.
6 Broad Street
www.youngsbicycleshop.com
Beaches
If you're looking for a great beach day on Nantucket, there are an array to choose from. Jetties beach is an easy walk or bike from town, Surfside beach is a 3-mile bike ride perfect for a relaxing day and Children's Beach is a great little beach for little ones that is totally assessable from town. www.nantucket.net/beaches
Walking Tour
A professional walking tour like the Historic House Walking Tour that departs from The Whaling Museum is a great way to see the people and places that make Nantucket the perfect resort destination. Take in the beautiful cobble-stoned streets and the architecture of the homes that make the island unique all with a knowledgeable guide.
Whaling Museum, 13 Broad Street
www.nha.org
For that perfect Americana vacation, Nantucket is the island getaway with fantastic hotels, amazing restaurants and shopping.
-Melissa Maynard
*Photos by Henrique Kerch –