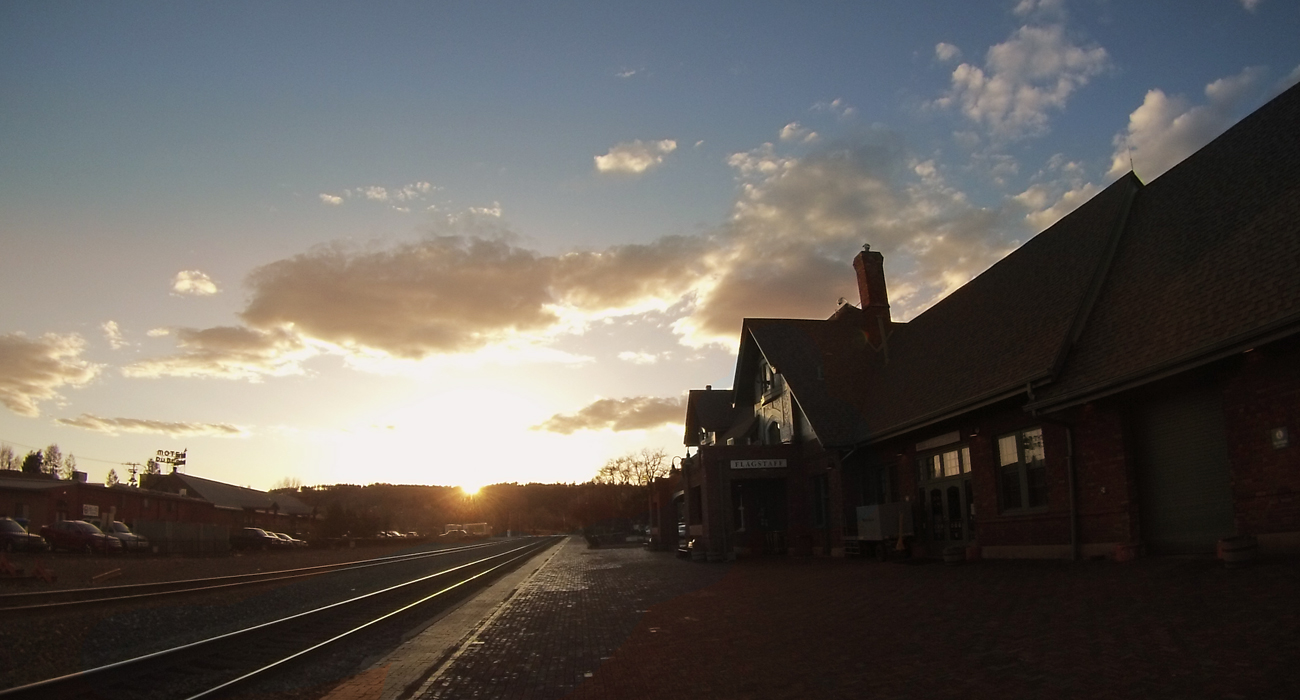 From cactus's in Phoenix to evergreens and mountains covered in snow, this destination can surprise any previous notion of what Arizona weather could possibly be like. Due to its altitude, Flagstaff is cold and snowy during the winter months and pleasant in the summer. Right through the middle of old town is the historic Route 66, a 1920s train station and a great variety of dining options and plenty of beer (being a college town and all!). My first stop was Shift, a modern American cuisine that isn't shy of any other 5-star restaurant. Then a quick drink at The State Bar, a history-filled libation hotspot from 1889.
Within two hours driving from Phoenix, it's the perfect getaway for a few days of unique terrain and unforgettable experiences. Here, find what you must do if you have 48 hours in the college town.
Where to Stay Flagstaff, Arizona
There is no doubt that Flagstaff has many great places to stay, but Little America is our pick. One of four chain hotels, (with a boutique-y feel), it's located only in the western part of the US, which you may identify by its very peculiar penguins on the hotel signage. What's unique about this property is that your hotel room's back door opens to 500 acres of Ponderosa Pine Forest where different trails will make this an adventure and the perfect opportunity to spot wildlife. Finish the day at the hot tub and admire the stars. Little America Hotel guests will be able to enjoy a new restaurant (although details aren't clear just yet), but we can say, you could be expecting a seafood & steak dining experience and an outdoor dining space.
Things to do in Flagstaff, Arizona
Spend a few hours in Flagstaff's historic downtown
It's a quaint town that has plenty of small restaurants, cafés, and boutiques to choose from and if you have an eye for architectural details, you will able to find buildings as well that date back to the 1800s. Also, street art is alive in Flagstaff so don't miss the alleys and parking lots for an opportunity to see some underground artistic talent.
A breakfast of Champions – (Lunch and Dinner, too)
Before heading out on a hike or just returning from visiting the Grand Canyon, you must head to MartAnne's Burrito Palace. This all day Mexican breakfast spot features freshly squeezed orange juice, a relaxed atmosphere and friendly staff, and a menu with plenty of vegetarian options, too and all in heaping portions. While you dine, take in the great art pieces on the walls.
A Step Closer to Space in Flagstaff
Home of one of the oldest observatories in the United States and where Pluto was discovered. The Lowell Observatory is a quick drive from Flagstaff. Make sure to check the weather for clear nights and enjoy the night stargazing tour.
Just about an hour from Flagstaff is Meteor Crater, known as the "world's best-preserved meteorite impact site on Earth". More than just a big hole, this site shows what happened about 50,000 years ago, as an asteroid collided with Earth traveling about 26,000 mph.
Hit the Road and Drive to the Grand Canyon
You might have heard the Grand Canyon is in Flagstaff's backyard. Well, they are right on that detail. It's a road trip you will want to make. The two-hour drive on a very scenic road, the Grand Canyon's is the best place to spend the day. Getting into the park will cost you about $30 dollars per car. Once inside, you can make a plan and hop into different shuttle buses to see different rims of the canyon.