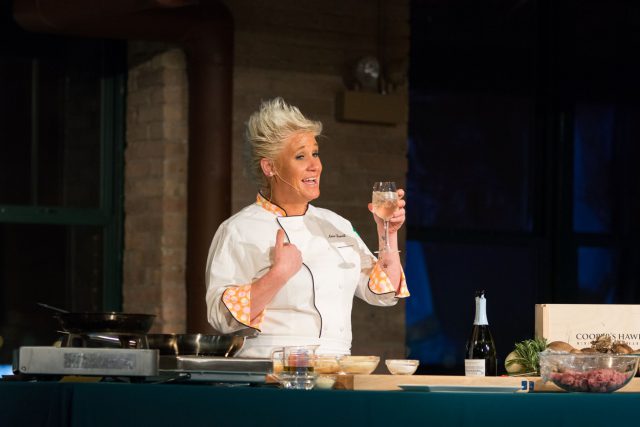 Vibrant best-selling author and chef of "Food Network's Worst Chefs in America" Anne Burrell hosted an interactive cooking demonstration and dinner on January 30th in Chicago. Members of Cooper's Hawk Winery and Restaurants, VIPs, and media enjoyed several courses paired with the perfect wines.
Guests kicked off the night with passes appetizers of roasted figs, polpettini and zucchini, and parm fritters paired with prosecco. For the first course, guests enjoyed roasted cauliflower steak with arugula, lemon, wild mushroom ragu, and a poached egg. For the second course, farotto with rock shrimp was served with chardonnay. The third course was butcher & larder country brined pork chop served with cabernet. For dessert, we enjoyed a goat cheese cheesecake with a sparkling Moscato.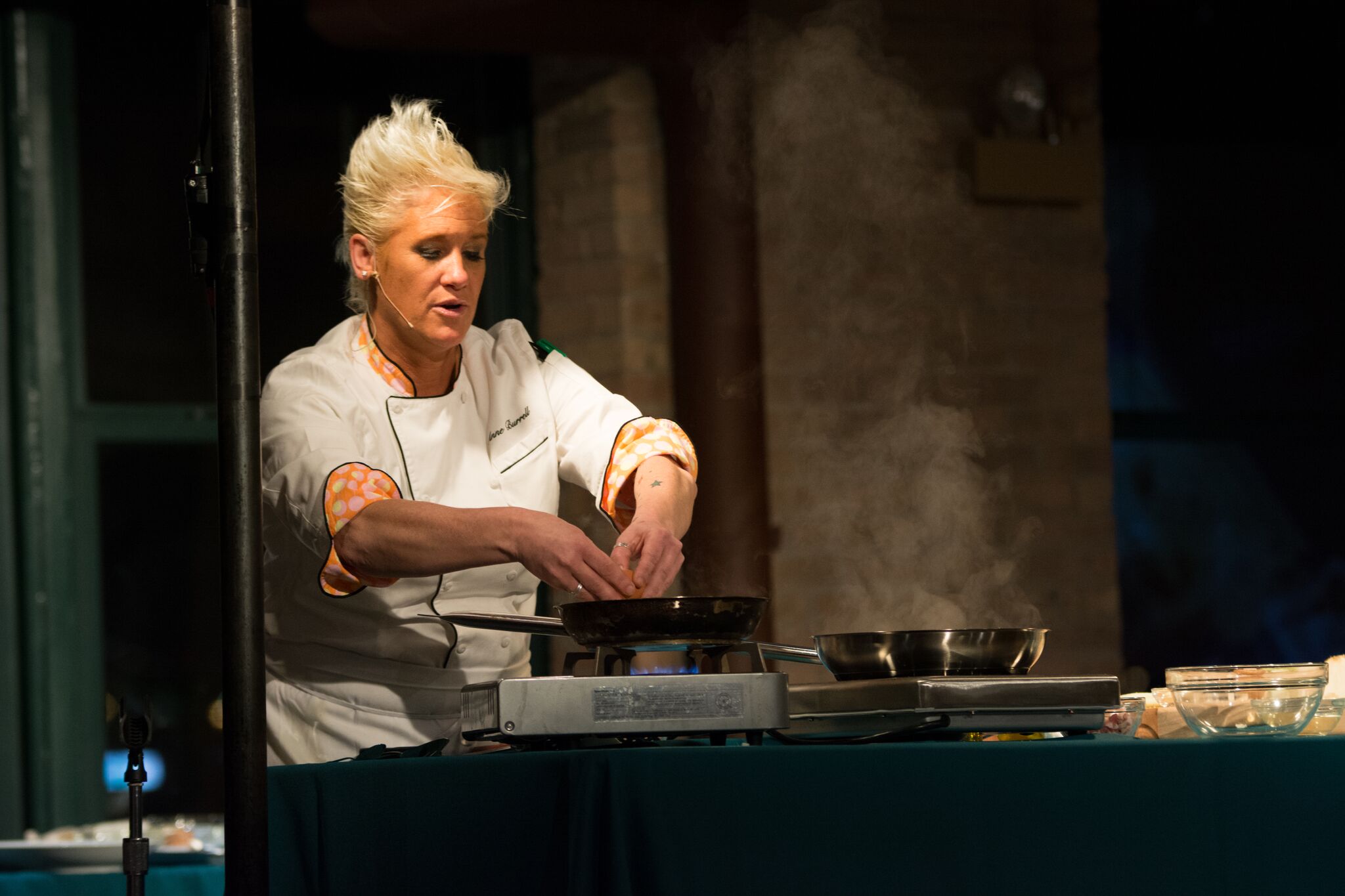 Make Roasted Cauliflower "Steaks"
Yield: 4 Time: About 1 Hour
Ingredients
1 head cauliflower trimmed and cut into four ½ inch cross-section slices from the middle, rounded outside edges removed and cut into bite-size florets
Extra virgin olive oil
Kosher salt
Wild Mushroom Ragu
½ pound pancetta cut into ¼ dice
2 cloves garlic, smashed
1 pound wild mushrooms, cleaned and cut into 1/2-inch dice
2 sprigs of fresh rosemary, picked and finely chopped
Salt
Pinch of crushed red pepper
½ cup dry white wine
Eggs
3 tablespoons white vinegar
4 large eggs
Salt
1 bunch of fresh chives, finely chopped
Directions:
Cauliflower
Preheat the oven to 375 F.
On a baking sheet, toss the cauliflower florets with olive oil and salt. Add the "steaks" to the baking sheet, coat with olive oil, and season with salt. Bake for 20 minutes or until the cauliflower is soft and brown. Remove from the oven and reserve.
Wild Mushroom Ragu
Toss the pancetta in a large saute pan with a few drops of olive oil and bring the pan to medium-low heat. Cook the pancetta, stirring occasionally, until it is brown, crispy, and has rendered some fat, 8 to 10 minutes.
Toss in the garlic and cook until golden and aromatic, 2 to 3 minutes. Remove the garlic and ditch it–it has fulfilled its garlic destiny.
Crank up the heat to medium-high. When the fat starts to sizzle, toss in the mushrooms of rosemary and stir to combine. Season with salt and a pinch of crushed red pepper. If the pan seems dry, add a few more drops of olive oil. Cook the mushrooms, stirring occasionally until they start to soften, 3 to 4 minutes.
Add the wine. Using a wooden spoon, scrape any brown deliciousness off the bottom of the pan. Continue to cook the mushrooms until most of the wine has evaporated. Remove from the heat, taste, and re-season if needed. Toss in the reserved cauliflower and keep warm over low heat.
Poach the Eggs
Fill a medium saucepan two-thirds of the way with water and add the vinegar. Bring the water to a boil (BTB). Reduce the heat until no bubbles break the surface of the water. You are creating a very gentle cooking environment—like an egg Jacuzzi.
Break the eggs very close to the surface of the water and cook for 4 minutes or until the whites are cooked through and the yolks are warm and runny.
Assemble
Place a cauliflower "steak" on each serving plate and top each steak with a spoonful of the hash.
Using a slotted spoon, carefully remove each egg from the poaching liquid and make a pit stop on a paper towel to blot any excess water. Nestle an egg on top of each cauliflower steak. Sprinkle the eggs with a few grains of salt and some chives and serve immediately.