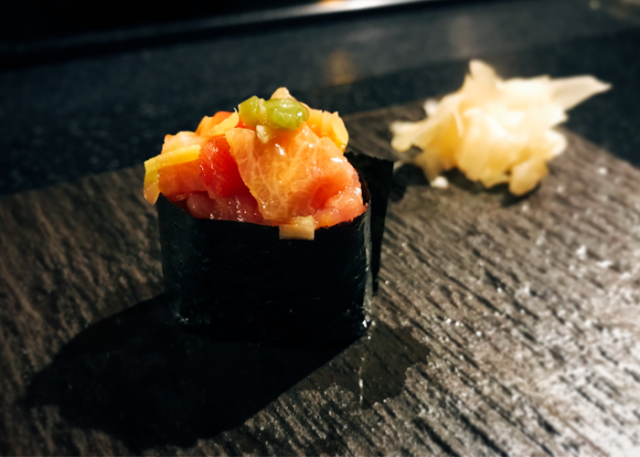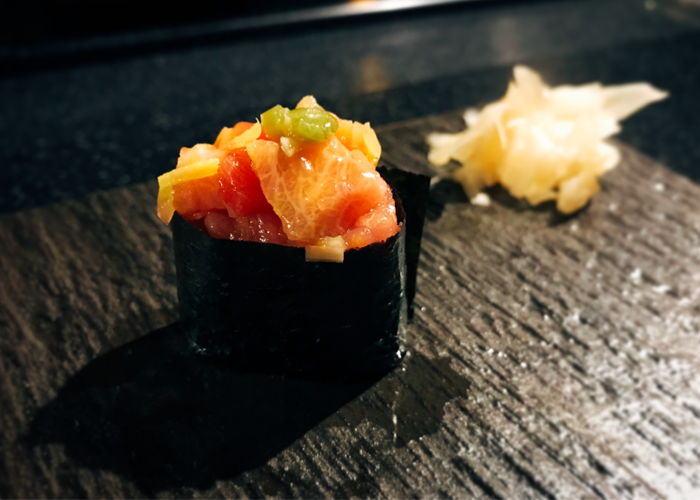 There is never a shortage of unique restaurants in the Windy City, but we must admit, there's an entirely new way to experience dining out in Chicago like you haven't before. Enter Sushi by Bou–which opened in January–to change how you experience date night. Located at the Hotel Lincoln, in the Lincoln Park neighborhood, this unique restaurant with a speakeasy feel is such a fun night out for those looking for a quick and memorable dining option.
Make your way to the hotel, venture up the stairs while taking in the bright red wall filled with unique artwork, enter the speakeasy through the double doors, and get ready to begin a truly remarkable evening. Hosts will take your coats and prepare you for your timed dining session with the chef at the sushi bar.
We couldn't think of a better way to experience incredible omakase and sushi, plus it's perfect for a quick night out for those looking for something different. There is a thirty-minute omakase experience where you'll enjoy twelve pieces of sushi prepared and selected by the chef for $50 per person or the 17-pieces of sushi option for $100 per person. Each chef-prepared piece we tried was bursting with flavors we hadn't tried before! We sampled a fresh selection of Hamachi (yellowtail); Botan Ebi (spotted prawn); Ikura (salmon roe); Hotate (scallop); O-Toro (fatty tuna); Unagi (bbq eel); and their signature Wagyuni ('surf and turf'). 
After your dining session, we highly suggest that you relax in the Whiskey Library and sample some of their exclusive signature whiskey cocktails, Japanese beers, or imported sake while enjoying a low-lit atmosphere.

Enjoy dinner at Sushi by Bou on Sundays, Wednesdays, and Thursdays from 6 to 10 p.m. or Fridays and Saturdays from 6 to 11 p.m. Reservations can be made at sushibybou.com.