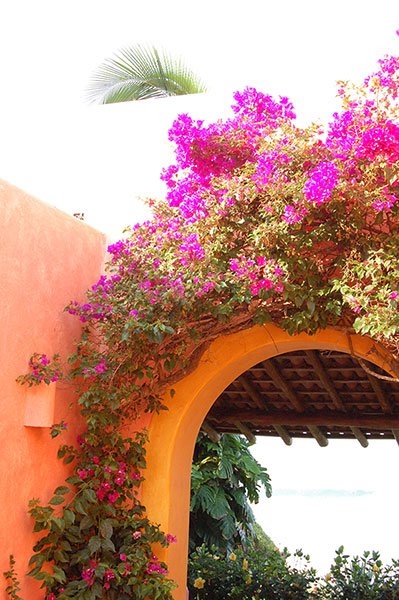 Midway between Puerto Vallarta and Manzanillo lies a luxurious paradise on about 1,500 acres of pristine Costalegre coastline in Mexico. On this idyllic location, you'll find the private and very exclusive resort Las Alamandas, which boasts six villas (14 suites) that welcomes only 30 people at any one time, three private beaches, and a staff of at least 15 to 1 that will cater to your every whim, weather it's a margarita at the pool overlooking the ocean or a romantic dinner with bonfires and mariachis. If you're not a billionaire's daughter, you'll certainly feel like you are as this resort is managed just like a small estate.
Arrive in Style
The first thing you will notice when entering Las Alamandas from a two hour drive of desert-like neutral tones, mango plantations and small towns is the pop of color. And while there is that option to drive (or be chauffeured), you can also arrive in style on their 3,300 foot runway by way of private jet.
Each Villa Is Unique
With bright yellow Copa de Oro (the flower that Las Alamandas is named after) and hot pink flowers, lush green landscapes, situated among the colorful terracotta villas, Las Alamandas is the closest thing to luxury that you can get to. The villas are all unique; Casa del Sol is located on a mile long private beach with its living room directly along the ocean; Casa Azul, the largest of all the villas, overlooks the fountains and the gardens of the Plaza de los Delfines; Casa Isabel boasts panoramic views of the ocean and has a large outdoor terrace with a perfectly situated hammock for resting and relaxation.
Owned by Isabel Goldsmith-Patiño
Proprietor Isabel Goldsmith-Patiño, daughter of late British financier Sir James Goldsmith and the granddaughter of Bolivian tin magnate Don Antenor Patiño, created this luxurious getaway for all to enjoy. She launched the private resort in 1990, and while her grandfather wanted a large over populated resort complex, Ms. Goldsmith-Patiño instead opted to preserve the land, while keeping the actual resort small and private. Isabel, who has homes in Paris, Beverly Hills, Mexico and London, is the epitome of chic. Having lived around the world, Goldsmith-Patiño scoured all of Mexico to find fabrics, arts and crafts true to her vision for Las Alamandas. Bright pink Mexican rattan sofas are situated perfectly to see stunning ocean views, oversized tiled bathrooms are a fixture in each villa and loads of Mexican Folk Art envelope each space.
There have been countless fashion shoots at the resort and many celebrities who are drawn to the privacy like Sting, Francais Ford Coppola, Cindy Crawford and Christy Turlington. For the turn-of-the-millennium, Brad Pitt and Jennifer Aniston even rented out the entire estate for a celebration with close family and friends.