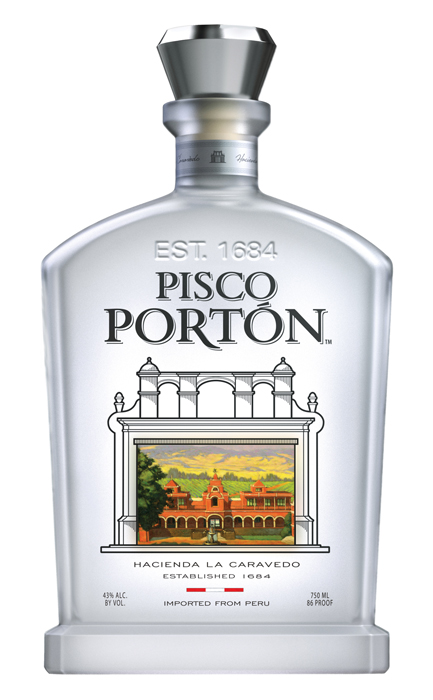 Discover a new flavor from South America also known as the 5th white spirit. Pisco is a type of brandy made from grapes at the foothill of the Andes Mountains and is a versatile spirit that you can mix into your favorite cocktails, replacing some other traditional spirits like vodka. Pisco Portón is created at the Hacienda La Caravedo, the oldest distillery in the Americas. This unique liquor captures citrus and spicy flavors with a lasting aroma handcrafted in a beautiful bottle with a Peruvian landscape.
Kick off this special occasion on February 2nd with National Pisco Day and celebrate at the many restaurants around the country that are offering specials and some of their very own cocktail creations.

Pisco Portón Cocktail creations recipes
Portón Pisco Sour
1-1/2 parts Portón pisco
1/2 part fresh lime juice
1/2 part simple syrup
1/4 part egg white
Shake ingredients with ice. Strain into chilled glass. Garnish with a dash of bitters.
E.B.D "Evelyn's Back Door"
By Christian Sanders
Evelyn, New York
2 parts white pepper-infused Portón
3/4 part yuzu citrus blend**
3/4 part house syrup
1 dash Angostura Bitters
3/4 part egg white
Add all ingredients into shaker and dry shake (no ice) well. Add ice and shake well again before double straining into glass. Garnish with cracked white peppercorn, and to with 2 additional drops of Angostura bitters
The Hawthorne Sour
By Brian Hawthorne
The Wayland, New York
2 parts Portón
3/4 part lemon juice
3/4 part grapefruit juice
1/2 part egg white
3/4 part dry white wine
Add all ingredients into shaker. Dry shake (no ice) well. Add ice and shake well again before double straining into a glass. Garnish with a dash of angostura bitters.
**Yuzu Citrus Blend:
Combine 3/5 part Yuzu (bitter Japanese citrus) with 2/5 part lemon juice.
Nadia's Tail
By Julia Momose
Willow, Baltimore
1 1/2 parts Portón
1 Egg White
3/4 part Fresh Grapefruit Juice
1/2 part Green Cardamon Syrup
Pinch of Whole Pink Peppercorns
Cranberry Bitters (Garnish)
Dry shake first five ingredients, then shake over ice and double strain into a chilled cocktail glass. Finish with a Cranberry Bitters flourish and a few Pink Peppercorns.
Chica Chong
Created by Ashley Danella
PB Steak, Miami
1-3/4 parts Portón
3/4 part lemon juice
1/2 part rich cinnamon pineapple Demerara syrup*
1 egg white
1/2 part ice
Put all ingredients in blender, blend until frothy. Serve in stemmed cocktail glass. Top with Chicha Morada bitters.
*Cinnamon Pineapple Demerara Syrup: Create simple syrup (2:1 sugar to water,) bring to boil and add cinnamon and whole pieces pineapple. Reduce to simmer for 2 minutes and then fine strain to create syrup.
Enjoy Pisco Portón in the following places this coming February 2nd
Chicago
Sushi Samba
sushisamba.com
Nacional 27
n27chicago.com
Between
betweenchicago.com
Pisco Porton in NYC
all the following restaurants will be offering half priced Portón Sours all day and night on February 2nd.
The Wayland
thewaylandnyc.com
Evelyn
velynnyc.com
Tacu Tacu
nsixtacutacu.com
Esperanto
esperantony.com
San Francisco:
La Mar Cebichería
lamarcebicheria.com
On February 2nd hosting a Pisco Sour Day party, where they will be giving away a trip to Peru. Raffle tickets are $15.
Limon
limonsf.com
Try one of 5 different Chilcano infusions with Portón, including coconut, lychee, pineapple, mango, cinnamon-clove, prunes). Each $10 on February 2nd.
Pisco Lounge
piscosf.com
Visit the 1st pisco bar in America! On February 2nd Portón pisco sours are $5 each.
Poquito
poquitosf.com
Try a traditional Portón Sour, made with a homemade syrup, infused with cloves, cinnamon and some secret ingredients – on February 2nd $9 each.
Baltimore:
Willow
willowbaltimore.com
Miami:
PB Steak
pbsteak.com
Houston:
Latin Bites
latinbitescafe.com
Complimentary Portón pisco sour flights all day on Saturday, February 2nd