This might sound like a crazy idea, but next time you have a question as to where is the best Irish Pub in the United States you might have to ask this guy — Tim Herlihy, Brand Ambassador for Tullamore D.E.W. Irish Whiskey. He started a quest to visit all 50 states to check out some of the best Irish Pubs, all the while drinking plenty of Tullamore Whiskey.
I had the opportunity to talk to Tim when he stopped in Chicago as one of his last stops before heading back to New York to end his tour at the Dead Rabbit Pub. I have to say, he'll have plenty of stories to tell for many years to come from all the places he has visited. He started on "St. Practice Day" known as the day to start practicing for St. Patrick's Day somewhere on the West Coast. He then worked his way up around LA's oldest Irish Pub Sunny McLean's during day two of the journey, then a few hours at O'Toole's Irish Pub Hawaii, PaddyPub in Oregon—who happen to serve the Worlds Largest Irish Coffee. While talking, he mentioned one of the most unique towns in America—O'neil's, Nebraska. Originally built up by Irish settlers, it's home to the world's largest shamrock and where most of the street names are Irish. You can't miss the parades, especially in Arkansas that has the World's Shortest St. Patrick's Day Parade and bigger celebrations like the one in Chicago.
Between each story — Tim brought with him three Tullamore bottles to sip and taste. First was Tullamore Dew, a smooth tasting whiskey; Tullamore Dew 12 Year Old, one of the oldest whiskey's and my favorite Tullamore Dew Phoenix, to celebrate the re-opening of a new Tullamore distillery.
If you are ready to start on St. Practice (all year around) here are some drinks to enjoy with Tullamore D.E.W. Irish Whiskey.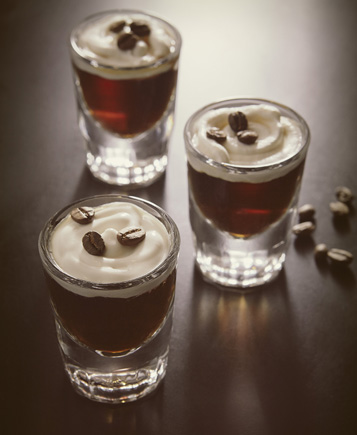 Irish Espresso
Add Tullamore D.E.W. and coffee liqueur to a mixing glass. Stir and pour into shot glasses. Top each with fresh cream and garnish with coffee bean(s).
Ingredients:
2 parts Tullamore D.E.W. Original
1 part Premium Coffee Liqueur
1 part Thickened Fresh Cream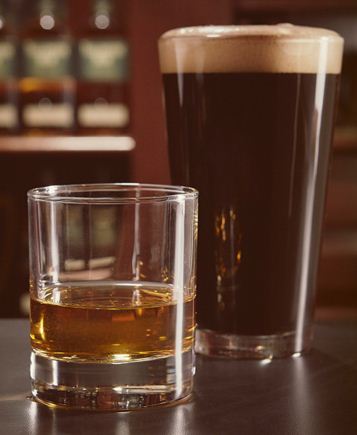 D.E.W. and a Brew
The D.E.W. and a Brew serve as an update to the traditional whiskey and beer chaser. Pairing Tullamore D.E.W. with a single beer, such as a coffee flavored porter or stout complements the flavors in both liquids.
Ingredients:
1 part Tullamore D.E.W. Original
12 oz. Beer