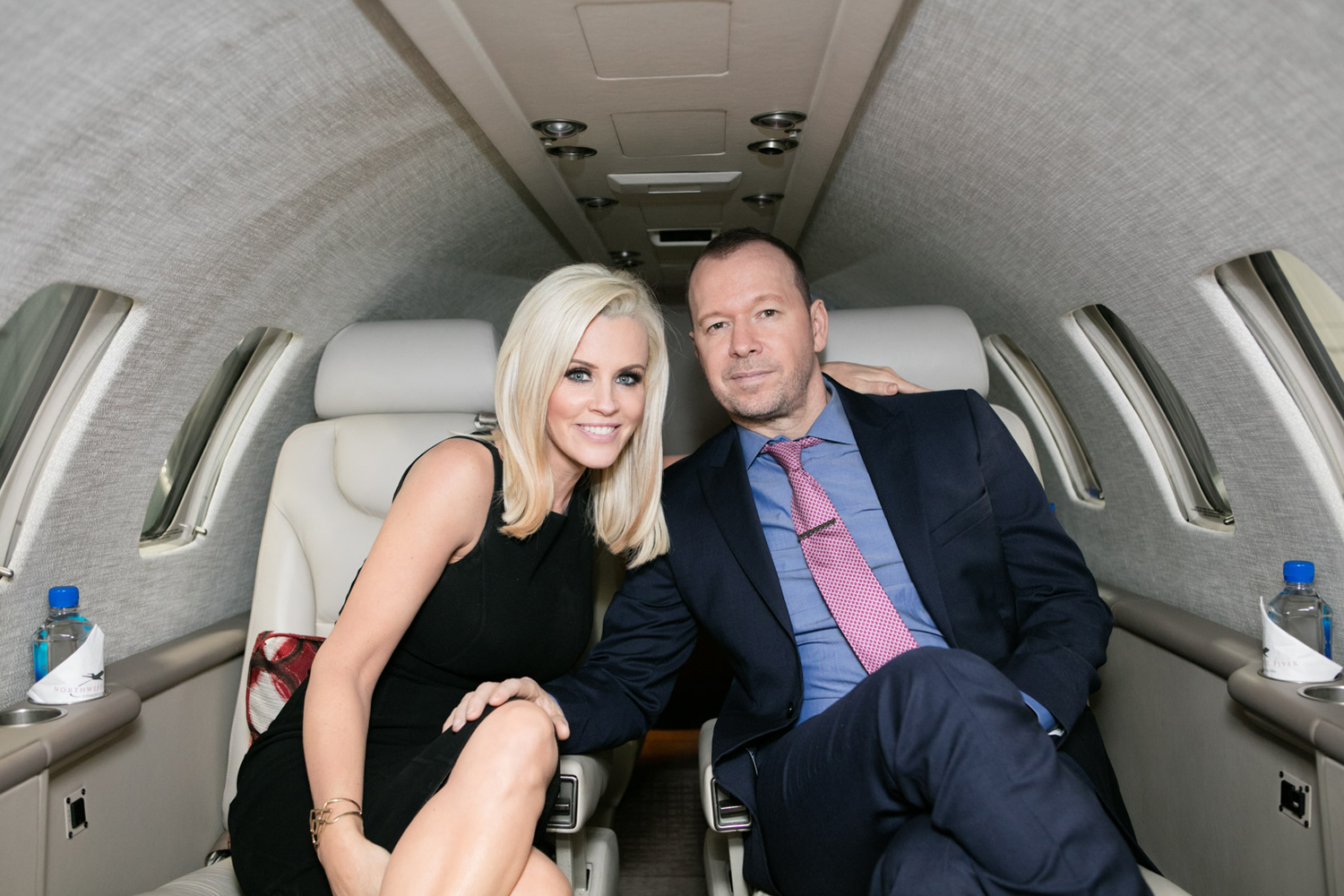 Actress, Model, and Comedian Jenny McCarthy and her husband Donnie Wahlberg (Blue Bloods, Wahlburgers, Saw films, The Sixth Sense), recently let us in on their little travel secret at a private event at the Chicago Executive Airport in Wheeling, just outside of Chicago. Celebrating the launch of the travel app JetSmarter, we learned how the app is revolutionizing the travel industry. It's an attainable "private jet club" that allows people who usually fly commercial and could never consider the possibility of flying private, the access to do so. Want to travel at the drop of a hat? Now you can by simply paying a membership fee of $9,000 annually—and booking a private jet. Jenny and Donnie mixed and mingled with guests inside the exclusive Hangar 11 and we were able to chat with them and JetSmarter's Joseph Gnaster, Senior Vice President of Business Development, and discuss travel, their favorite destination and, of course—hear what they love about the JetSmarter app.
TRAVEL INSIDER MAGAZINE: What is your favorite travel destination?
JENNY MCCARTHY: I have to go with Turks & Caicos.
TI: What do you like to do there?
Donnie Wahlberg: Nothing! (laughs)
Jenny McCarthy: Absolutely nothing! We're excited about the expansion with JetSmarter, continuing to get more shuttles going. (Jenny asking JetSmarter's Joseph Gnaster, Senior Vice President of Business Development), how quickly are you increasing the shuttle legs throughout the country?
Joseph Gnaster, JetSmarter's SVP of Business Development: As we expand our member base, we put a lot of that money and revenue into an extra capacity for our members. It really dictates how many members we attract in a certain market but we've identified 50 domestic city pairs that we will have shuttle around soon.
Jenny: Will you be going to places like Turks and Caicos or other warm destinations?
JG: Absolutely…Nassau is also a very popular destination out of South Florida and if you've ever traveled commercially from south Florida to Nassau, it's about a five-hour labor-intensive process for a 30-minute flight, so yes, it's on our to-do list because it is a great place to go to relax, have fun and why not do it in 30 minutes as opposed to five hours?
TI: What about in the United States? What are your most popular destinations?
Jenny: We have a secret location that we love, but we are going to share it—and it's in New York. It's just outside NYC and it's called Glenmere Mansion. It's a refurbished, old estate that is breathtakingly gorgeous. There are only 19 rooms.
Donnie: No. 16.
Jenny: You have to check it out. Out of everywhere, we've been together (and Donnie's been around the world more than me), it's one of my favorite places I've ever been to.
TI: Are you guys big packers or do you like to travel light?
Donnie: We travel with backpacks only. We've never checked a bag in. Fortunately, if we are flying private with JetSmarter, we don't have to check-in bags anyway, but we go round trip like that. We work in New York and live in Chicago, so we are back and forth twice a week, so for us, we can't pack bags—and pack very light.
Jenny: That's why this was essential to our lives more than it's essential to them. We were the most desperate couple for something like this because literally, we are going back and forth every week. We love it that much, but this (using the JetSmarter app) makes our lives so much easier.
Donnie: We're actually going to save money from commercial travel by using this service because we travel so frequently that we are able to find legs that are so cost-effective for us that we don't have to buy airline tickets last minute. Sometimes we have last minute flights we have to make and those prices are so expensive, plus car service and all of the other stuff that goes with it.
JG: Especially for first-class travel, it's expensive and you're sitting in a shoebox. It's really not the experience you should have. It brings me a lot of pride to provide such quality service for them.
Jenny: And, I love it because we're going back to New York to bring more work to Chicago. Like Donnie wants to expand and do Wahlburgers out here. The more we go back and forth, the better it is for our hometown, too.