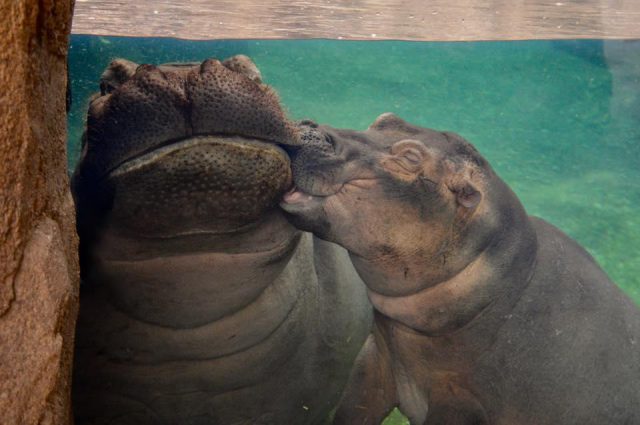 The world may be on lockdown for a while, but that doesn't mean we can't still explore. Zoos and aquariums are bringing people in virtually through remote programming, virtual tours, and webcams. Truth be told, we can't get enough and if you need your day brightened (and who doesn't right now), then scroll on down to see the animals in and out of their daily habitats.
Shedd Aquarium
While the Shedd Aquarium is closed until at least March 29, the penguins are busy checking out exhibits and strolling around. Penguins Edward and Annie explored the Shedd's rotunda and Wellington couldn't get enough of the fish in the Amazon Rising exhibit. To keep up on the penguins and check out more activities and exploration, click here. View their webcams here.
Penguins in the Amazon?! 🐧🌴

Some of the penguins went on a field trip to meet other animals at Shedd. Wellington seemed most interested in the fishes in Amazon Rising! The black-barred silver dollars also seemed interested in their unusual visitor. pic.twitter.com/KgYWsp5VQD

— Shedd Aquarium (@shedd_aquarium) March 15, 2020
Once SUE at the Field Museum saw the penguins, well, you know what happened next.
Once SUE heard about the @shedd_aquarium penguins, we really didn't have a choice. 🤷‍♀️ pic.twitter.com/X5z1yo5VU1

— Field Museum (@FieldMuseum) March 18, 2020
Cincinnati Zoo and Botanical Garden
On March 15, the Cincinnati Zoo and Botanical Garden closed its doors until further notice, but that doesn't mean they don't have a few stellar ideas to engage guests. Check out the "home safari" on their Facebook page during weekdays at 3 p.m. Eastern time. The live stream features their star–a totally adorable 3-year-old hippopotamus, Fiona.
Fiona making a dramatic entrance…and exit. #TeamFiona pic.twitter.com/s9c20OwrOY

— Cincinnati Zoo (@CincinnatiZoo) March 18, 2020
Georgia Aquarium
If you're bored and need a distraction, the Georgia Aquarium has just the antidote. Since it's the largest aquarium in the world, you can bet on seeing an array of sea creatures while at the aquarium. Since it's currently not possible, the Georgia Aquarium allows you to catch different exhibits via their webcams including Southern Sea Otters, African Penguins, and the Beluga Whales. Sign us up!
Monterey Bay Aquarium
For those looking for stress relief (raising our hand!), check out the Monterey Bay Aquarium located in California. Although they have closed until at least March 27, you can still check out their webcams and watch jellyfish–our absolute favorite way to unwind. You can also scope out penguins and sharks from the comfort of your couch.
San Diego Zoo
As of right now, we have the San Diego Zoo live webcam bookmarked. The zoo closed through March 31st and features 10 live webcams of their animals including tigers, koalas, penguins and more.
Yes we cam! We got you covered in these crazy times. While we're closed to the public, you can still get your stress-reducing animal fix via our live cams. Watch penguins, baboons, koalas, giraffes, elephants and more 👉 https://t.co/DputHsHt5n pic.twitter.com/sTYk0srM5v

— San Diego Zoo (@sandiegozoo) March 17, 2020