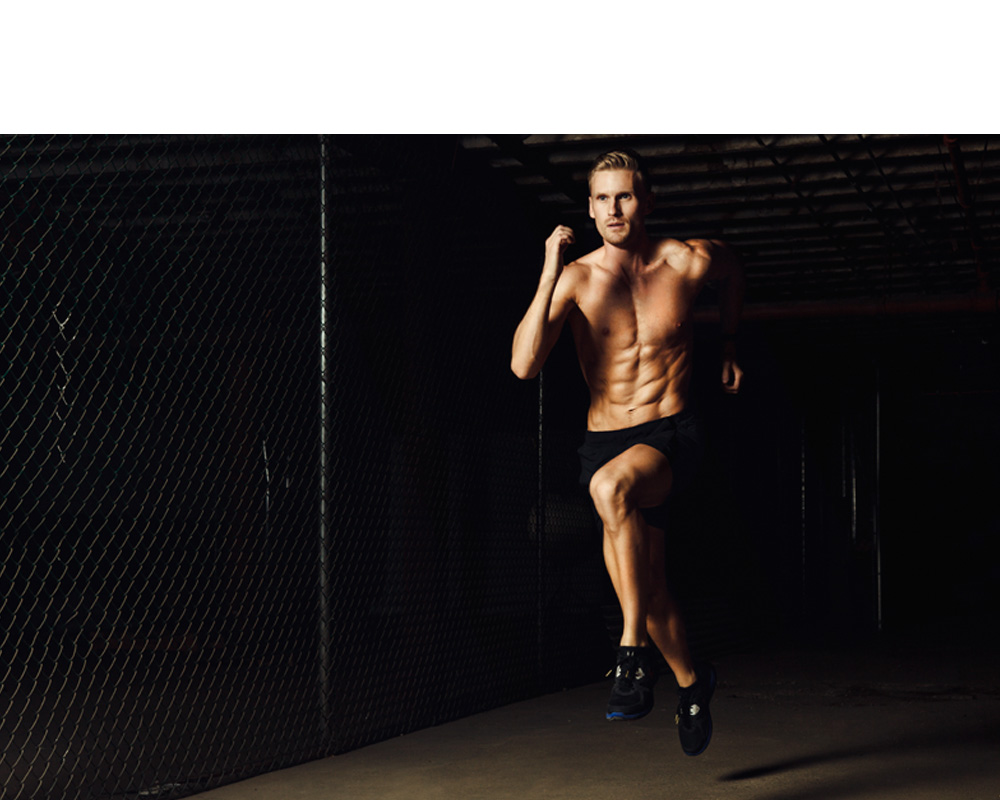 When you're on vacation, finding time to get sufficient exercise in can be a challenge—somewhere between trying really good food and touring the new city. We suggest waking up at dawn and giving Precision Running by Equinox Fitness a try. The trainers even gave us the following routine for our loyal fitness fans who also happen to travel a lot. It's truly the best hotel workout since most hotels have a 24-7 gym for their guests. Here's to getting the most from your workout—even on vacation.
Equinox Precision Running is a treadmill training workout based on a unique method of interval training developed by running coach David Siik, and is known as the Balanced Interval Training Experience, or B.I.T.E. Collaborating with Team Equinox, the method is utilized to train runners of all abilities to be stronger, faster and more fit. This precise running formula mathematically strikes a balance between aerobic and anaerobic forms of interval training. It maintains a strict balance between the four core principles: Speed, incline, duration, and recovery. A natural benefit of this formula is the balance of forces acting on the body when running – less impact and stress on the joints.
As with any Equinox program, careful attention to nutrition and regeneration (recovery, foam/ball rolling, mobility) is essential.
PRECISION RUNNING "Good Cop – Bad Cop"
30 minute workout – 2 segments
The B.I.T.E method works in this run by gradually adding speed to one interval (good cop) and then applying that new speed to a pre-selected incline (bad cop)! It's important to choose an ending goal based on your average best 30-second speed (the fastest you think you can go for 30 seconds on your final interval). Simply start the run 1.5 mph slower than your ending goal and everything else falls into place. You'll do one segment of 60 second intervals, and one set of 30 second intervals. The 30's will really start to speed up as well as go back up in incline for a maximum ending challenge. After a few minute warm up, get started and you'll be done before you know it!!
Segment 1
| | | | |
| --- | --- | --- | --- |
| INTERVAL | SPEED | INCLINE | RECOVERY (all 0% incline) |
| 60 seconds | Fast (1.5 from goal) Ex: 5.0, 7.0, or 9.0 | 0% | 1 min. moderate walk/jog |
| 60 seconds | Same Speed | 3% | 1 min. same walk/jog |
| 60 seconds | +0.2 mph Ex: 5.2, 7.2, or 9.2 | 0% | 1 min. same walk/jog |
| 60 seconds | Same Speed | 3% | 1 min. same walk/jog |
| 60 seconds | +0.2 mph Ex: 5.4, 7.4, or 9.4 | 0% | 1 min. same walk/jog |
| 60 seconds | Same Speed | 3% | 1 min. same walk/jog |
| 60 seconds | +0.2 mph Ex: 5.6, 7.6, or 9.6 | 0% | 1 min. same walk/jog |
| 60 seconds | Same Speed | 3% | 3 min. complete recovery |
Segment 2
| | | | |
| --- | --- | --- | --- |
| INTERVAL | SPEED | INCLINE | RECOVERY (all 0% incline) |
| 30 seconds | +0.3 mph Ex: 5.9, 7.9, or 9.9 | 0% | 1 min. moderate walk/jog |
| 30 seconds | Same Speed | 5% | 1 min. same walk/jog |
| 30 seconds | +0.3 mph Ex: 6.2, 8.2, or 10.2 | 0% | 1 min. same walk/jog |
| 30 seconds | Same Speed | 5% | 1 min. same walk/jog |
| 30 seconds | +0.3 mph Ex: 6.5 8.5, or 10.5 | 0% | 1 min. same walk/jog |
| 30 seconds | Same Speed | 5% | 3 min. Cool Down |