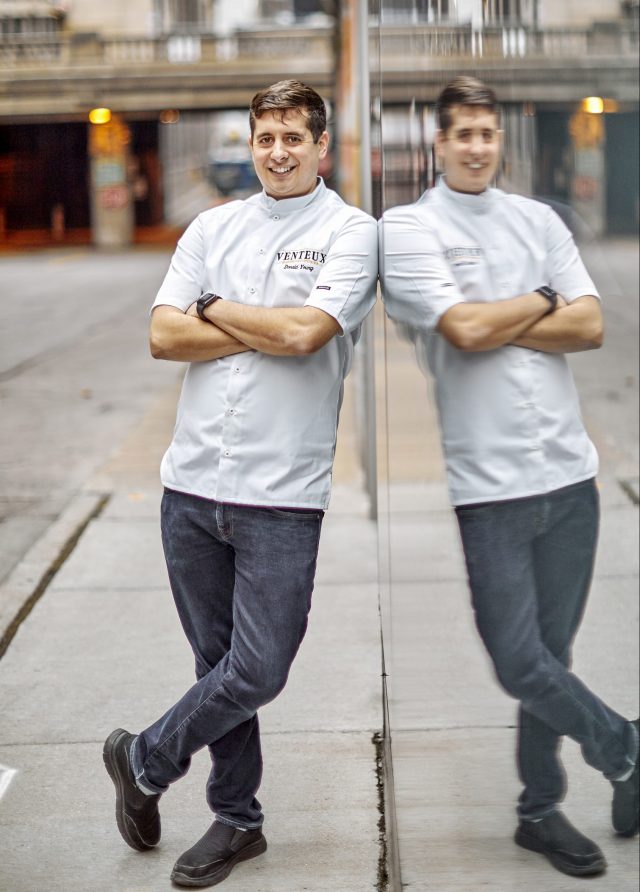 Venteux—a brasserie, cafe, and oyster bar—opened on May 26th within the iconic 1929 Art Deco Carbide & Carbon Building in downtown Chicago. The restaurant is billed as a "modern twist on traditional French," with the buzzy spot featuring plenty of French-inspired standouts. On a recent visit, we couldn't help but feel as if we were sitting in a burgundy-doused restaurant in Paris, France. The 4,000-square-foot, softly lit restaurant is located on the ground floor of the newly opened Pendry Chicago hotel. It highlights a unique menu by Executive Chef-Partner Donald Young (Temporis, Les Nomades, Bistrot Saveurs), who just so happens to be the youngest Michelin-starred chef in the Windy City. We caught up with the talented chef to find out about his inspiration for new dishes, what his ideal meal would be when eating at Venteux, and his favorite way to spend his day off in Chicago.
Travel Insider Magazine: When did you realize that you wanted to be a chef?
Chef Donald Young: I've enjoyed cooking ever since I was a kid. My dad worked in the bar and restaurant industry my whole life, and when I was about to turn 17, his connection got me set up with an apprenticeship at Le Francais with Roland Liccioni as my first job. In the beginning, I was cutting and burning myself regularly, and after a few months, I got extremely frustrated and almost quit. My parents guilted me into going back, and I don't know when it was, but suddenly everything just clicked, and I realized cooking was what I wanted to do with my life.
TI: How are you inspired when it comes to creating new dishes?
DY: I often pull elements from traditional Midwestern and classic French dishes when I'm trying to create something new and try to find a way to bring both styles together. For example, right now, I'm doing a green bean casserole-meets-almondine. I'm also constantly drawing inspiration from specific seasonal ingredients and always thinking about how ingredients will work together.
TI: How would you describe the menu at Venteux?
DY: The menu focuses primarily on reinvigorated Nouvelle French dishes featuring fun Midwestern-style twists on the classics along with a variety of seafood and raw selections from the shellfish bar. We also serve breakfast and lunch daily in the café and offer grab-and-go options such as freshly-baked pastries and house-made breads.
TI: What is your ideal meal at Venteux?
DY: I would start with the Escargot, Eggs Five Ways, and Duck Liver Mousse, then move on to the Gem Salad. Next, I'd order some caviar and maybe a whole lobster. I'd look at the 5 Day Braise Short Rib, Dover Sole Meunière, and Whole Dry Aged Duck for the main course. I'd do a cheese course of the Brie En Croute before dessert and then round out the meal with the Grand Marnier Soufflé. I'm a sucker for Champagne and would get any variety we offer by the glass.
TI: What is your favorite way to spend the day in Chicago?
DY: I really love riding my bike around the city. It's definitely something I did a lot during the pandemic. I'd ride for 20 to 25 miles up to the Zen Buddhist Temple in Evanston or Foster Beach and sit there and read a book before stopping at a Vietnamese restaurant.
TI: What is your favorite neighborhood in Chicago, and what do you love about it?
DY: I think every neighborhood has its own unique qualities, and I honestly can't choose a favorite. I live in Ukrainian Village, and I love it because it's so centrally located and it's easy to get anywhere in the city.
TI: What other cities besides Chicago have the best food scene, in your opinion?
DY: I haven't had a chance to explore much in my life since I've been so busy working, but New York is a great food city in general.
TI: What is one dish that you have developed that transports you to a favorite trip you've taken?
DY: I think about the duck I had at Eleven Madison Park in New York all the time. My dry-aged duck might not be quite as pretty, but whenever I eat it, I think about that meal.

TI: What is something that people are surprised to know about you?
DY: I love metal music. I used to be a metalhead and play the drums in high school.