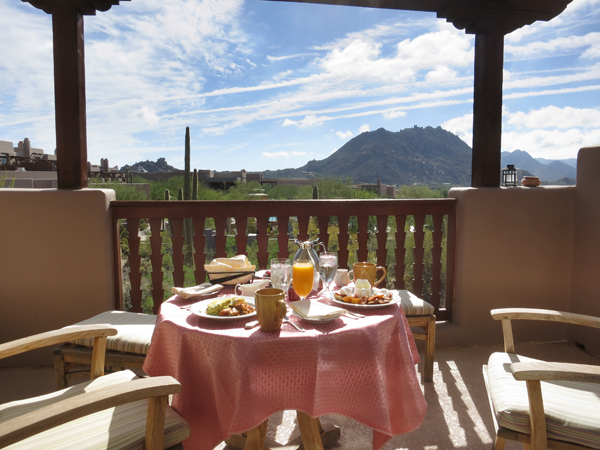 With natural beauty galore, Sedona's not a town for sleeping in. Thankfully, there are a slew of great breakfast spots to get you going in the morning. If Eggs Benedict are your thing (and really, what better vacation breakfast is there?), stop by the Red Rock Café. The sunny space, decked with Seonda-themed murals, has the vibe of a morning-time Cheers.
The friendly waitresses chat with and hug regulars, who order up giant cinnamon rolls, country biscuits and gravy, and omelets stuffed with everything from avocado to turkey sausage. The Eggs Benedict dishes are listed on a section of the menu known as Benedict Row. There are traditional options and the "Cowboy-Style," which subs in country biscuits for the English muffin and uses gravy in lieu of Hollandaise sauce. This place has also got a great Bloody Mary, and if you like your morning cocktails spicy—we do—you'll be grateful for the extra horseradish and hot sauce on the side.
The Hideaway, a checkered-tablecloth spot near Oak Creek Canyon, is hard to beat for a casual lunch. With a full bar, patio dining, and a pool table if you're so inclined, the charming restaurant has casual standbys like Reuben sandwiches, Tuna Melts, and jumbo hot dogs. At night, the patio glows with white Christmas lights and the menu offers comforting Italian classics like baked lasagna, Angel Hair pasta, and giant wedges of cheesy garlic bread. On some nights, a live guitarist jams quietly in the background, and takes requests (a few bucks' tip never hurts). We asked for the Rolling Stones' Wild Horses and got a sweet serenade.
For dinner, Sound Bites Grill is a fun, music-themed spot with a martini bar, portraits of rock stars decking the walls, and a gallery of guitars signed by the likes of Bono and Eric Clapton. There's also a stage for live performances.
The menu hits on any kind of imaginable craving, with options ranging from crab and shrimp nachos to buffalo burgers and pesto Alfredo linguine. Our favorite dish—something you just can't find elsewhere—was the Navajo Jo pizza, which tastes like a blend between quesadillas and pizza. The fun dish is based on a concoction that co-owner Stephen Sullins cooks up for his kids.  Sedona's not exactly a late-night town, but this spot serves food until midnight on Fridays and Saturdays, and stays open till 10 on weeknights.
Like a fine-dining restaurant from a fairy tale, L'Auberge Restaurant on Oak feels like an enchanted spot—and did even before we got started on the famous wine list. Perched alongside a creek with drifting ducks, the patio is an absurdly idyllic spot for catching the sunset. At night, it lights up with candles and starry white lights wrapped around sycamore trees. Each cozy table gets its own heat lamp, purse hook, and expert server—our waiter was also a sommelier. The dinner menu offers three, four, or five courses of seasonal, Mediterranean-inspired fare. Our dinner included lavender-cured Ahi tuna, wild Columbia River Salmon with pistachio and apricot gastrique and all-natural grilled ribete. The place is pricey but so worth the splurge.