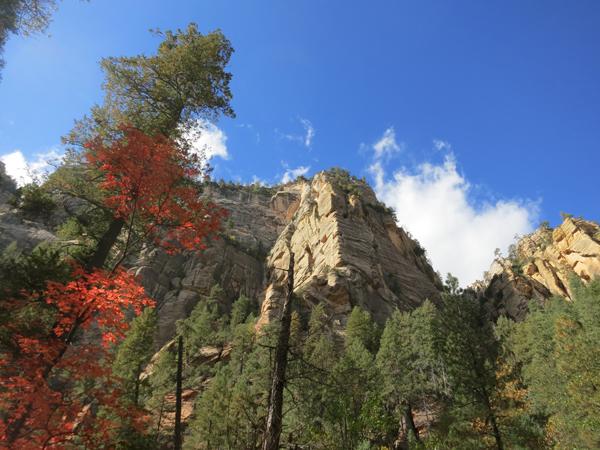 A trip on the Verde Canyon Railroad is a great break for whoever's been manning the wheel of your rental car. A perfect way to gawk at the scenery—and drink up: there's a bar car, folks—the four-hour journey winds through a canyon filled with swooping bald eagles, Indian ruins, and red-rock cliffs. The first-class seats are stocked with water bottles and chips, and an in-car buffet holds snacks like salad and chicken wings. But the real place to catch the action is the open-air viewing carts, where you can feel the sun on your face and get up-close views of rock formations with names like the "Guardian Angel" (look closely and you can see the wings). Along the way, train-themed tunes spill through the speakers and live guides and audio commentary fill you in on your surroundings. The most luxurious way to see the sights is to book the Caboose. Geared for groups of six, the elegant car has oversize leather chairs, cupola seats, and a personal attendant to ply travelers with appetizers and champagne.
Schedule a Hike Through Hike House
Another great way to get up close and personal with nature: arrange a hike through the local Hike House. The hiking store is owned by Greg and Gracie Stevenson, a southern, husband-and-wife team who left the corporate grind to pursue their rugged passion. Gracie picks out the gear for the retail area, which "looks like Nordstrom went on a hike," says Greg. Stocked with stylish hiking pants, shorts, and tops, the retail area also has hiking sticks, backpacks, hydration packs, yoga gear, and shoes. The on-site Energy Café, a place the Stevensons designed for hikers to gather before and after hitting the trails, has smoothies, homemade granola bars, and "Mama's Red Rock Trail Cookies" that Gracie bakes up herself.
The store's main claim to fame (though those cookies come in close) is the Sedona Interactive Trail finder. There are more than 100 trails in Sedona, and the finder helps visitors discover a trail that perfectly meshes with their preferred distance, time, incline, and difficulty.
Better Yet, Arrange for a Private Guided Tour
We explored the West Fork Trail with friendly, seasoned hiker Jason Danoff, who told us about geology and wildlife, shared tidbits from his own hiking adventures, and deftly helped us over the slippery creek rocks. He even brought along some M&M-studded trail mix from the Energy Cafe. In October, the trail was at its most colorful, with the leaves bursting in hues of orange, red, and yellow.
Take a Safari Jeep Vortex Tour
For a mystical, oh-so-Sedona outing, book a Safari Jeep Vortex tour. The "vortexes" are rumored spots of energy—great spirals that travel upwards or downwards, and have either uplifting or grounding vibes—that can be felt at particular spots in town. Scientific? Not a bit. (The whole term "vortex" was supposedly coined by a famous medium who worked in the area.) But a vortex tour is a fascinating experience tailored to open-minded travelers, and you can't really say you've experienced Sedona without checking one out.
The tours are typically two-and-a-half hours. Though most of the vortexes can be spied from paved roads, there's also an option to get closer to certain spots via rocky back roads—but be warned: "rocky" is the understatement of the century. On the tour, a guide fills you in on the history of the area and the vortexes, and lets you hop out to experience the rumored energy spots along the way. Our guide, Chad, led us through a goose-bumps-inducing Indian ceremony at one of the spots.
Book a Spa Treatment
For a bit of pampering, book an appointment at the Spa at Sedona Rouge. Inspired by Morocco and the desert, the spa has dim rooms scented with rare flower oils and made extra cozy with Kashwére blankets. We booked the Abhayanga treatment, a 60-minute, full-body massage with warmed oils and "silent mantras" the therapist incorporates into the service (basically, positive thoughts meant to make the treatment more spiritually enriching.) Before our treatment, our masseuse analyzed our Ayurvedic personality type and gave us some tips for at-home relaxation.
The spa also has a Tranquility lounge where guests sip tea and flick through magazines in plush robes; locker rooms have saunas, steam rooms, and clothing-optional hot tubs (hey, you're on vacation.) Spa guests also get access to the Sedona Rouge swimming pool.
Bring some extra cash for the retail area, a surprisingly great spot for gifts. There's pretty jewelry displayed amid branches and Buddha heads, new-agey books for positive thinking, and signature Spa Rouge grooming goods scented in cedar-grapefruit and lemon-mint.
*Top photo featuring views from West Fork Trail. All photos by Dustin Berta.