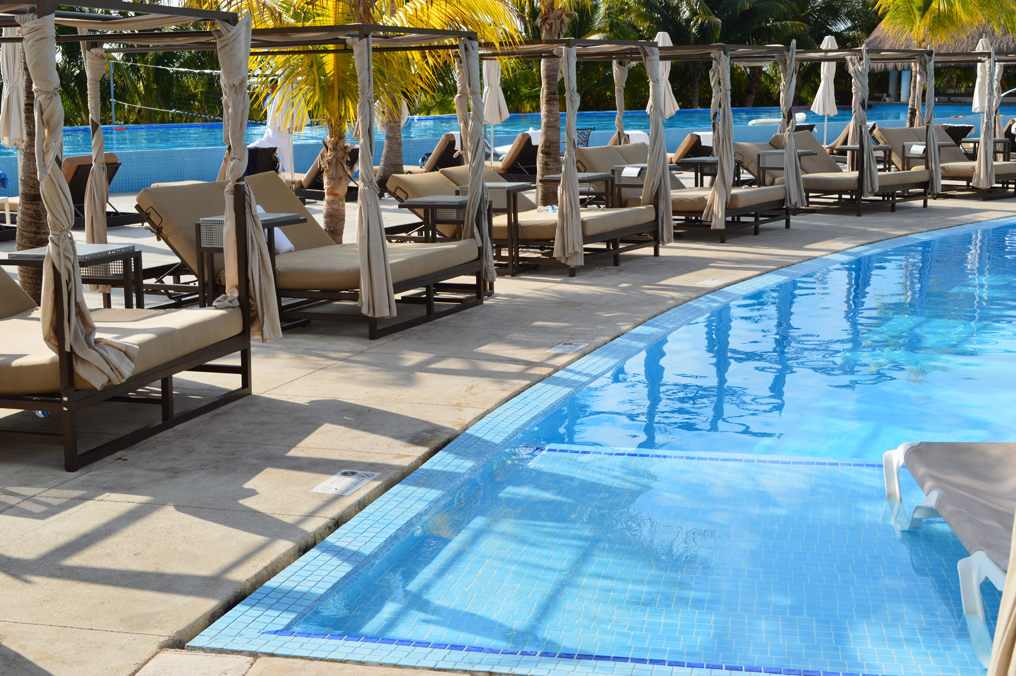 This mega-resort will feel like a hidden gem between the hotel strip and Riviera Maya just minutes from Cancun International Airport. The Moon Palace feels exclusive with personalized care, incredible service, and a great beach that you can enjoy, in most cases—without feeling overcrowded. So if you're staying a few days in paradise, here are some things to do at the Moon Palace Resort in Mexico.
1. Skip the pool for a day and head to the beach. Get up early and enjoy a beautiful sunrise in one of their beach cabanas.
2. Get active! Plenty of places to walk, bike, and enjoy the fresh air while checking out some iguanas on the way. Make sure you put on enough sunscreen!
3. Have a drink at the pool bars.
4. Sleep in and order room service! Or order any time of day with their 24-hour service!
5. Check out the pillow menu and order up! They have a great selection of unique scented pillows to make your stay even more comfortable and relaxed. Our favorites include orthopedic, lavender, chamomile, and goose feather.
6. Head back to the beach, but this time at night! See the stars, the moon, some cruise ships going by and enjoy a good drink. Take in the solitude and the sounds of the waves.
7. Hungry? Check out their 14 restaurants. Seriously, they have it all!
8. Do some Palace hopping! Free buses to some other Palace Resorts are available at no cost, and you can enjoy their amenities, too. But, if you're traveling with kids, make sure that the hotels are not adult only.
9. When the sun is down, nightly entertainment is not-to-be-missed.
10. Jump in the pool! There is one for everyone — for the kids and adults.
11. Visit Noir nightclub from 10 p.m. to 3 a.m., and dance all night long!
12. Explore Cancun!