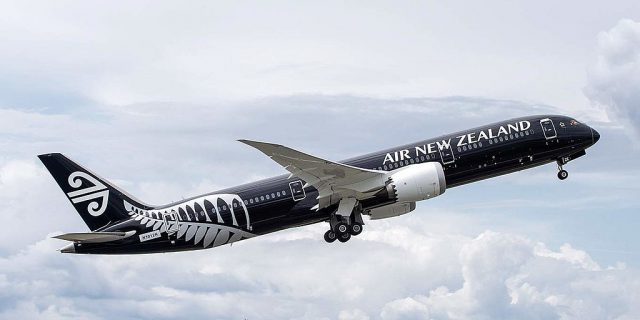 Air New Zealand is a fabulous airline that operates globally and serves more than fifteen million passengers every year as they fly to and from New Zealand. The history of this airline began back in 1940 when it was called Tasman Empire Airways Limited. The name changed to its current one in April of 1965 and that is when they only offered international services. Of course, everything changed again in April of 1978 when Air New Zealand merged with NAC, and both international and domestic flights were offered through the new airline.
Air New Zealand Destinations
While Air New Zealand has expanded with its destinations over the years, the latest city they are flying to directly is Chicago. Travelers can fly directly out of the Chicago O'Hare Airport and within approximately sixteen hours, they will arrive in New Zealand. This is the longest direct flight out of this airport, although the time is less for the return trip at only fifteen hours.
Boeing 787-9 Dreamliner
During a flight from Chicago, passengers will find themselves on a Boeing 787-9 Dreamliner. Business Premier seats are available on these flights and the soft leather seats turn into a luxurious bed that lies flat for the ultimate in comfort. Everyone who flies in Business Premier seats will have in-flight entertainment and a complimentary meal with drinks. These passengers will also receive additional in-flight amenities, premium check-in, and courtesy lounge entry.
Economy Seating on Air New Zealand
Those who fly in Economy seating will still be comfortable during their time in the air, thanks to the ergonomically sculptured seats with flexible headrests. Every seat offers in-flight entertainment in the form of a nine-inch HD touch screen that includes the latest movies, television shows, and games. These passengers also receive an in-flight meal and drinks.
The World's Coolest Safety Video
Before this flight takes off from Chicago or any other airport, the passengers are shown the Air New Zealand safety video. This video is titled "World's Coolest Safety Video" and to be honest, it really is! The video is much more interesting that a flight attendant standing there stating the rules and what to do in case of an emergency, because it shows quite a bit of the country and what people can see while they are there. Here's a safety video featuring actress Betty White!
Air New Zealand Airports
Anyone that is planning a trip to New Zealand will want to find the nearest airport that Air New Zealand flies into. It may be its newest at Chicago's O'Hare or it may be one that Air New Zealand has been flying to for decades. It doesn't really matter what airport it is as long as everyone takes Air New Zealand for their next flight to the country of New Zealand.