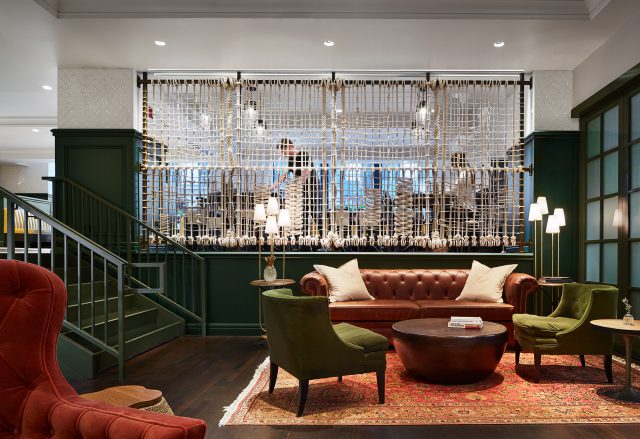 Gone are the days that hotel lobbies are just a place to check-in. Nowadays, lobbies are a place to feel a sense of community. From co-working spaces open to guests and non-guests to simplified food and beverage options, these are the 2020 trends for the future of hotel lobbies.
The Hotel Arrival Experience
Hotels are changing the way that guests experience their check-in. Patrons will begin to notice that hotels are moving away from a typical front-desk experience. "Most of our branded clients are not ready to do away with the "front desk" completely, but most have reduced prominence, choosing to make food and beverage more of an entrance focus. The feedback we get from the kiosk only concepts is that it is too impersonal," says Belinda O'Kelly, of O'Kelly Kasprak Architecture. In fact, expect to see some massive changes with some of the bigger brands in the next couple of years. "Big brand development (Marriott/Hilton) is looking to soften the welcome experience with a concierge greeter or roaming host in the one to five-year future, support front desk as needed," adds O'Kelly.
Food and Beverage options are getting increased prominent placement. "Sheraton is taking the focus off the front desk, and angling more to F&B in their new prototype programming. The larger Sheratons also have a concierge that roams the public spaces to check in on guests–providing a new layer of hospitality and the ability to upsell, taking advantage of F&B throughout the hotel. The Hoxton here in Chicago also moved the check-in to the back, and you walk through the food and beverage spaces first. There are plenty of people to greet and direct, from hosts to bellman," adds O'Kelly.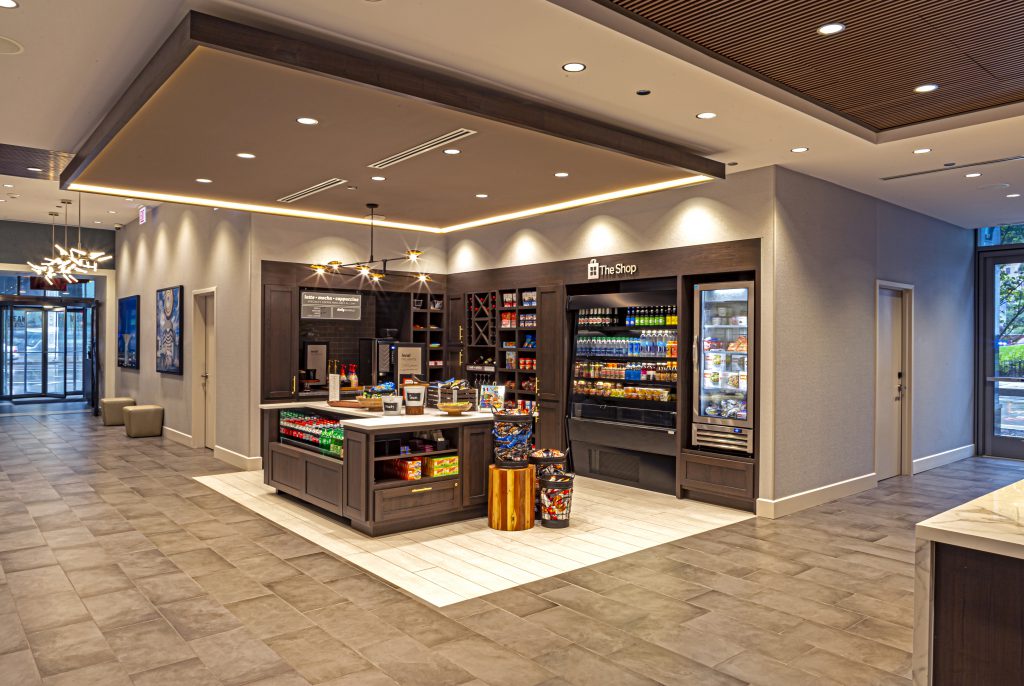 Working Spaces That Are Open to the Community
O'Kelly says that current lobby trends are looking to create intimacy, making it feel as if you are in the best version of your own living room. This means you'll be seeing approachable accessories and furniture, giving guests all of the vibes of hanging out in the comfort of their own home. The key to successful community co-working spaces is to make guests want to eat, drink, and work in these spaces. "Several brands are playing with this. Sheraton's 2020 outlook specifically talks about opening up the lobby to the community, offering rentable rooms/booths/F&B like a co-working space. The brand new prototype features a central coffee day to night bar that is much more in line with a high-end coffee shop feel and geared to daytime F&B. The bar is one of the central hubs that anchors the new Sheraton lobby experience. They are also offering rentable "studios"–conference rooms ranging in size that rent by the hour. There is a specific push to not only support hotel guests but to draw in co-working and the local business community. Look for these elements in the renovated Phoenix Sheraton in 2020. Hotels are looking to generate revenue off the lobby space in more ways than a bar," O'Kelly adds.
Coworking Options in Hotel Lobbies Are Driving Additional Business
"The more a hotel can successfully blur the lines between lobby and restaurant, the more opportunity there is for extending the food and beverage revenue. The new efficiencies brought to us by technology makes this possible where it wasn't five years ago," says O'Kelly.
Other advantages include increased revenue. There are several hotel brands that are taking advantage of co-working and daytime revenue. For example, The Hoxton Chicago offers up a ½ price day rate for use of a room for the day, while Sofitel Chicago and Hyatt Centric Chicago also offer day rates. The website dayuse.com showcases all of the hotels that offer this amenity. The Soho House is another membership-based uber-exclusive destination that allows its members to use the lobby and lounges for day co-working use.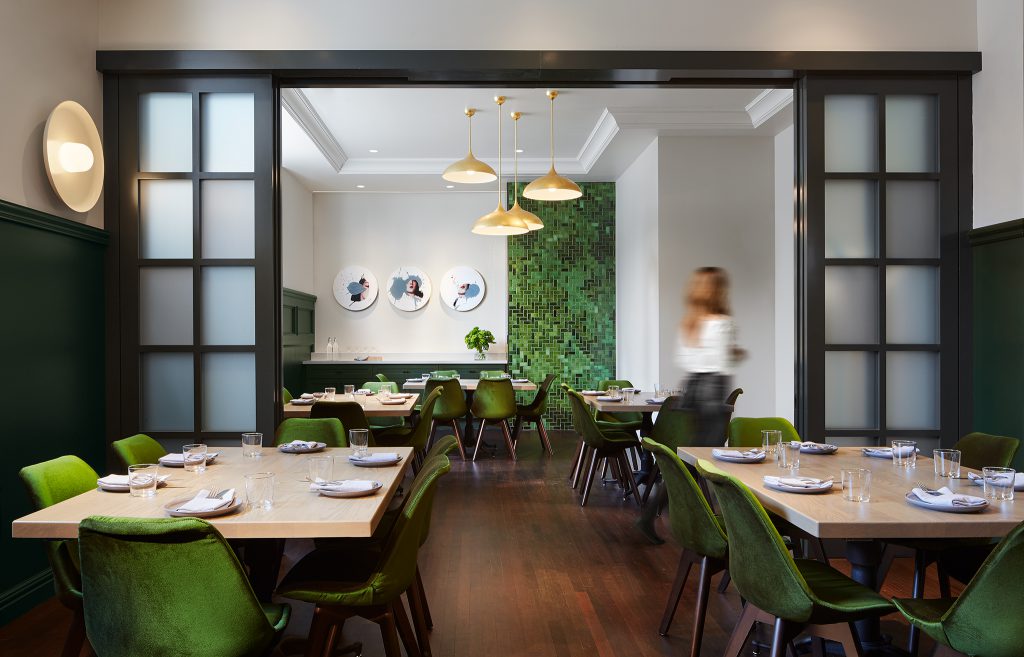 Simplified Food and Beverage Is Convenient and Higher Quality, Plus Technology Makes It More Efficient
The lobby food service experience is advancing. It's not only higher quality but convenient and technology is playing a big part in a guest's personal experience. "Technology innovation is allowing you to order from an app, indicate your location, and have items brought to you anywhere within the lobby experience", says O'Kelly. Big brands are taking note. They are tailoring menu items to really focus on a few items, done exceptionally well. "Borders of traditional F&B are blurred, both physically and conceptually. If there is a full-service restaurant, the trend is to find a destination caliber operator," she adds.
"We recently worked with Kimpton on the Fisk & Co. restaurant in the Hotel Monaco Chicago–the focus was to make the menu simple, fewer items but done really well. Focusing on beer and mussels, the culinary team invested in the equipment and talent to do the menu justice (including an oyster bar and a plethora of tapped craft beers). The Hyatt Centric downtown in Chicago elected for a more destination dining option with Cochon Volant and worked with an external operator to pull it off. On the select service/quick side, Hilton Garden Inn has revamped the retail component to provide fresh food options, with in-room delivery–focusing more on healthy and fresh offerings in a pre-packaged format, " says O'Kelly.