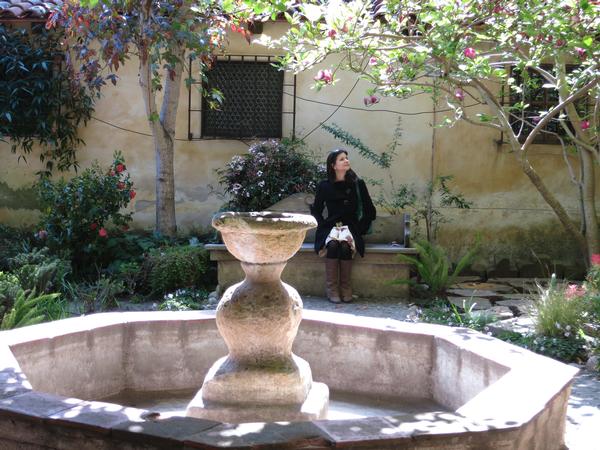 It's been nearly a week since I've returned to Chicago from Monterey and Carmel-by-the-Sea, and I still haven't forced myself to unpack. A part of me believes that a little bit of sunshine, ocean views, and pure relaxation are tucked away in the dresses, jeans, and colorful tops that took me through my trip, and I loathe to tuck them into the closet. As I finally sort through my luggage, though, I also get to unpack my memories of six blissful days spent in one of the most beautiful parts of the planet. Here are some of the spots that made the trip so special.
Carmel-by-the-Sea
Where to Stay: Hofsas House is a pink, ivy covered bed and breakfast that seems plucked from a Bavarian fairy tale. Family owned and operated for more than 60 years, the quiet spot has a heated pool, a sauna, and a kitchen-stocked private event space that can host gatherings for 40. The 38 rooms each have their own unique look. Ours had a fireplace, apothecary drawers, a plush flowery bed set, and Dutch doors that opened onto an ocean view. The hotel is minutes from the beach, and the friendly staff happily provides kits for bonfire-side s'mores. Stocked with logs, matches, and all the fixings for the gooey dessert, the kit even comes with Handy Wipes—my favorite example of the thoughtful, personal touches that general manager Carrie Theis offered us at every turn.
Where to Have a Leisurely Dinner—And Learn Everything About Mushrooms: Open for three years and with a spanking-new liquor license, Mundaka is a tapas restaurant in downtown Carmel. Named after a Basque city, the cozy spot has Moroccan-style touches like jewel-hued throw pillows and hanging glass lanterns. On weeknights, live musicians and DJs perform, providing tranquil soundtracks of everything from Flamenco guitar to jazz on vinyl. In the grand tradition of ordering tapas, during our visit we ordered two plates here, three plates there, sampling everything from fresh pickled veggies to braised tuna, avocado-studded ceviche, and—the showstopper—wild mushrooms laced with a delicate touch of garlic. Co-owner Gabe Georis heads out on frequent mushroom-scavenging trips in the California wilds, and he's a virtual encyclopedia on the foodie-adored fungus.

Where to Fuel up at Lunchtime: Shot through with sunshine, Wild Plum Café and Bakery has a giant pink chandelier, a wall of inspirational quotes, and ranunculus flowers in Mason jars on its tables. With a bakery counter holding treats like apple tarts and muffins, the bustling eatery also serves breakfast, lunch, and dinner. We stopped by at midday, and had a hard time choosing between the bounty of fresh, healthy offerings. Ultimately, we settled on the basil burger—mixed with a good dose of pesto— and the Super Natural filled with fresh veggies and avocado.
Where to Soak up Some History: With an ornate basilica and quiet courtyards filled with lemon trees and fountains, the Carmel mission was founded in 1771. Guests take self-guided tours through the tranquil grounds, and can peek into a replica of the mission's original kitchen, library, and the founder's ascetic cell. Incense wafts through a gift shop that's filled with angelic souvenirs.
Where to Have Souffle By the Fireside: In Pacific Grove, just a short jaunt from Monterrey and Carmel, Fandango specializes in what its owners call "cuisine of the sun." The menu offers Basque, French, Spanish, Italian, and North African fare, and at our fireside table we tucked into sliced calamari steak, the Caesar salad, lamb chops, shrimp scampi pasta, and (whew!) a dessert souflee with a creamy Grand Marnier sauce. Positively oozing conviviality and warmth, the space has charming touches like streamers spilling off light fixtures and bathroom faucets shaped like cubby golden cupids. On the second floor, a private party room that becomes public on the weekends offers stellar ocean views.
Where to Bask in Nature: About 45 minutes south of Monterrey, Big Sur offers staggering mountain, ocean, and canyon views and trails that athletes and city gals alike can hike. (Having forgotten my sneakers at home, I hiked the waterfall and canyon trails at Julia Pfeiffer Burns State Park in wedge heels.) As a certified spa junkie, I can report that I've had few other experiences as soothing-to-the-soul as a walk through that spectacular park.
Where to Stay: The Hyatt Regency Monterey was our home for the last few days of our trip, and by home I mean we slept there, ate there, got spoiled by masseuses there, and even got to bond with the striped, well-fed house cat Tiger, who has his own teeny house on the property's grounds.
On a Del Monte Golf Course, the hotel recently underwent multimillion dollar renovations that resulted in a new lobby with plush, fireside seating areas and live jazz concerts. New perks in the stay-rooms include flat-screen TVs and walk-in rain showers.
The TusCA restaurant—named to reflect its Tuscany-meets-California-style fare—overlooks the property's golf course and gazebo-enclosed fire pit, and serves breakfast, lunch, and dinner. In the sleek open kitchen, chefs whip up dishes like pancetta-wrapped sea bass and wild mushroom pizza cooked in a wood-burning oven.
The property's more casual eatery, Knuckles Sports Bar, recently underwent an extensive renovation. With plenty of flat-screen TVs for catching the game, the venue also has walls made out of reclaimed bleachers and a table with built-in beer taps—the state's only tabletop tap of its kind.
At the hotel's Accista Spa—a 12,000-square-foot structure made from wood, stone, and glass—each guest does a sniff test while checking in for treatments. Staffers present a row of small bottles; guests dip their noses into each one and pick their favorite fragrance, which is then incorporated into the treatment. Each Ajne scent corresponds with a season— I chose "abundance," which is meant to channel the bright essence of summertime. Treatments include massages, scrubs, manicures, and pedicures. A waiting area filled with books, blankets, and marshmallow-soft seating begs to be lingered in, and locker rooms have eucalyptus-scented saunas and rainfall showers stocked with deliciously scented products.
Where to Get a Custom-Blended Scent, and Play Marie Antoinette for the Day: Tucked into a courtyard in Carmel, Ajne is an apothecary and perfume shop that channel's Marie Antoinette's powder room. The jewel-box-like space twinkles with delicate, gold-and-crystal fixtures, and walls are stocked with tiny bottles of organic, custom-blended fragrances.
Before we visited the shop, founder Jane Hendler—a certified master essential oil therapist and herbalist—had us fill out a questionnaire meant to draw out key properties of our personalities. Over gluten-free amaretto cookies and a welcome cocktail of rosewater-infused champagne, Hendler analyzed the questionnaire and suggested scents meant to bring out certain aspects of our personalities. I took home Printemps, a soft, lovely floral fragrance meant to strengthen and balance the heart chakra, and I can't stop sniffing it when I roll it onto my wrist.
Where to Eat, Drink, and Take in a Truly Splendid Sunset: On our last night in Monterey, we had dinner at Pacific Edge at the Hyatt Carmel Highlands. The wraparound windows looked right onto the ocean, and the whole restaurant stood up to snap photos as a picture-perfect sunset spread across the sky. The relaxed-but-high-end eatery serves innovative cocktails—I had a vodka martini with lavender essence as I watched the sun go down—and an extensive wine list (the dining area peeks into a loaded wine room.) The menu has items like foie gras with vanilla-kumquat chutney, Monterey Bay abalone with roasted sunchoke, Berkshire pork chop, and wild mushroom ravioli with toasted pine nuts.