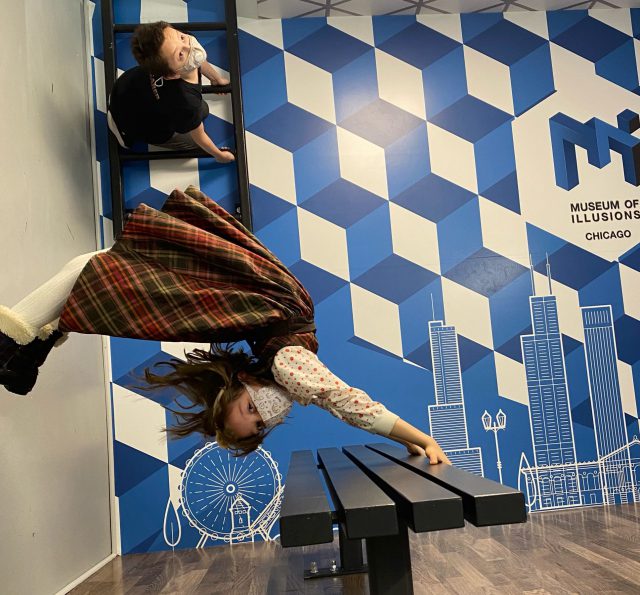 Originally opening in November 2020, the Museum of Illusions Chicago had to close its doors about a week later due to the state's COVID-19 stay-at-home orders. After months of being closed and Chicagoans staying home, the highly-anticipated interactive museum has safely re-opened on January 30, 2021, exciting weary locals and visitors alike. "We couldn't be more excited to bring the Museum of Illusions to life here in our hometown of Chicago," said Stacy Stec, Marketing and Sales Manager for the Museum of Illusions Chicago. "During a time when people need it most, we hope the museum will serve as a source of entertainment, education, and most importantly, inspiration. Whether you're looking for a fun outing with friends, a date night, or an activity perfect for the whole family, we're confident that the Museum of Illusions Chicago will deliver."
The Museum of Illusions first opened in 2015 in Zagreb, Croatia, and now has over 20 locations worldwide, including Paris, New York, and Toronto. It features over 80 illusions and brain-teasers that will delight the entire family. While the 4,500-square-foot museum features plenty of Instagrammable moments, this museum takes it a step further with educational exhibits that incorporate math, science, and psychology. "Illusions aren't just fun to look at. They challenge us to see things differently and they reveal a lot about how the brain interprets reality. Our brain is constantly trying to make sense of the world around us, and when we perceive something that doesn't fit the norm, our brains, in a way, reject it," explained Stec. The staff is very knowledgeable about each exhibit and can offer explanations of displays and advice on the best places to stand to get the perfect picture for some of the Instagrammable illusions.
"The Museum of Illusions is bringing a new and different experience to the Chicago museum and entertainment landscape," said Stec. "We are confident that it will be a welcome addition to the community and will bring additional energy, excitement, and fun to this very vibrant city," she added.
With COVID-19, the museum takes significant precautions to keep guests safe. It has reduced capacity, temperature checks, one-way traffic flow with social distancing floor stickers, timed ticketing, maximum cleaning, mandatory masks, hand sanitizing stations, and HVAC Air Purification.
There is never a shortage of things to do and see in Chicago, and the Museum of Illusions Chicago is located at 25 E. Washington Street, close to Millennium Park and many shops on State Street. The tickets are $15 to $21; however, children under five are free with an adult ticket purchase.
Before leaving the museum, check out the Smart Shop, which allows guests to take home some of the games they could check out in the Smart Playroom, as well as souvenirs, books, and accessories.
Some of our favorite exhibits were the Infinity Room, Head on a Platter, The Beuchet Chair Illusion, Anti-Gravity Room, the Ames Room, which gives off the perception of shrinking or growing, and of course, the Vortex Tunnel. Take a look at some of our favorite photographable moments.