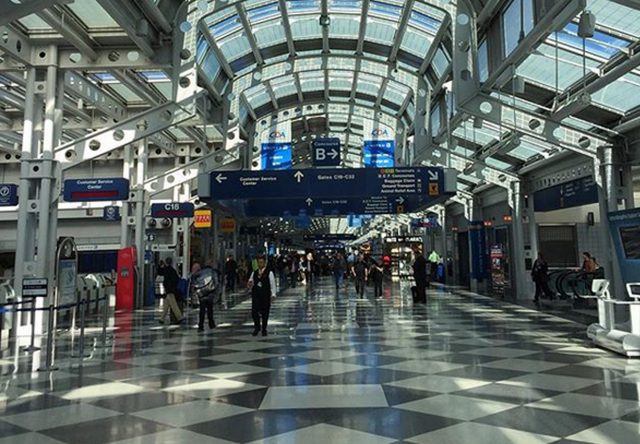 O'Hare International Airport
ADDRESS: 10000 W. O'Hare Ave, Chicago, IL 60666, USA
PHONE: +1 800.832.6352
WEBSITE: FlyChicago.com
O'Hare International Airport (ORD) is often referred to as O'Hare Airport, Chicago O'Hare, or O'Hare. Located on the Northwest Side of Chicago, O'Hare has 228 non-stop flights to destinations in North America, South America, Europe, Africa, Asia, and Oceania. Here's your guide to O'Hare International Airport in Chicago including everything you want to know from where to eat to details on the $8.5 billion in upgrades that will be complete in late 2022.
Terminals
O'Hare International Airport Terminal 1:
Concourses B & C: United Airlines, United Express, Lufthansa, Continental, Nippon Airways
O'Hare International Airport Terminal 2:
Concourses E & F: United, US Airways, JetBlue, Air Canada, Delta
O'Hare International Airport Terminal 3:
Concourses G, H, K, and L: American Airlines, Air Choice One, Alaska, American Eagle, Spirit Airlines, Iberia, Japan Airlines
O'Hare International Airport Terminal 5:
International Terminal, Concourse M: Aer Lingus, AeroMexico, Air France, Air India, Air New Zealand, Alitalia, Austrian Airlines, Asiana, British Airways, Cathay Pacific, China Eastern Airlines, Copa Airlines, Emirates, Ethiopian Airlines, Etihad Airways, EVA Air, Finnair, Frontier Airlines, Hainan Airlines, Icelandair, Interjet, KLM Royal Dutch Airlines, Korean Air, LOT Polish Airlines, Norwegian Air UK, Qatar Airways, Royal Jordanian, Sun Country Airlines, Swiss International Air Lines, Thai Airways, Turkish Airlines, Volaris Airlines
Upgrades
O'Hare Airport is undergoing an 8.5-billion-dollar project with massive upgrades with terminal 5 to see a complete overhaul with increase gate capacity, add more lounge space, improve the concession options, and replace the aging baggage handling system with a state-of-the-art baggage ID system. These upgrades should be completed at the end of 2022.
Nearest Hotel
The Hilton Chicago O'Hare is the only onsite hotel at O'Hare International Airport. The hotel features 860 guest rooms and is located at 10000 W O'Hare Ave. in a no-fly zone of the airport. Dining options include Andiamo, a grab-and-go market dubbed Cafe Mercato in the east lobby and not to be missed, Gaslight Club that features live music, fresh steaks, and seafood, as well as a variety of cocktails.
Transit
There are a variety of ways of getting to O'Hare International Airport. The most economical would be taking Public Transportation such as the "L" train or Metra. For convenience, there is a CTA Blue Line Station inside O'Hare International Airport. There are also taxis, limos, and rideshare companies that service at O'Hare for incoming and outgoing passengers. For those that are driving, there are plenty of parking options from daily rates to extended stays. There are also plenty of shuttles and regional buses that offer transportation whether you are coming from the city or suburbs. For those looking to rent a car, there are several car rental companies to choose from.
Where to Eat
Terminal 1: America's Dog, Berghoff Cafe, Billy Goat Tavern and Grill, Eli's Cheesecake
Terminal 2: Chicago's Blackhawks Stanley's Kitchen and Tap, Summer House Santa Monica, Wicker Park Seafood and Sushi Bar
Terminal 3: Bubbles Wine Bar, Garrett Popcorn Shops, Publican Tavern, Reggio's Pizza, Tortas Frontera by Rick Bayless
Terminal 5: Big Bowl, Hub 51, The Goddess and Grocer, Wow Bao

For more dining options, visit the website.
Airline Lounges
Domestic
International
Accolades
Since 2005, O'Hare International Airport was voted "Best Airport in North America" by Global Traveler magazine.
OAG Megahubs U.S. Index 2019 – O'Hare Ranked Number One for Fight Connectivity in North America
USA Today Travel 10 Best Readers' Choice Award for Best Airport Bar/Restaurant Atmosphere for Summer House Santa Monica at O'Hare
Cool Facts About O'Hare Airport
Daily Flights: 2,400
Destinations Served: 60 international, 160 domestic
You Can Relax: Yoga Room in Terminal 3, Terminal Getaway Spa in Terminal 1, 2, and 3, as well as XpresSpa in Terminal 5.