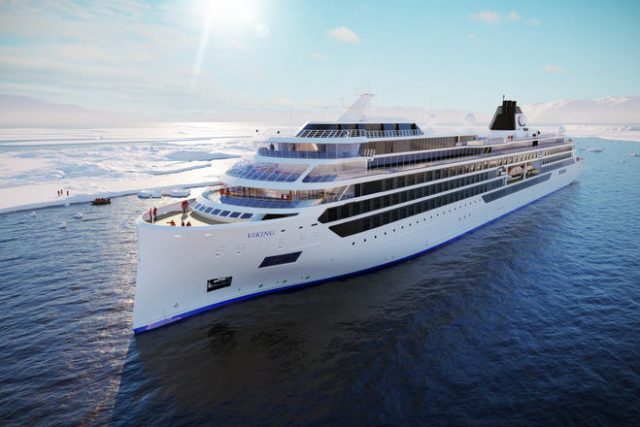 Luxury liner Viking is bringing its ultra-luxe cruises to the Great Lakes with plans to set sail in 2022. Viking Expeditions will begin sailing in January 2022 with its first vessel, Viking Octantis, which will entice guests to explore Michigan, Minnesota, Wisconsin, and Ontario with three unique cruises that feature eight days of exploration. The ships feature a Scandinavian design, accommodating 378 guests in 189 staterooms.
"We invented the concept of modern river cruising when we launched in 1997; then we reinvented ocean cruises and became the 'World's Best Ocean Cruise Line' in our first year of operation, as well as every year since then. Now, in creating 'the thinking person's expedition,' we are perfecting polar expedition cruising, and we will usher in a new era of comfortable exploration in the heart of North America," said Torstein Hagen, Chairman of Viking. "Our guests are curious explorers. They want to continue traveling with us to familiar and iconic destinations, but they would also like to travel further. We began as Viking River Cruises; then we evolved into Viking Cruises with the addition of ocean cruises; today we stand singularly as Viking, offering destination-focused voyages on more than 20 rivers, five oceans and five Great Lakes, visiting 403 ports in 95 countries and on all seven continents."
Here's a look at some of the popular new Great Lakes cruises:
Undiscovered Great Lakes (8 days; Thunder Bay, Ontario to Milwaukee) explores the Northern forests and pristine lagoons, frontier towns in the remote region of North America. Guests will pass between Lake Superior and Lake Huron via the Soo Locks, known as the "Linchpin of the Great Lakes." Pricing starts at $6,695 per person, with free airfare within North America. Sails between May and September 2022.
Great Lakes Explorer (8 days; Milwaukee to Thunder Bay, Ontario)  Explorers will venture from Georgian Bay's granite islands to Thunder Bay's towering cliffs, exploring "the nation's fourth seacoast." Along the way, guests will experience the popular car-free destination of Mackinac Island and learn about indigenous cultures and frontier life. Prices start at $6,495 per person, with free airfare within North America. Sails between May and September 2022.

Niagara & The Great Lakes (8 days; Toronto to Milwaukee) 
For those looking for a mix of skylines and uninhabited islands, look no further than the Niagara & The Great Lakes cruise. Visit world-class cultural attractions in Detroit, Toronto, and Milwaukee and see the iconic beauty of Niagara Falls as you cross Lake Huron. Prices start at $5,995 per person, with free airfare within North America. Sailing dates in April, May, June, July, and September 2022.