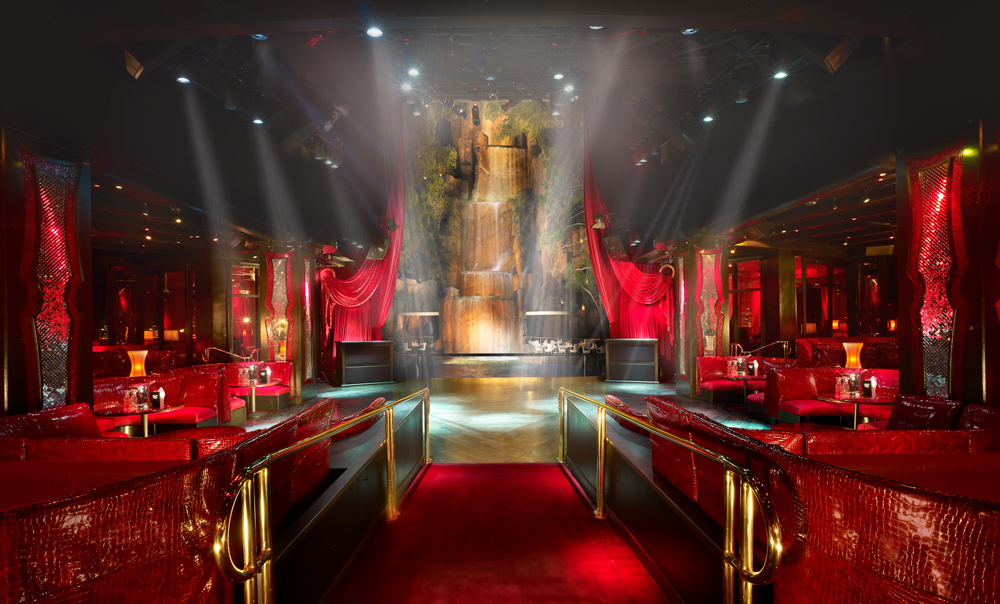 In the land where bigger is better and over-the-top is rote, it can be tough to find a sleek, intimate spot to grab a bite in Vegas. Enter Andrea's, a godsend for design fiends and those who like a little sophistication with their sashimi. With sexy lounge beats, plush banquette seating, and a mysterious mural of a woman's eyes peeking out from behind the bar, the new Asian spot has a menu that's crammed with irresistible eats. But first, a drink is in order.
Our beyond-helpful waitress, Moon, delivered the drink list via iPad. The tech-savvy menu had tempting pictures of all the sweet, stiff concoctions, and we opted for the Asian Pear Martini. (An excellent choice, fellow travelers.) Bites that followed—each more delicious than the last—included steamed edamame with truffled sea salt and Scottish tuna tartare with avocado and crispy shallots, and then it was onto the sushi.
Roll fiends like us will have a hard time choosing between all the options, including classic choices like California and spicy tuna, and specialty rolls that you can't score anyone else. We kept our chopsticks busy with the Special Cucumber Roll, made with tuna, yellowtail, avocado, king crab, eel sauce, and spicy sesame dressing. We also loved the Shrimp-Tempura-and-Spicy Tuna roll, which is studded with bits of mango and avocado. If you're feeling a little lavish—and haven't burned through too much cash at Blackjack—try the Waygu Beef and Lobster roll. It's a $40 delicacy that's not much of a gamble.
Prefer a different type of entrée? Take your pick from a list that offers everything from Miso Black Cod and Five-Spice Garlic Lobster, Filet Mignon, and Shrimp Pad Thai.
Insider tips: if you're into beautiful-people watching, you won't be disappointed at Andrea's. Though the sleek spot has an unpretentious vibe, the crowd is beautifully coiffed and dressed to the nines. And if you're already dolled up and want to keep the party going, check out one of the nearby Wynn nightclubs. Though our clubbing days are behind us, we had a blast boogying amid the waterfalls and swank scenery at Tryst.
For more information on Andrea's and Tryst, please visit www.wynnlasvegas.com