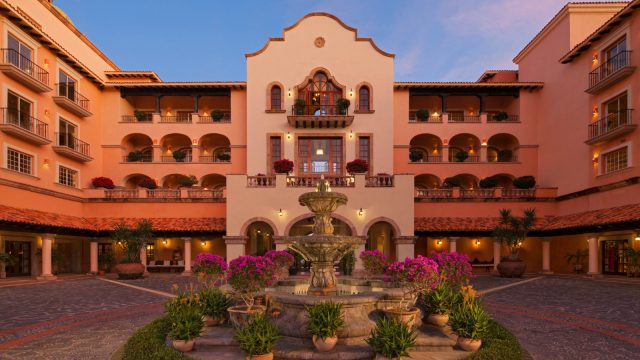 Situated in the heart of Cabo and stretching out across the pristine white sands of Tortuga Beach and the Sea of Cortez is a resort unlike any other. The Sheraton Grand Los Cabos Hacienda del Mar has everything you need to make a holiday in Cabo the most memorable yet. The resort is only 6 miles from the lively Cabo San Lucas downtown area, but the resort itself has enough space for exploration too. Rooms are spacious and comfortable, paired with balconies that offer amazing views, and grounds that feature five pools, a spa, restaurants, golfing, Sheraton Adventures Kids Club, and much, much more.
Even those who are coming to Cabo for a celebration or business meetings will find Sheraton Grand Los Cabos Hacienda del Mar to be highly functional. There are 8 meeting rooms available—the largest of those spaces being 12,419 sq. ft.—as well as indoor and outdoor locations to use for your gatherings. The best part is that the exceptional team of professional chefs are on board to cater to these needs.

The Beautiful Decor
One of the grandest features of Sheraton Grand Los Cabos Hacienda del Mar that makes it a true jewel would be the décor. Both inside and outside is reminiscent of traditional Mexico, with ceramic shingled roofs, arched colonnades, brightly colored walls, and tiled floors. Guest rooms are painted with inviting hues and contemporary furnishings. The grounds are landscaped to feature beautiful flowers, such as cacti and fuchsia azalea bushes around the pools and towering palm trees along the pathways. Many of the bars and terraces also feature thatched roofs.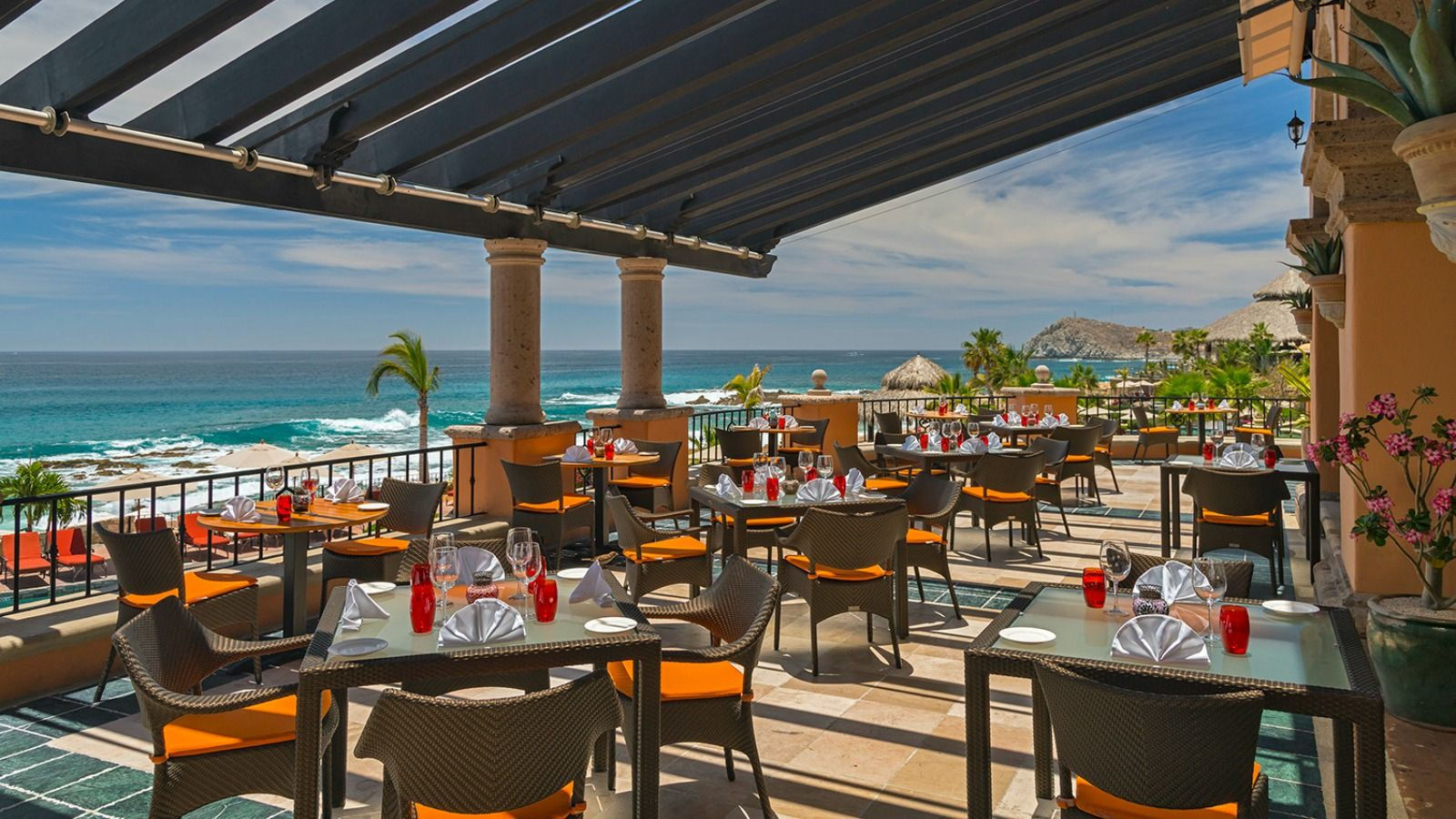 Dining Options
A resort should be more than just a place to sleep. Whether you are hungry from some international cuisine with family or friends or want to have a romantic dinner just for two, the restaurants at Sheraton Grand Los Cabos Hacienda del Mar offer a wonderful array of flavors for any palate.
Dining options include:
Tomatoes – Enjoy Mediterranean cuisine based on seasonal ingredients while dining al fresco and overlooking the Sea of Cortez.
Girasoles de la Hacienda – Upscale Mexican cooking that is perfect for families to enjoy a hearty meal after a long day of fun.
Las Sirenas Bar – Found beside the oceanfront infinity pool, this bar is open dining and offers a number of tasty snacks, beverages, and live jazz and R&B music.
La Suerte Bar – The authentic Mexican ambiance of this bar will make you feel like your at a Tequila estate, especially since the drink menu features over 100 brands of tequila to sample.
Pithayas – With a menu full of surprises and a wine list featuring over 400 labels, Pithayas is the perfect place to enjoy dinner, a sunset, and live entertainment.
Delfines – You don't even have to leave the water to refuel and refresh yourself with scrumptious food and drink at this swim-up restaurant.
De Cortez Grill – Dinner by candlelight, jazz music, and fresh caught surf and turf meals.
Do note that room service is also offered 24 hours a day and all-inclusive meal plans are available!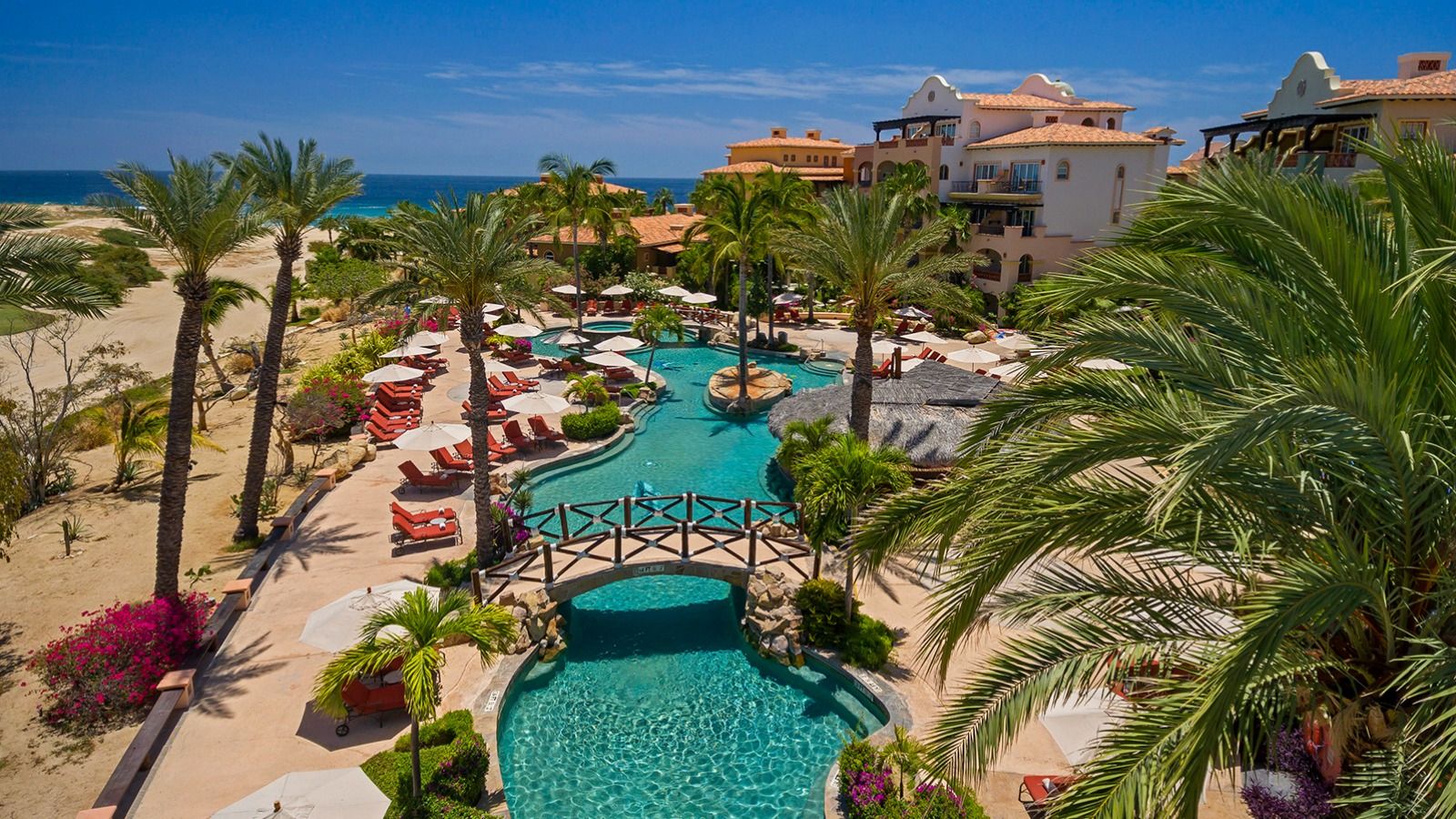 Pools Galore
Having five pools to choose from means lots of time spent by the water. The Sheraton Grand has a kids pool, infinity pool, and even one pool with a swim-up bar. All the pools have lounge chairs, umbrellas, and wonderfully landscaped surroundings. Whether you are overlooking the sandy beaches or sipping a margarita beneath palm trees, there is a poolside paradise waiting for you. Children will love the waterfalls and water slides too.