There is no better experience than to get in a car and take a road trip no matter the destination, as long as it's far enough to spend hours talking, singing, and playing games. Every summer, right before the school year starts, taking that last vacation and making it count is becoming a tradition for our family. For the most part, we try to visit different places; however, heading down to the beach seems to be a family favorite for all of us. This year, we decided to do the Chicago to New Orleans road trip and spend a few nights in the Big Easy and then enjoy a week spent at the beach in Destin, Florida. One of the best parts about driving is that you can see so much more along the way and really connect as a family. Check out our Chicago to New Orleans road trip and see where we stopped along the way.
How We Got There (the Car)
Forget about taking a plane. Hit the highway instead and visit small towns along the way. For this trip, we were lucky to have Ford reach out to drive one of their cars. We needed something spacious since we are a family of five (two adults and three kids ranging in age from 6 to 16!). We ended up getting the Ford Edge Titanium 2019 in baltic sea green, which was perfect for this adventure. With plenty of legroom in the back seat, the kids had more than enough space to be comfortable and plenty of UBS port and plugs-ins for all of the electronics. Some features we loved included the panoramic moonroof, heated/a/c seats, and, of course, the smooth ride. The trunk space was perfect—not too big and not too small.
Where to Stop Along the Way From Chicago to New Orleans
One our way down via I-57/I-55 to New Orleans, you could stop in Cairo, Illinois, which was once a hub for railroad shipping and steamboat industry because of its central location on the Mississippi and Ohio rivers.
Detour: If time is not a problem, head to Paducah, KY, for the night. This town has it all, from a charming downtown with one-of-a-kind shops and boutiques to Top Chef Sara Bradley, the freight house restaurant owner. This stop will not disappoint!
Continuing our way down, we stopped in Memphis, which is almost midway down to New Orleans. If you're a fan of Elvis, we suggest booking a night at The Peabody hotel—this is the hotel that has the march of ducks from the rooftop to the lobby fountain. Later on or right before leaving the next day, make your way to Graceland, which is just minutes from the hotel.
From here, it's basically just a few quick stops at the gas station for some quick snacks (boiled peanuts are for sale everywhere but never had them—we always forget to buy).
On the Way Back From Destin to Chicago
To change things up for the way back to Chicago, we took I-65 all the way up from Destin, Florida. We made a quick stop in Cave City, KY, for some fantastic food at Bucky Bees BBQ. Check out the buffet, which everyone loved! We had BBQ ribs, pulled pork, potato salad, and cornbread. We couldn't be any happier after that meal, and it's a stop we would definitely make again.
Detour: During this part of the trip, we made a few detours. Check out Mammoth Cave in Cave City, visit Sinking Springs Farm Abraham Lincoln Birthplace National Historical Park, or stop in any distilleries along the way.
Back on the highway, our final stop before getting to Chicago is Louisville, which just so happens to be one of our favorite foodie towns. We suggest eating at Royals Hot Chicken (don't miss the Bourbon slushie or shake), the Garage, and the must-stop, Hi-Five Doughnuts. (Check out this post for our favorite foodie stops). For an overnight stay, check out the 21c Museum Hotel, one of our favorite hotels.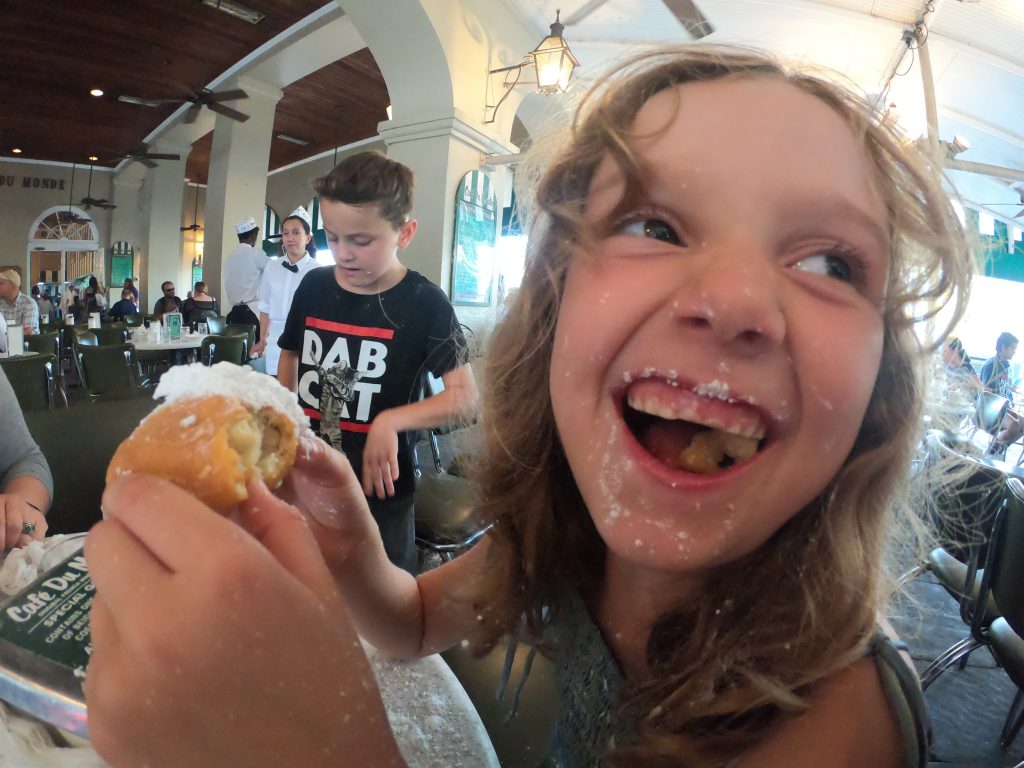 New Orleans
New Orleans happens to be one of our favorite US destinations. There's truly no other city like it when it comes to the French, Spanish, and Creole influences. From the music to the culture, there's something for everyone. We recommend strolling the streets of the French Quarter, exploring the neighborhoods, visiting Café Du Monde for beignets (several times like we did!), and going on a Swamp Tour during your stay. As for a hotel, we enjoyed staying at the B on Canal in the Central Business District and within walking distance to the French Quarter.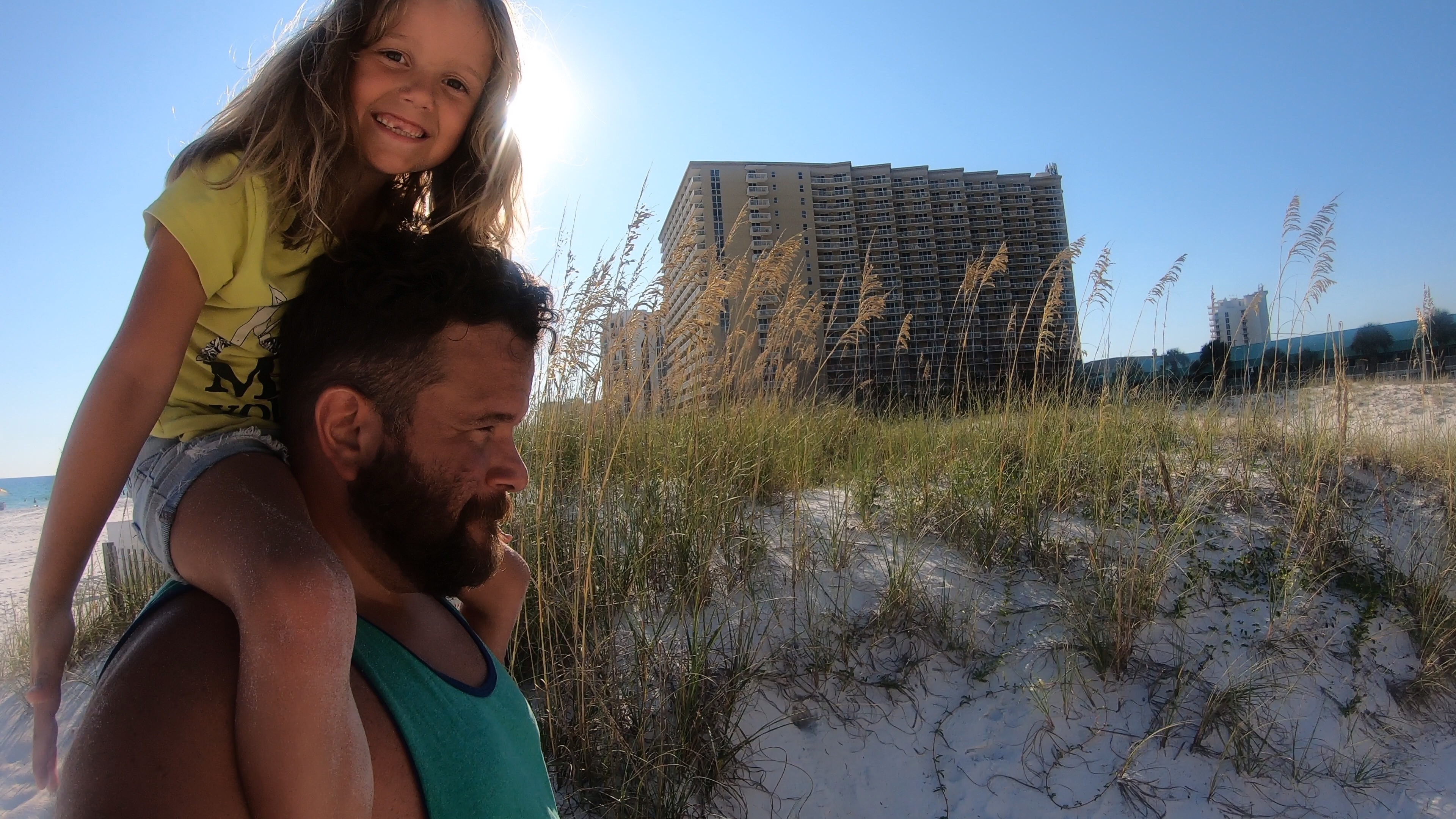 Destin, Florida
Our last stop on this adventure was a week's stay in Destin, Florida, and truth be told, after a bustling two days in New Orleans soaking up the music and culture, all we wanted to do was plant ourselves on the beach. Destin's BEST part is the beaches, which feature white sand and crystal blue waters just like in the Caribbean. All of the Emerald Coast beaches are stunning, and we can't wait to go back.