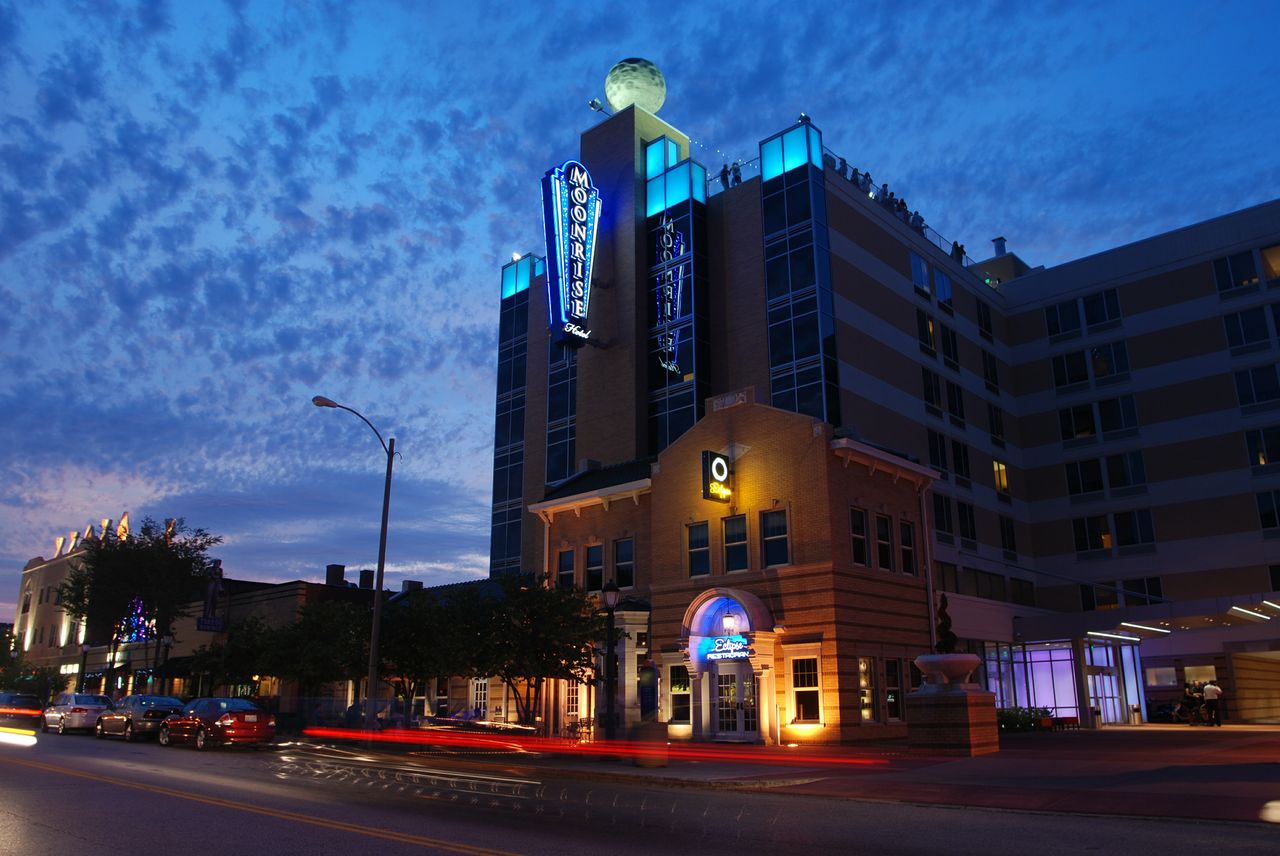 If you're in St. Louis and looking to unleash your inner astronaut—or just do some star gazing—check out the Moonrise Hotel. The boutique property has a whimsical vibe that you'll notice as soon as you check in. It doesn't hurt that the front desk agent will hook you up with some spiked punch immediately.
Though this is a luxury property (would we send you anywhere else?) its trappings are anything but stuffy. In the center of the lobby, an illuminated staircase lets off rainbow-hued lights. There's gold patterned wallpaper, arty chandeliers, and display cases holding space-themed kitsch.
Filled with moons and stars, the cheerful rooms have the vibe of a stylish space-fiend's living room. Rooms are stocked with luxury bedding, plasma screen TVs, and walk-in showers; there are also all the tech-y amenities a business traveler could need. Our room had an extra-delightful perk: when we turned out the lights, the ceiling lit up with glowing stars.
No hotel stay is complete without a little room service, so we called up for a not-so-light snack of biscuit sandwiches, and still managed to save some room for breakfast the next morning.
Just off the lobby, Eclipse Restaurant is a casual fine-dining spot that serves up seasonal fare from morning till late night. Our pick was the eggs Benedict topped with grilled Ruby Red trout. We also loved the Bloody Mary menu, which has still morning cocktails made with delightful oddities like lavender salt.
The hotel is in the heart of the Loop, a hopping neighborhood filled with cute shops, restaurants, and—right next to the Moonrise—a vintage-style bowling alley. There are also plenty of bars, but if you stay at Moonrise this spring, don't stray too far from home base: the New Moon Room, a chic rooftop lounge with inventive cocktails, is slated to open in May.
The Moonrise Hotel, 6177 Delmar in the Loop, St. Louis, Missouri, 63112; 314-721-1111; Moonrisehotel.com