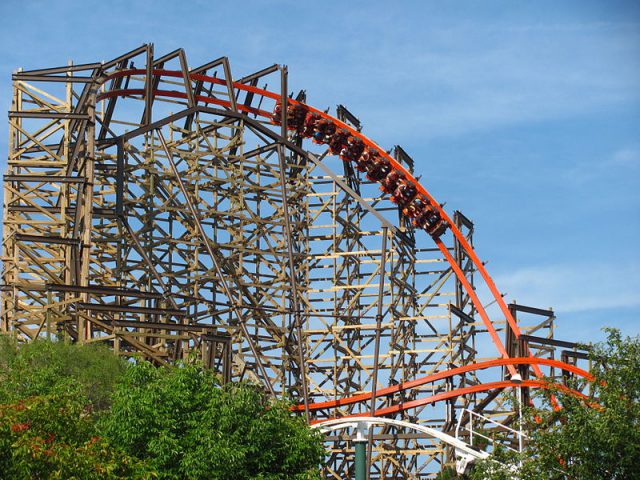 When it comes to thrills, Six Flags Great America in Illinois is all about exhilaration and entertainment. The park is a smorgasbord of roller coasters, old and new, spinning rides, the Hurricane Harbor water park, and even family-friendly rides set amongst a sprawling park. If you're looking for the perfect place to spend a day with the family, Six Flags Great America is where the best attractions create memories.
There are 10 themed areas for all ages, three children areas, and a water park called Hurricane Harbor.
View this post on Instagram
The Top Thrill Rides
There's a number of thrill rides outside of roller coasters to try, such as:
Justice League: Battle for Metropolis – if you love 3D simulations in the dark, then this is for you. The base of the ride is a rover vehicle that is time with action scenes, blasters, and other interactive gameplay.

Dare Devil Dive

DC Super Heroes Drop of Doom VR

Giant Drop

Revolution

Winner's Circle Go-Karts
Roller Coasters: Old and New
There are presently 16 roller coasters at the park. Since 2014, Six Flags Great America has been winning in the roller coaster department, namely because of the wooden coaster called Goliath. The modified steel "Topper" track covers the wooden base, allowing for Goliath to become one of the steepest and fastest wooden roller coasters in the world.
Other roller coasters include:
X-Flight – a wing coaster that reaches a height of 120 feet, has a top speed of 55 mph and has a wild track that shoots up at 90 degrees at one point.

Batman: The Ride – having debuted in 1992, Batman: The Ride was the world's first inverted coast where the train hangs below the track.

Vertical Velocity – a shuttle coaster that uses magnetic motors for launching and propulsion. One tower is a straight vertical while the other spiral all the way up to the top, adding thrills to the reverse drop.

Superman: Ultimate Flight – a roller coaster where you "fly" while hanging from the train, letting you experience loops and inversions while suspended in the air.

The Joker Free Fly Coaster – a 4D Free-Fly coaster where seats spin backward and forwards while in motion.

Raging Bull – a tame hypercoaster

The Whizzer – another tamer coaster that has plenty of banking and no inversions. It has been around since 1976 and continues to be a popular roller coaster for children.

Viper – a traditional style wooden coaster that was the precursor to Goliath.

Demon – high-speed looping coaster

Mardi Gras Hangover – 100-foot tall looping coaster

and more
Family and Kiddie Rides
All the family and kiddie rides at Six Flags Great America are ideal for those with younger children. Here is a list of some of the best:
Big Easy Balloons – revolving hot air balloon ride

Chubasco – spinning tea-cup style seats

Fiddler's Fling – a scrambler-style ride that whips you around

Logger's Run – a traditional log flume

River Rocker – swinging boat ride

and more.
All the kid's rides are found in KIDZOPOLIS, Camp Cartoon, and the brand new Hometown Park and include the following:
Bouncer

Krazy Kars

Crazy Bus

Little Dipper – though this is a dragon coaster, it is also a kiddie coaster with a figure-8 layout and retro feel.

Rocky Road Rescue Service

Sprocket Rockets – junior coaster

Yahoo River – boat ride

ZoomJets – spinning ride

and more.
Water Park Adventure
At Hurricane Harbor, you will find the usual water park rides, such as a lazy river called Castaway Creek, a kid zone called Buccaneer Bay, tubing down slides, Hurricane Mountain, Surf Rider, and other attractions for all ages.
View this post on Instagram
Special Events to Attend
Throughout the year, Six Flags Great America has exciting events to check out, including:
Mardi Gras Festival – runs from July 28 to August 12, bring Mardi Gras to Illinois

Fright Fest – runs from September 15

th

to October 28

th

, transforming the park into a Halloween-inspired haunt

Holiday in the Park – runs from November 23

rd

to December 31

st

, turning the park into a winter wonderland.
No matter the time of year, Six Flags Great America is a marvelous amusement park for all ages. Be sure to check it out.