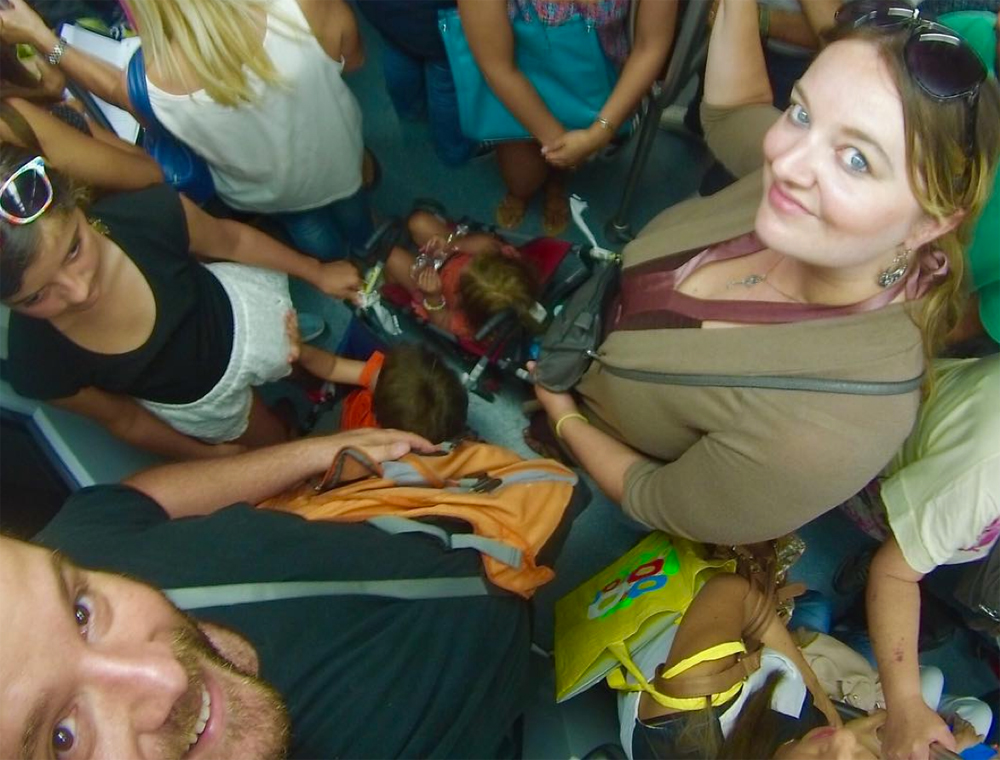 Traveling with kids can be exciting, but it can also be stressful. With excess luggage for everyone to trying to fit in all of the activities in a single day, it's no wonder families traveling with small children often put it on the back burner (nevermind the expense of it all!). After experience traveling to Europe for a month with three kids in tow, and countless road trips from Chicago to New Orleans, I can tell you that these trips are some of the best experiences of my life. Here are some of my favorite family travel tips that I use for my own family of five when visiting Europe or other countries and states! I took some advice from some websites and learned a few things from experiences along the way, from what not to do or overdo during any trip with kids.
1. Packing
This might be the most difficult one as we needed to bring just the right amount of clothes for the trip without overpacking. We happened to follow the advice from Fashion Designer Cynthia Rowley when she traveled with her family to Bhutan. She told us that everyone gets their own backpack that they have to carry themselves, so, that's what we did. And, it worked great. My wife and I each had large travel backpacks from Tom Bihn and our teenager had her own. With our strollers and some other items that are necessities with two small children, we didn't want to be weighed down (literally) with too much luggage.
View this post on Instagram
2. Over Planning the Day
This might be very easy to forget since we "as adults" are very excited to see and experience things on a trip. Realizing that the little ones might not know what they are seeing or care is an important thing to note. In Rome, my 12-year-old said, "we are going to see another church! How many churches do we need to see"? This happened while we were visiting the Sistine Chapel! Of course, I was mortified, but it made me take a step back. Now we may see one or two historic places per day when traveling with kids, being mindful of not over planning the day too much so they can appreciate incredible places like that.
3. Taking the Train Everywhere
Yes, we took the train in Barcelona, Rome, and Paris as I feel that it can be a fantastic way to get to know a new city. But sometimes it's not the best mode of transportation. During one leg of the trip, I planned to take the train from Orly Airport in Paris to the City Center. And after thinking of all the time and the transfers to make in order to get to our amazing view of our Airbnb apartment, well, we decided to take a taxi. It was about the same price we would have paid for everyone to take the train the distance we needed to and we all arrived fresh and comfortable.
4. Skip the Museums
Yes, as hard as it might sound for most museum lovers, this can be a very stressful experience – not for the kids, but for the parents. Just think, small kids (ages two and four) being trapped in a stroller for several hours. It's just too much for things that they won't understand at an early age. Instead, plan a visit to someplace that they can run and learn while having fun. I am thinking of places like the gardens of the Palace of Versailles. It was perfect, they ran all over the place, they enjoyed their time and they didn't disturb other people. Or in Barcelona, head to the beach or Ciutadella Park with large open spaces. If the museum is a must, I suggest splitting up to take your older children, while the other parent heads to something fun for the kids.
5. Book Your Flight With a Stopover to Save Money
I searched for all the possible options when getting plane tickets. Direct flights are the best, of course, but if that can't happen, look for a way to get there fast and easy. Always check the details on the website you are using for the airline—type of plane and pay a visit to the airline home site as well and see how kid-friendly they are. You might find they offer special discounts, special meals and that the plane has a built-in entrainment system. Oh, did I tell you how I saved 2,000 dollars to Europe? Instead of flying out of Chicago, we saved this money flying out of Toronto.
6. There Is Nothing like Sitting Down and Having a Nice Adult Dinner (With the Kids)
We did a few nice dinners but always kept in mind that we don't want to disturb the people around us. Yes, my kids can get a bit out of control, be loud, and overexcited about something every now and again. One of my best tips for dining out with kids is to always have activities on hand to keep them busy, whether it's materials for drawing or small games. We always try to pick places that aren't as busy so that we can introduce them to new foods and cultures without making a disturbance. Since we rented apartments throughout the trip, we took full advantage of shopping at local supermarkets and cooking at home too.