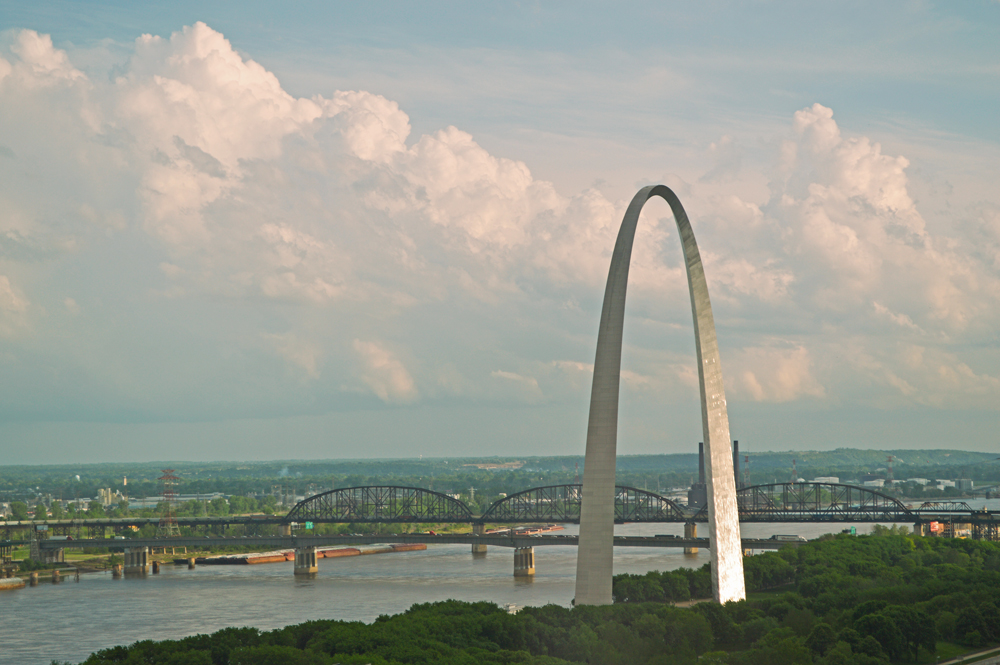 Heading to St. Louis can be the perfect weekend trip, but once you're there—-what should you do? Here are nine things to do in St. Louis.
1. Walk to the Gateway Arch
You see this huge metal arch structure from afar as the symbol of the city, and with a quick walk from your hotel, you can enjoy a few great pictures with the family. Another great feature is that you can go all the way to the top and see great views of St. Louis.
2. Eat at Cielo
At the Four Seasons St. Louis, Cielo will give you amazing views of the Gateway Arch and the Mississippi River. Enjoy al fresco dining with modern Italian cuisine that is perfect whether on a romantic date or with the entire family.
3. Head to the Casino
Right between the Four Seasons and Lumiere Hotel is the Lumière Place Casino, with easy access from both hotels and the city center.
4. Breakfast at Rooster
Don't be detoured by the long wait or the line that you may see forming outside. This place takes crepes to the next level, from your traditional and favorite crepe of Nutella and s'mores with cookie crumbs, marshmallow & dark chocolate to savory breakfast crepes with egg, bacon, and some of the best cheeses.
Rooster
1104 Locust Street St. Louis MO
5. PI is for pizza
PI has more than just a friendly staff—it's a great pizza restaurant with a lovely ambiance and outdoor seating. We enjoyed pi bites, a fresh kale-iforniacation salad, and the Hill thin crust pizza with fresh ingredients like mozzarella, pepperoni, salami, onions, green bell peppers for our appetizer, kalamata olives, and banana peppers.
6. City Museum
So, what do you do with pieces of metal, an old school bus, a plane, and vault doors? You start building the City Museum in St. Louis—a former international shoe warehouse that will take you ten floors up with plenty of experiences and excitement. Don't miss the slides, MonstroCity, the Enchanted Caves, and Shoe Shafts.
7. Cahokia Mounds
About 15 minutes from St. Louis (in Illinois), you will find the entrance to the Cahokia Mounds. It's not a destination that's too well-known, unfortunately, but this area is a World Heritage Site and one of the most important remains of the only prehistoric civilization north of Mexico. Once a thriving community, the population reached 10,000 to 20,000 people from 1050 to 1200 A.D.
Walking and hiking the mounds is a great, free family activity. Also, don't forget to visit the Cahokia Mounds Museum to learn more about the historic civilization right in our own backyard.
8. Soulard Farmers Market
Just a few minutes from the city center of St. Louis is the Soulard Farmers Market—a stop to enjoy local produce. Some of our favorite stops were the Nimi's Oven Donuts and Desserts, Soulard Bakery for some elephant ears, Frandeka Meats and Fish, and, of course, all of the fruit, vegetables, and flowers vendors. Expect deals, lots of people during the weekend and some street music entertainment.
9. Gateway Arch Riverboat Cruises
Step back in time and ride a 19th-century paddle-wheel boat. It can be a great experience for kids and an excellent way to get some great pictures of the city and the Gateway Arch for adults.
50 South Leonor K Sullivan Blvd.
St. Louis, MO