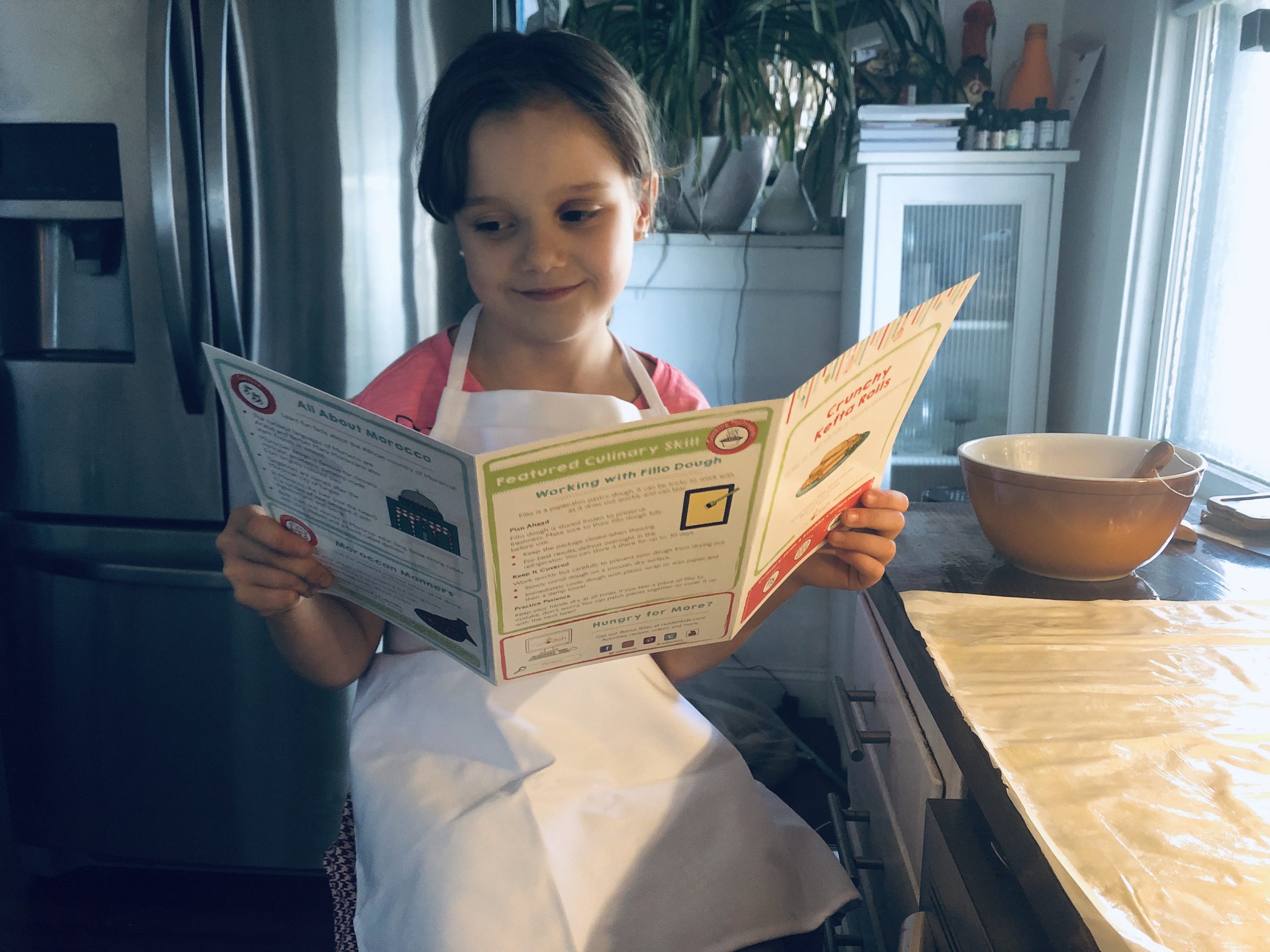 We love exploring the world with our three kids. We've ventured to Europe (Paris, Spain, and Rome) with them and have done countless road trips (one of our favorites is Chicago to New Orleans and Destin, Florida, or spring break in Vegas (yes, really!). Being in quarantine the last few months and running a travel site, has us coming up with some unique ways to stay inspired through travel. We have to say that one of the best ways for us to connect to a culture is through food.
We came across Raddish, a cooking club tailored to kids! They have several travel-inspired meal kits and we couldn't help but be intrigued by their global cooking kits as a way to show and teach our kids about different cultures around the world. This month, the kit is Morocco. The kit teaches your little ones about all of the wonders of North Africa through new spices and tastes. You'll create crunchy Kefta rolls, a delicious Moroccan chicken tagine (their traditional stew!), and Orange Blossom tea cakes.

The kits feature the recipes on beautifully lamented cards that you'll be able to keep forever, a guide on Arabic writing, a shopping list so you can easily buy the ingredients, table talk cards, a special patch, tea cake molds, and a Raddish apron.
Morocco has been one of the must-go destinations on our travel bucket list for ages and this is a great way to explore the country through food. Here's a look at what we made. We are sharing one of the recipes below! So fire up the Moroccan music playlist and get cooking!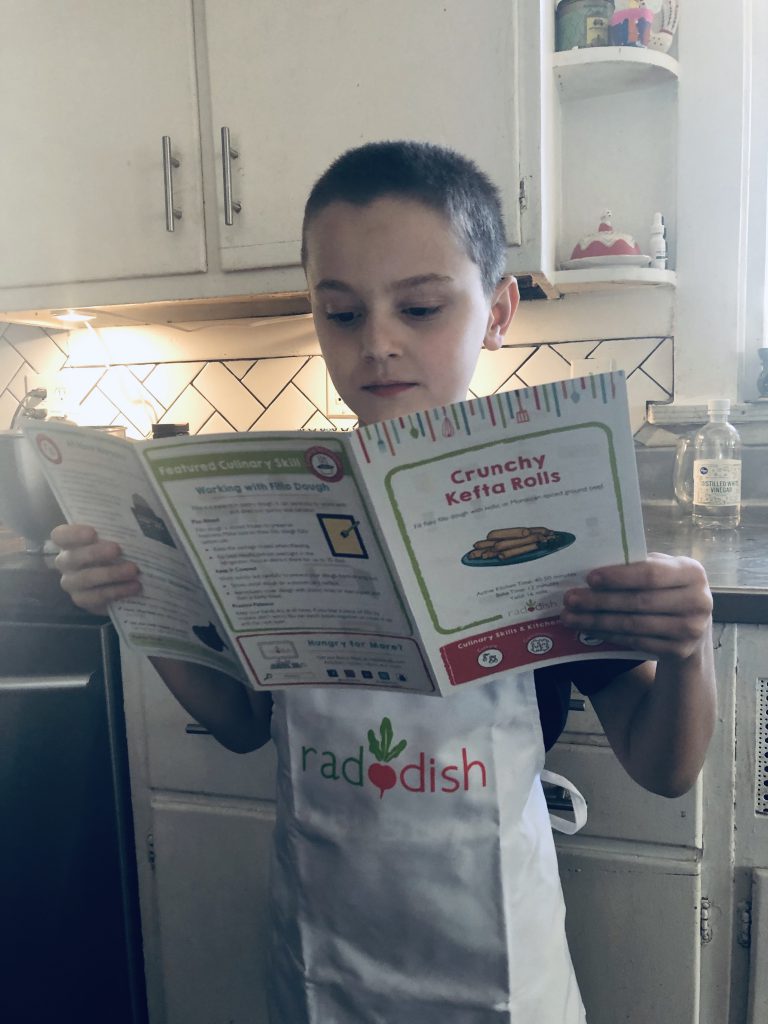 Crunchy Kefta Rolls
Ingredients:
1/2 lb. lean ground beef
1/3 cup golden raisins
1 tbsp. tomato paste
3/4 tsp. ground cumin
1/2 tsp. ground cinnamon
1/2 tsp. ground coriander
1/4 tsp. garlic powder
4 tbsp. butter
8 sheets filo dough
Active Kitchen Time: 40 to 50 minutes
Bake Time: 12 minutes
Yield: 16 Rolls
Thaw filo dough according to directions on package. Preheat oven to 400 F. Line baking sheet with parchment paper.
Heat oil in skillet over medium-high heat. Add ground beef and break into small pieces with a mixing spoon.

Add raisins, tomato paste, salt, cumin, cinnamon, coriander, garlic powder, and water.
Cook six minutes stirring occasionally. Set aside to cool, five minutes.
Heat butter in microwave-safe bowl until melted, 30 to 60 seconds.
Prepare filo dough. Pick up two sheets of filo together. Set on cutting board.

Use a pastry brush to lightly coat the top with butter.
Use a pizza cutter or knife to cut dough into 4 equal rectangles.
Add one heaping tbsp. beef filling to the end of each piece.
Roll dough up into a tub. Pinch the ends gently to seal. Set on baking sheet.
Repeat steps six through ten three more times to make 16 rolls total. Brush tops of rolls with remaining butter.
Bake until lightly browned, 12 to 15 minutes. Taste and share!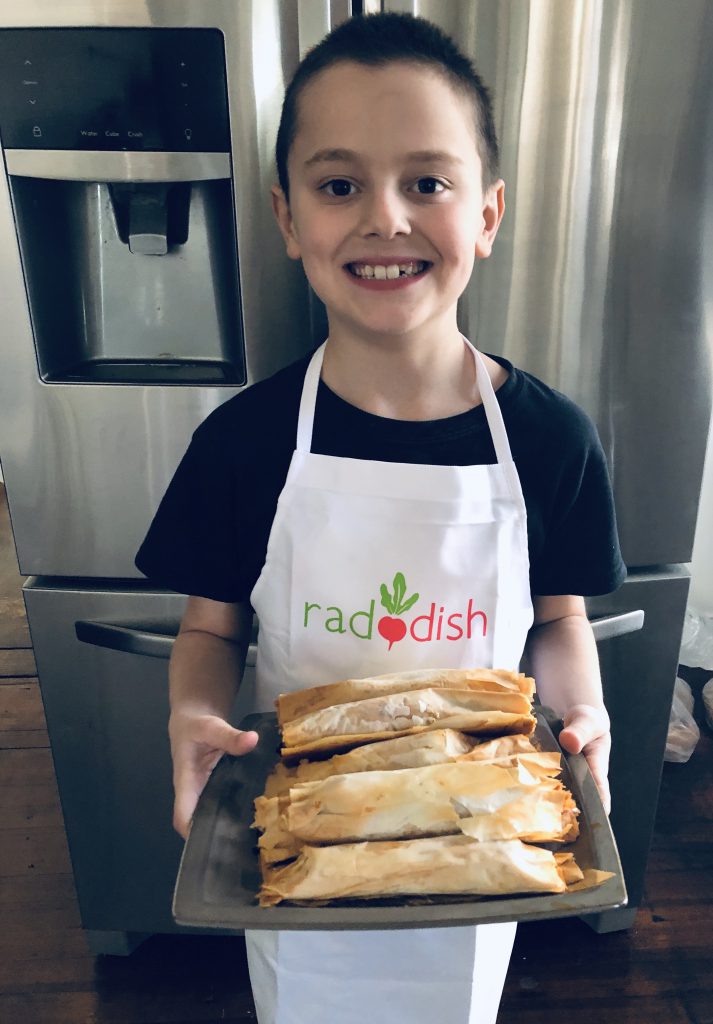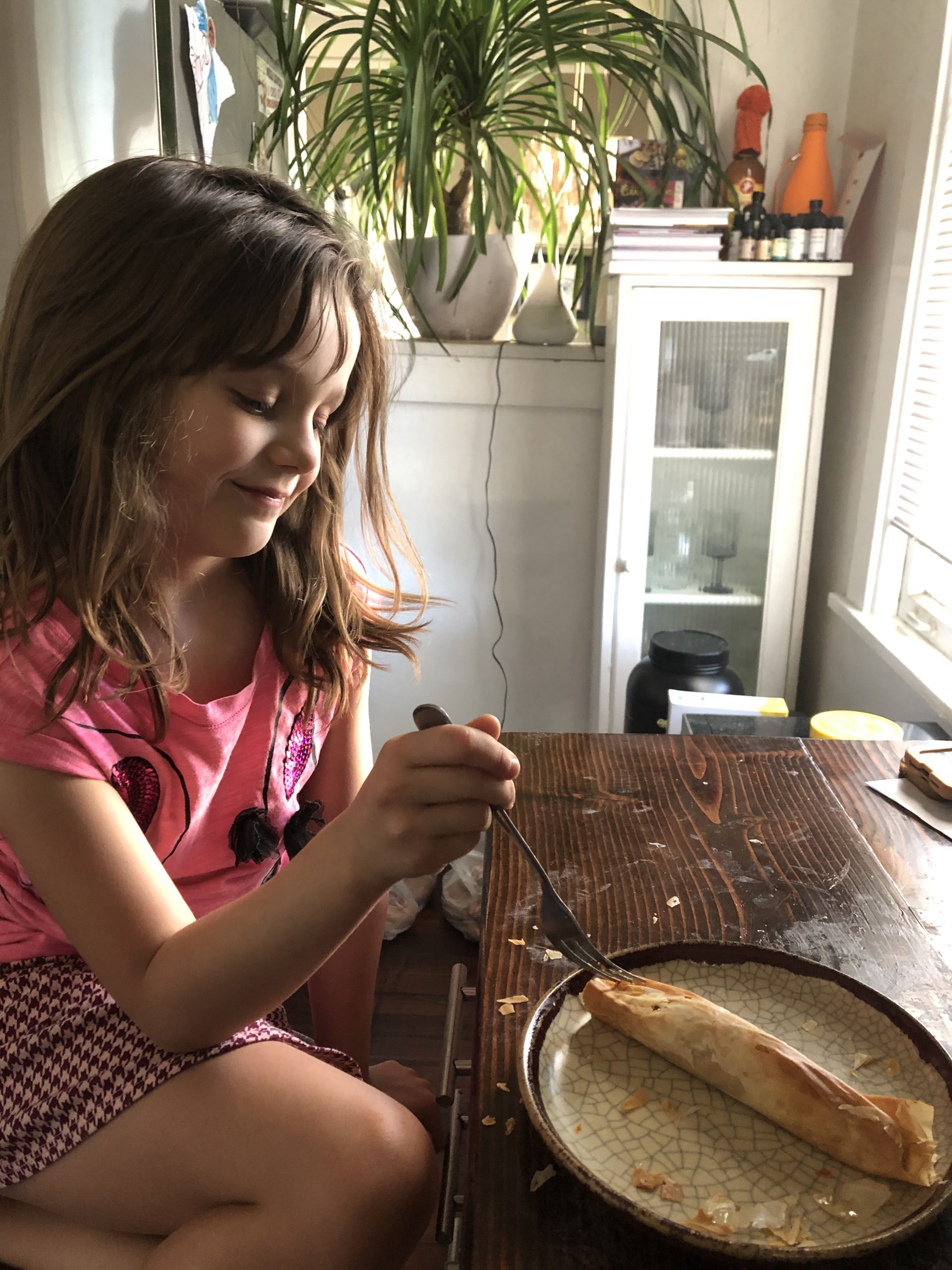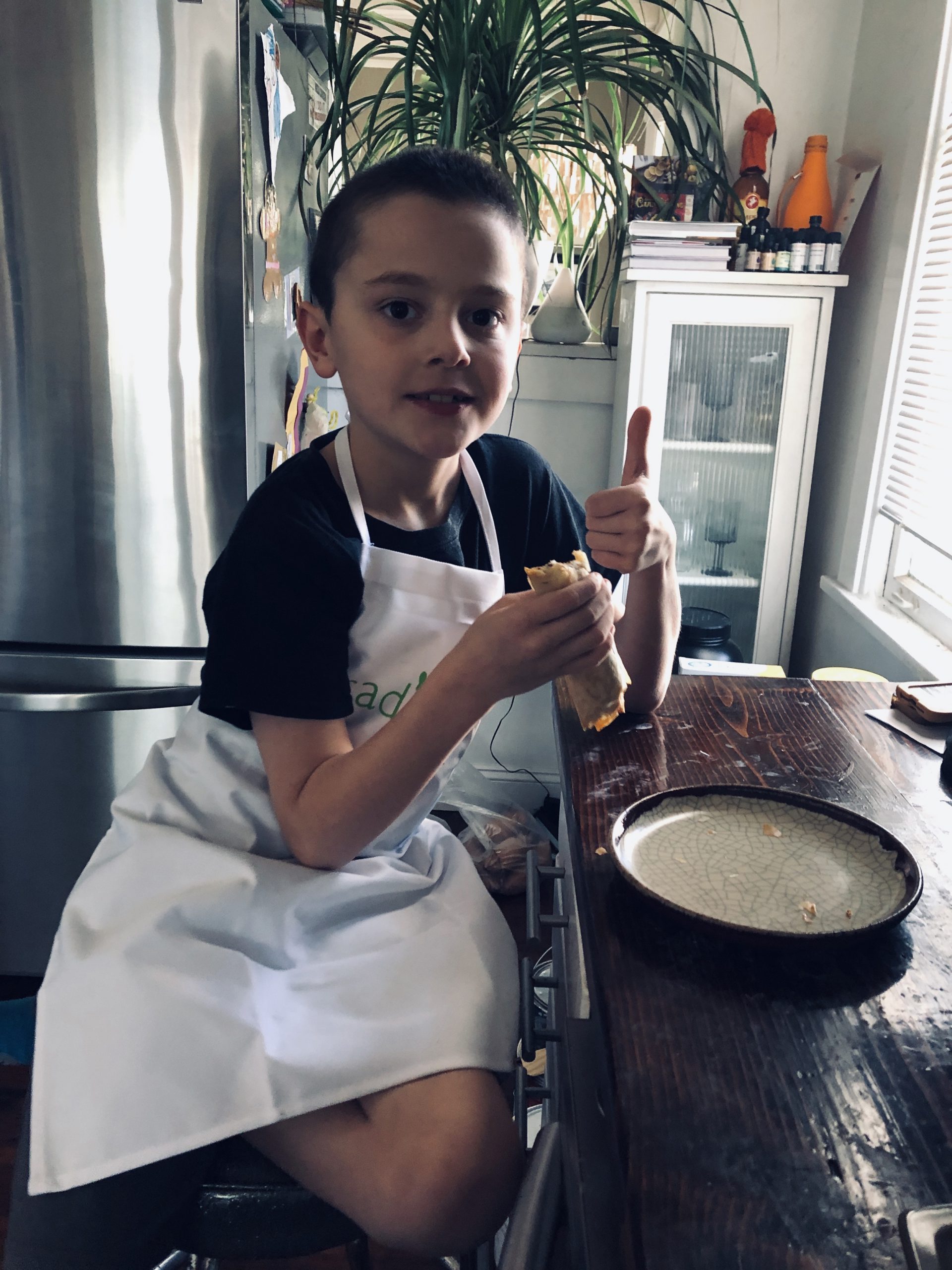 The Morocco meal kit also comes with instructions to make the traditional Moroccan Chicken Tagine. This dish features chicken that is then braised with spices, garlic, onion, olives, and preserved lemons and it's delicious!
For dessert, be sure to make the Orange Blossom tea cakes! These are baked mini meskouta, a Moroccan cake that features orange juice and zest!
To get inspired with cooking with your kids, learn more about Raddish!