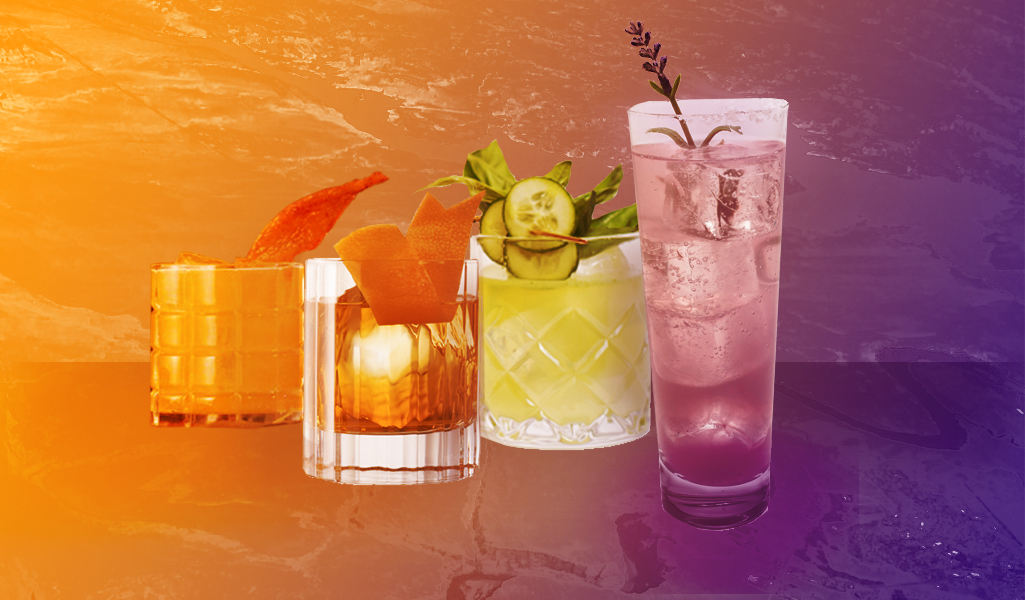 Next time you're getting ready to have your friends over, impress them with unique mixed drinks and start a conversation about a destination you can't wait to visit. We caught up with a few brand ambassadors in Chicago, representing some of the best spirits around to try some really unique cocktails, including a few extra glasses from a prestigious Glenfiddich 1978 Rare Collection Cask No. 28121 ($3,500 per 750-milliliter bottle).
We will have to say; our favorites were Little Devil and Cucumber Basil Smash, as they were both refreshing and weren't overpowered by ingredients. We would encourage you to try to make Lavander Amore for your next Mexican fiesta as it would go well with tacos al pastor, rice, and beans, plus it's easy and fast (make a pitcher of drinks for the entire night!). We like whiskey (or maybe even a Kitty O'Sheas that they serve at Hilton Chicago) at the end of a meal or while watching a movie, so many great flavors that we would prefer to enjoy by itself. Cocktail recipes often inspire us to travel, whether it's a Mai Tai or a traditional Brazilian Caipirinha recipe. Still, we have to say that we are looking for something a bit different. Here are 6 cocktail recipes that will inspire you to travel!
Iceland
Little Devil with Reyka vodka
2016-06-10 17:00:56
prefect combination of vodka and spicy!
Ingredients
1.75 oz. Reyka vodka
.75 oz. fresh lemon juice
.75 oz. maple syrup B grade
.5 oz. Ancho Reyes
Top soda water
Instructions
Combine all ingredients except soda water in a cocktail shaker and shake/strain.
Top soda water and serve in a Collins glass with a fresh lemon wedge
Travel Insider http://travelinsidermagazine.com/
Scotland
Cucumber Basil Smash with Hendrick's Gin
2016-06-13 14:37:44
Ingredients
1.5 oz Hendrick's Gin
.75 oz Simple Syrup
.75 oz Fresh Lemon Juice
.5 oz Cucumber juice
1 Basil Leaf
1 Cucumber Wheel
Instructions
Pour into shaker, add ice and shake well.
Strain into sample cup and garnish.
Full serve in rocks glass.
Steep basil in batch for 15-20 minutes.
Stir often.
Travel Insider http://travelinsidermagazine.com/
Glenfiddich 14 YO Old Fashioned
2016-06-13 14:38:35
Ingredients
2 parts Glenfiddich 14 Year Old
.25 part Demerara Syrup
2 dashes Angostura Bitters
2 dashes Orange Bitters
Travel Insider http://travelinsidermagazine.com/
U.S. Virgin Islands
Cherries on the Dashboard with Sailor Jerry Spiced Rum
2016-06-13 14:41:48
Ingredients
1.25 oz. Sailor Jerry Spiced Rum
.5 oz. Ancho Reyes
.5 oz. Black Cherry Shrub
3 dashes of Cherry Bitters
2 large Sage leaves
Instructions
Shake vigorously over ice, Double strain into Champagne Flute.
Top with Champagne and garnish with Sage and Black Cherry
Travel Insider http://travelinsidermagazine.com/
Mexico
Lavender Amore with Milagro Silver
2016-06-13 14:53:33
Ingredients
2 parts Milagro Silver
1 part Fresh Grapefruit Juice
.5 part Lavender & Vanilla Simple Syrup
.5 part Fresh Lime Juice
3 parts Top with DRY Lavender Soda*
Instructions
Garnish Grapefruit Peel & Lavender Kosher Salt
*Or infuse lavender into the syrup and top with soda water instead
Travel Insider http://travelinsidermagazine.com/
Ireland
Apple D.E.W Tullamore
2016-06-13 15:55:09
Ingredients
1 Part Tullamore D.E.W Irish Whiskey
3 Parts Pressed Apple Juice
Garnished with a juicy lemon wedge
Travel Insider http://travelinsidermagazine.com/