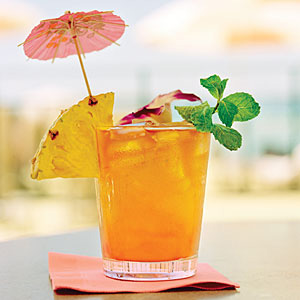 One of our favorite summer cocktails is the mai tai, a delicious tiki cocktail that is a hit at any party. This traditional version is made with rum, Orange Curaçao, and fresh juices. Here's how to make the traditional Mai Tai cocktail recipe.
Ingredients
3 ounces light rum
1 1/2 ounces dark rum
1 ounce Orange Curacao
2 ounces fresh pineapple juice
1 ounce fresh orange juice
1/2 ounce fresh lime juice
Dash grenadine
How to Make The Traditional Mai Tai Cocktail
Add all the ingredients to a shaker and fill with crushed ice.
Shake vigorously until the shaker is well-chilled and frosty on the outside.
Pour (unstrained) into a double Old Fashioned glass.
Garnish with half of a juiced lime and a fresh mint sprig.