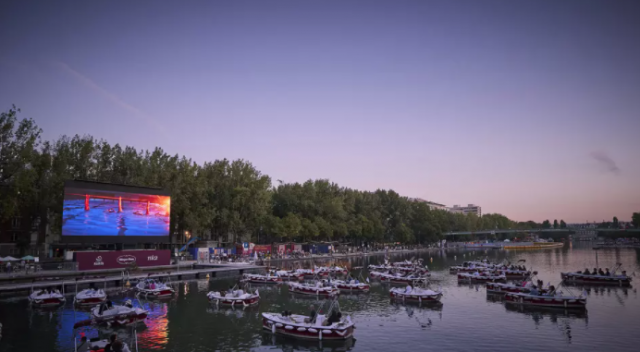 We firmly believe in the notion, ask and you shall receive. In early July, we wrote about a floating cinema that was coming to Paris, sending out a wish to the universe that this concept would appear in other cities around the U.S. (including our hometown of Chicago). It looks like dreams do come true. While we've been enjoying pop-up drive-ins throughout Chicagoland this summer, a floating cinema would definitely take our moving-going dreams to another level.
Beyond Cinema, an Australian production company plans to bring its floating cinema concept stateside in the late summer and early fall. According to their event page, "Floating Cinema is back, but this time with a twist! This unique cinema is coming to Chicago on the 9th of September for one week only." Boats will accommodate around eight people each. To keep with social distancing rules, one family will have to rent each boat. There will be between 12 to 24 mini boats in all, so we are sure these will sell out quickly.
Floating cinemas will be planned in 16 US cities, as well as three Canadian cities including Los Angeles, Denver San Diego, San Francisco, St. Louis, Houston, Chicago, Miami, Orlando, New York, Pittsburgh, Austin, Cleveland, Philadelphia, Columbus and Cincinnati. The Canadian cities include Vancouver, Toronto, and Calgary. Tickets are not on sale yet, but you can pre-register to be notified when tickets are released. Moviegoers can enjoy classics and new releases with a free bucket of popcorn in Chicago from Wednesday, September 9 until Sunday, September 13.