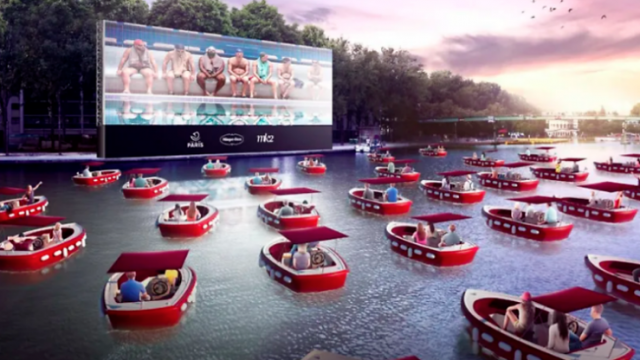 Since the coronavirus has taken hold, city officials have had to come up with ways to get creative when it comes to social distancing. With traditional movie theaters closed across the world, 2020 is becoming the summer of drive-in theaters (just look at how many have popped up across Chicago). And now, movie lovers can experience the first-ever "Cinéma sur l'Eau" (Cinema on the Water) in Paris.
On July 18, guests can social distance in style while screening the French comedy Le Grand Bain from one of the 38 electric boats (each seats two to six people). The lucky viewers need to sign up through this form and win the spots through a lottery on July 15.
This special event is part of the annual Paris Plages Initiative, that transforms the banks of the Seine River and the Bassin de la Villette into a glorious summer retreat. For those that don't snag a boat, don't fret. There will be 150 deckchairs that will be available on the shore (but, we suggest getting there early!).
One can only hope that this yearly tradition brings back this floating movie theater year after year—and that it catches on in other cities across the world.