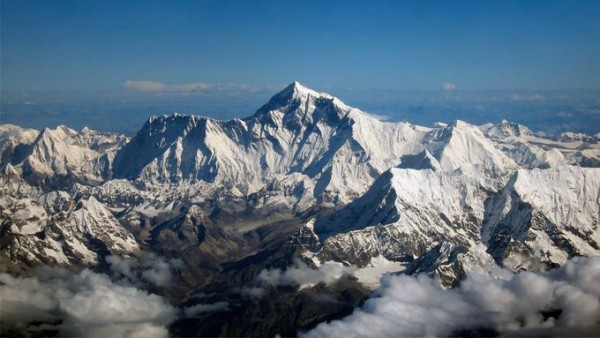 If there's one positive thing to come out of the COVID-19 pandemic, it's this. After 30 years, the Himalayas are visible from parts of Northern India. The Himalayas—located in Asia—are a series of fifty mountains featuring some of the most famous and highest peaks in the world (think Mount Everest in Nepal/China). Some of these glorious peaks are now visible for the first time in years thanks to people staying home.
Twitter user Harbhajan Turbanator tweeted, "Never seen Dhauladar range from my home rooftop in Jalandhar..never could imagine that's possible..clear indication of the impact the pollution has done by us to Mother Earth."
A nationwide lockdown of India started on March 24th. "To save India, to save its every citizen, you, your family, every street, every neighborhood is being put under lockdown," Prime Minister Narendra Modi. It's clear that this lockdown is having a positive impact on the environment.
Take a look at some of the best views of the Himalayas.
Never seen Dhauladar range from my home rooftop in Jalandhar..never could imagine that's possible..clear indication of the impact the pollution has done by us to Mother Earth 🌍.. this is the view pic.twitter.com/laRzP8QsZ9

— Harbhajan Turbanator (@harbhajan_singh) April 3, 2020
So my cousin sent me this…. You can now see the foothills of the himalayas in Himachal from Punjab, thanks to the lockdown and low pollution. This is #Jalandhar. 💫⭐🥰 #IndiaLockdown #IndiaCorona pic.twitter.com/bjNsyWsdUJ

— Kash Singh (@kash_education) April 5, 2020
This was the view from our rooftop at home in Punjab India. For the first time in almost 30 years could clearly see the Himalayas due to India's lockdown clearing air pollution. Just amazing! 🙏🏽 pic.twitter.com/WmWZYQ68lC

— Manjit K Kang #StayHomeSaveLives (@KangManjit) April 3, 2020
Himalaya mountains can be seen from Jalandhar since pollution has reduced in Punjab. Beautiful sight 😍#punjab #COVID19 #pollution pic.twitter.com/iZy7hwxX9R

— TjSingh (@covsinghtj) April 3, 2020