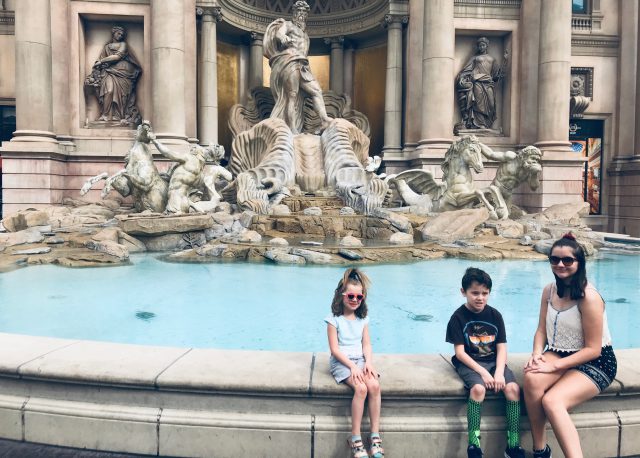 When planning a family vacation, the last destination that you'd probably ever consider is Las Vegas. From the numerous casinos that dot the corners of Las Vegas to the constant partying, it's no wonder it's called Sin City. Yet, you'll be surprised to learn that the City, despite its infamous reputation, is home to major attractions that families are finding it hard to stay away from. So, go ahead and take the kids on a trip to vegas!
As Las Vegas slowly moves away from gaming as its main source of revenue, it's embracing other forms of attractions. This is especially true when it comes to kid-centered attractions. Everything from the Children's Museum and the Shark Street Aquarium to the Adventuredome theme park, Las Vegas is brimming with fun activities for children.
Maybe you're on the fence about taking a family trip to Sin City. If so, we've highlighted a few fun things that you can get up to in Vegas with your kids. Without further ado, below are the top things to do on your visit.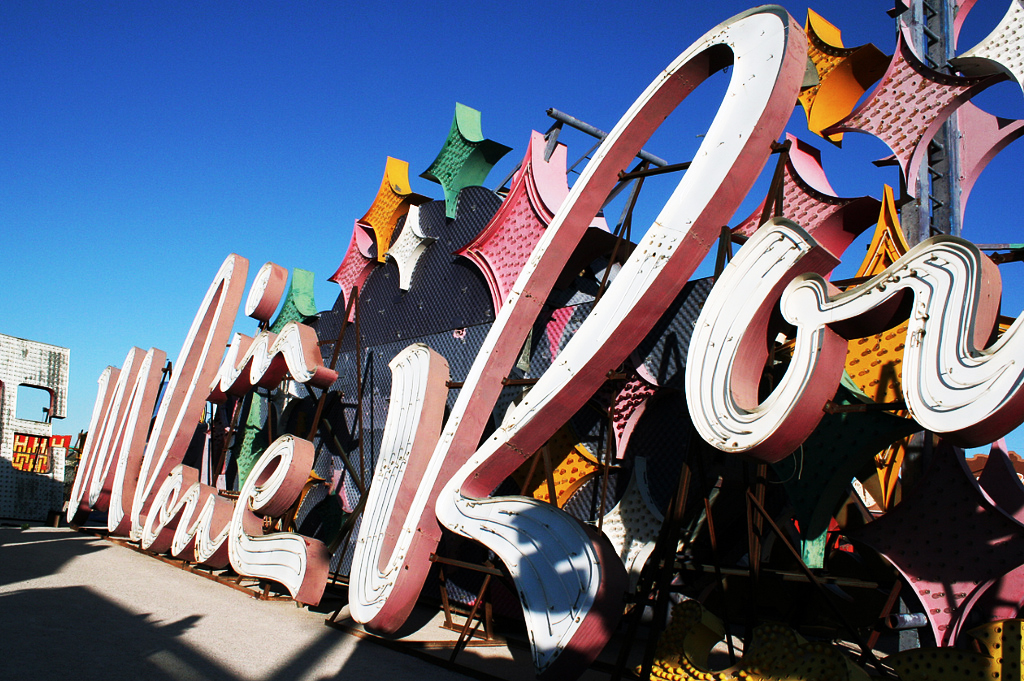 Visit Fun Museums
Sin City takes the term museum to a whole other level, as it defies the very meaning of the term with a creative twist. This city is home to a number of museums such as the Barry Manilow Store, Neon Museum, and Elvis Museum just to name a few. The first one on your itinerary list should be the Pinball Hall of Fame Museum.
The Pinball Hall of Fame, a non-profit Museum, houses the largest pinball collection worldwide. The fact that these Pinball machines can be dated back to the 1950s increases their value tenfold, drawing people from all over the world. Both you and your children will enjoy going back in time and experiencing Pinball in its heyday.
Neon Museum also ranks among the topmost valued museums in Las Vegas. Like the Pinball Hall of Fame, Neon is a non-profit museum that houses classic signs of Las Vegas.
Found in 1996, this museum has been in the business of rescuing signs and restoring them to their former glory. Walking through the halls of the museum will afford you and your children a glimpse into every single facet that makes Las Vegas what it is. Its history is bridled with jaw-dropping history, intriguing art, and enriching culture. This way, you get to sneak in some educational trips for your children.
See the Shows
Which child doesn't love a mind-boggling magic show? If we're willing to admit, a few of us adults find them quite intriguing as well. The show that's been drawing families to this magical land is none other than Xavier Mortimer's Magical Dream. Having won the award for Best Magic Show in Las Vegas, it's no surprise that many families book this show while visiting Vegas.
The huge success of the show is no doubt due to the famous international magician known as Xavier Mortimer. His unfathomable acts, jaw-dropping tricks, and otherworldly illusions will have both you and the kids sitting at the edge of your seats. The show is complemented by comical characters and soundtracks that will have you on your feet and dancing.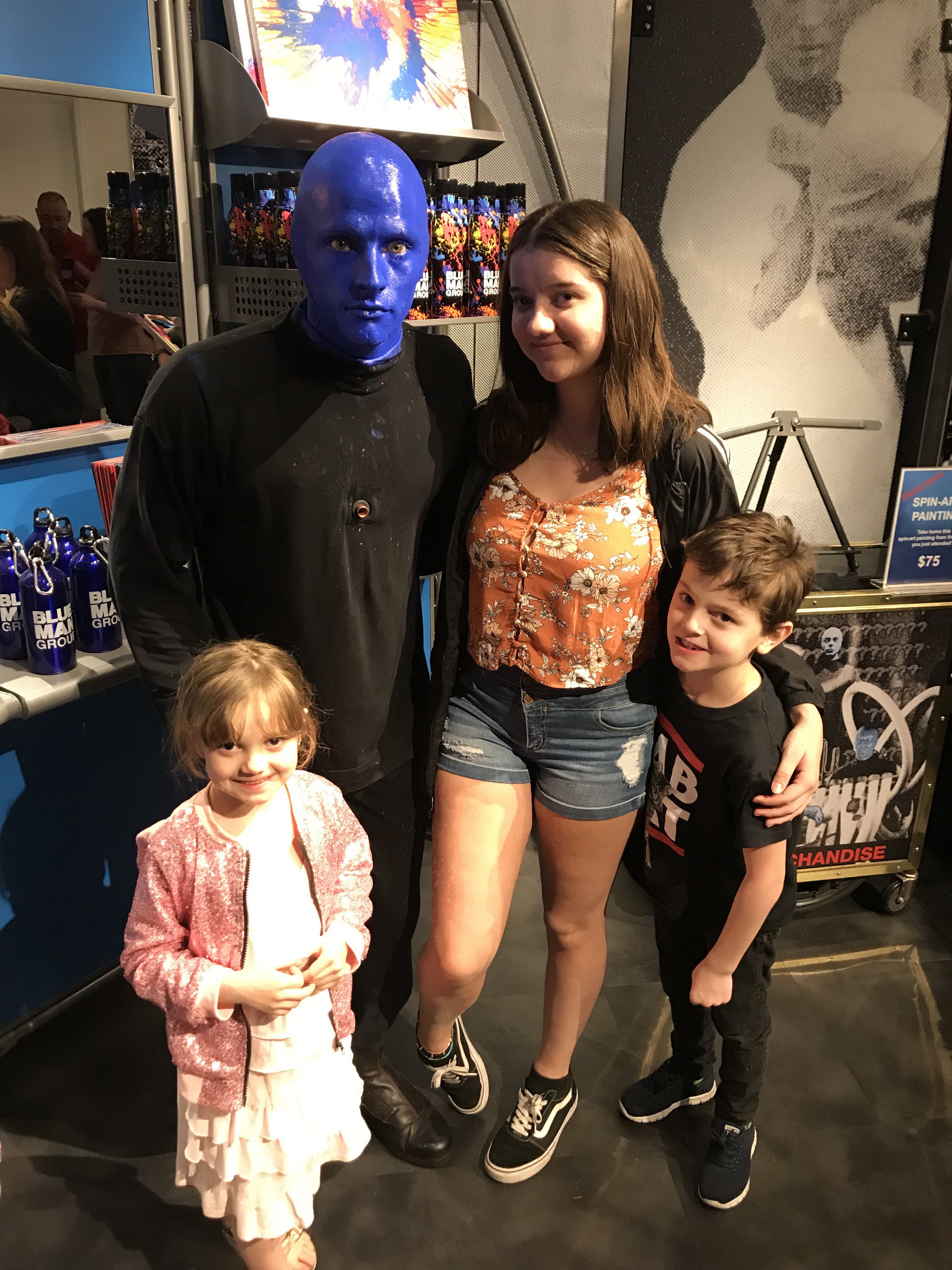 Blue Man Group is another show that ushers you into a world made of three whimsical blue bald men. Catch them as they try to navigate their magical world in unimaginable ways. The stage acts as the platform where everything that is impossible is made possible. The kids truly couldn't get enough of this fun and interactive show that is part music, comedy act, and multi-media theatrics!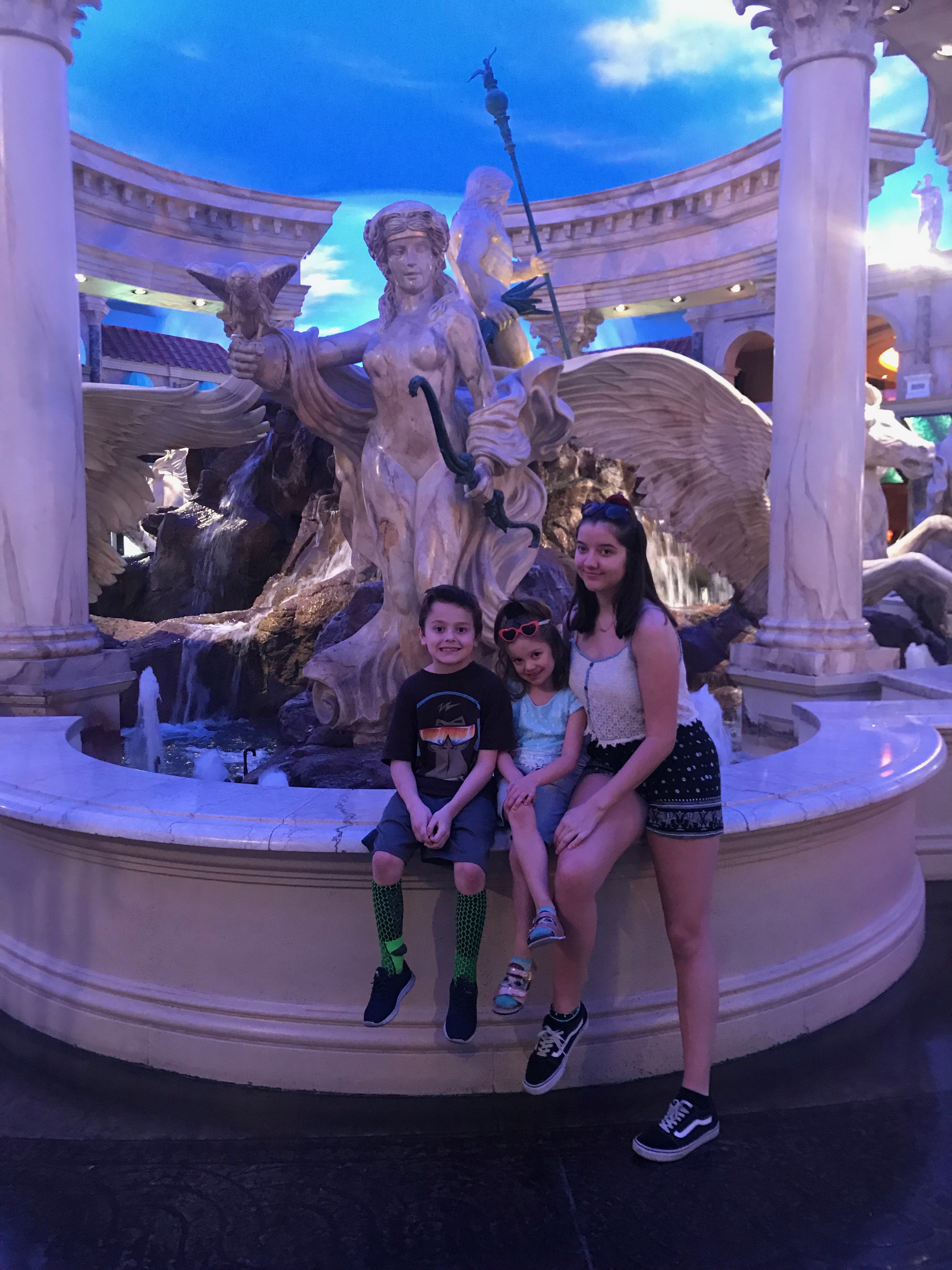 Explore the Hotels
Take a walk around Vegas and take in the breathtaking treasures nestled within it. Find a bench and watch The Fountains of Bellagio or take in the skyscraping towers of the Venetian resort or check out the Roman-themed vibes at Caesars Palace. If your children are intrigued by the Egyptian culture and history, take them to Luxor. Trust me; you'll be tapping yourself on the shoulder afterward.
Visit the Tourist Attractions
The stratosphere attractions are a major attraction due to the variety of options that it offers. You can either choose to go on the observation deck, which will afford you panoramic views of the entire city. The observation deck is perched on top of a tower 1,149 feet.
If you are a little more adventurous, why not try the Sky Jump? You get to jump from a height of 829 feet, descending at a speed of at least 40 mph. If that doesn't give you an adrenaline rush, I don't know what will. Be sure to take your children to the thrill rides at the Stratosphere Tower that is at least 1,149 feet tall.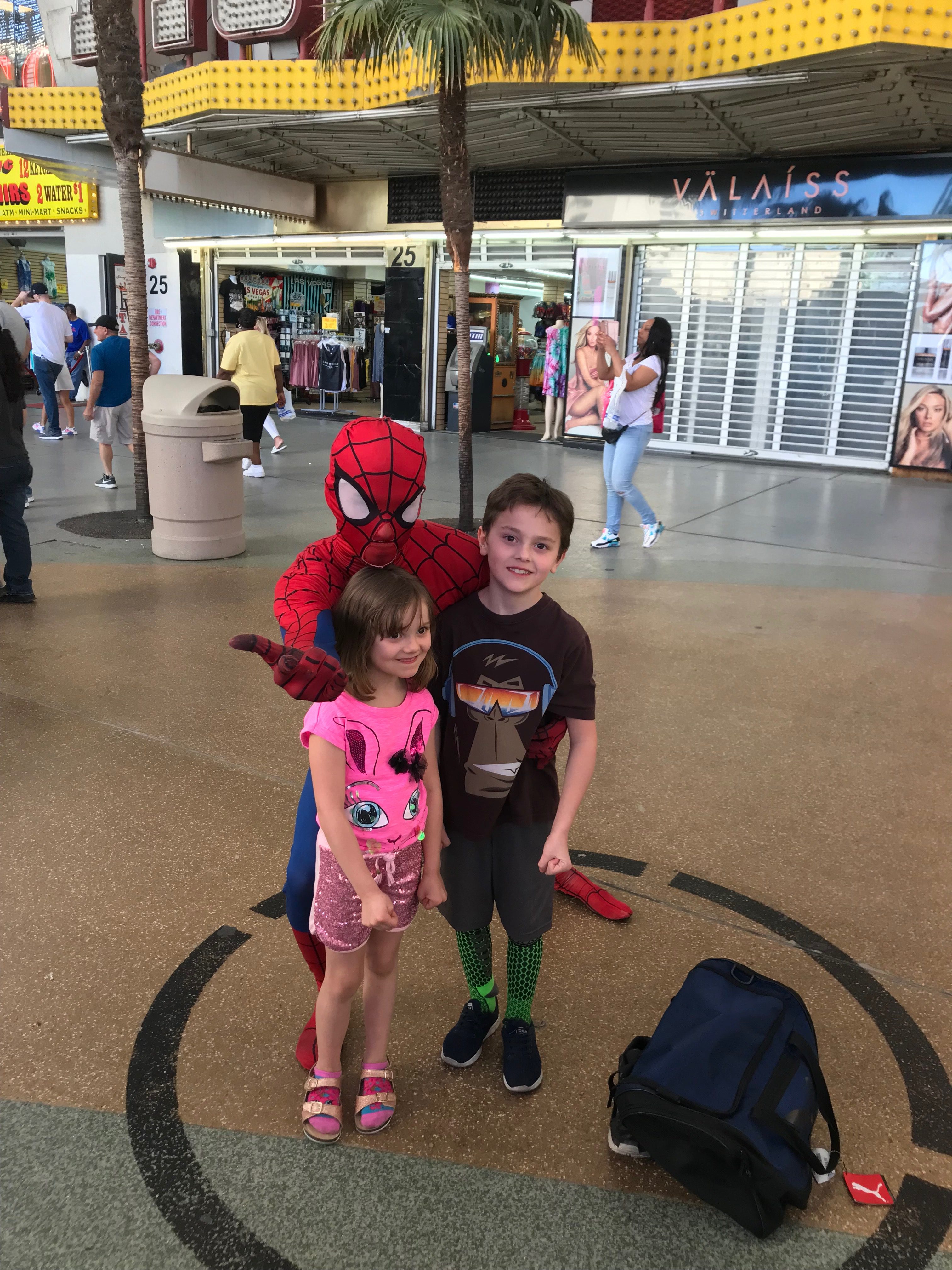 Visit Fremont Street, Old Vegas, and Container Park!
The kids will love taking in the people watching and Fremont Street. You may have to shield their eyes from a few heathens, but they are sure to run into their favorite characters. A quick walk down Fremont street and our son spotted his idol, Spider-Man and our youngest daughter spotted Mickey and Minnie Mouse.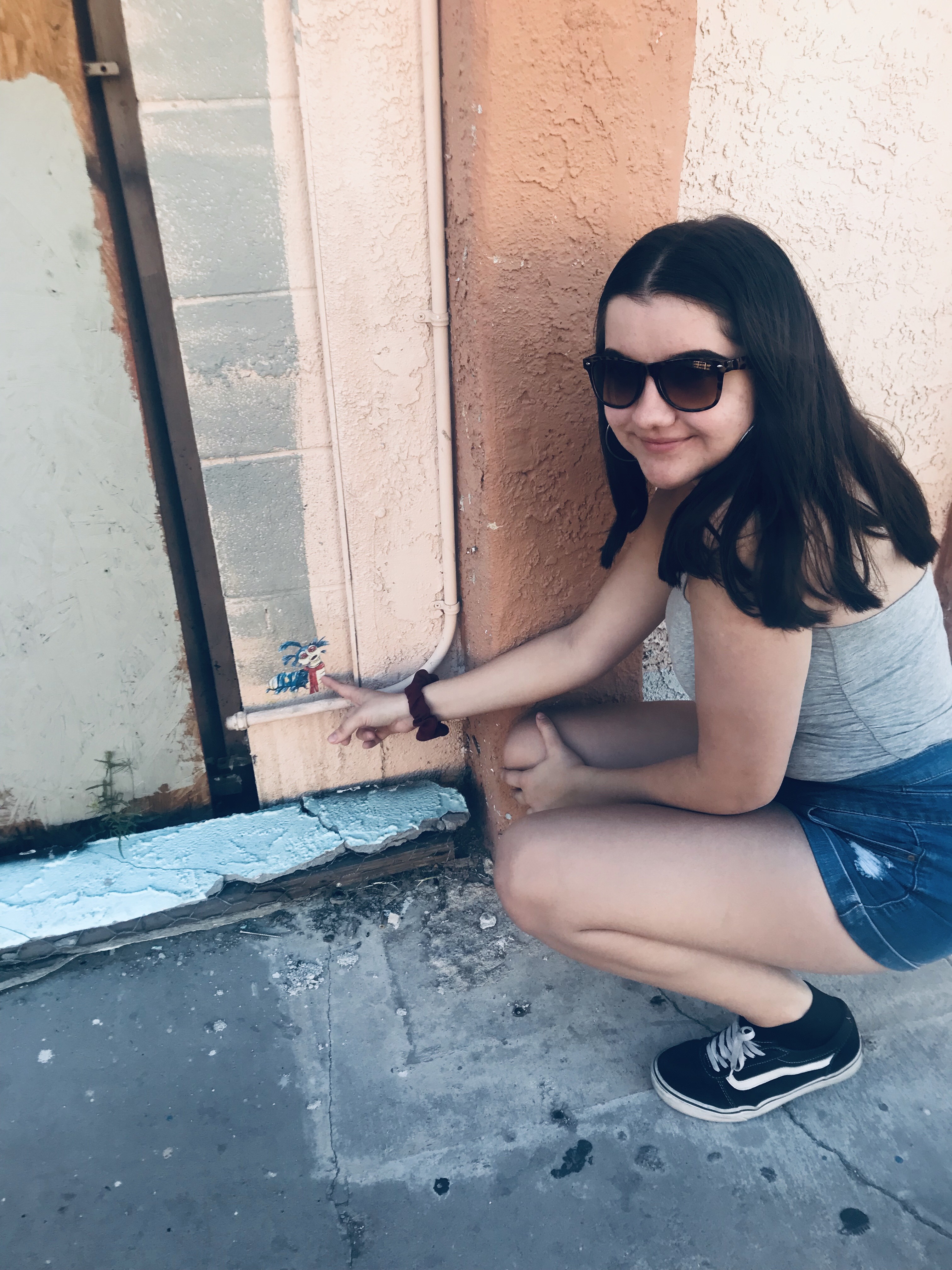 Don't miss checking out old Vegas. Not only will they see some pretty cool old signs and architecture, but they just might spot some hidden magical gems along the way. We spotted the worm from Labyrinth, the popular 80s movie with David Bowie and if we didn't explore and look everywhere, we would have missed it!
Be sure to check out Container Park and let the kids play. Made out of shipping containers, you definitely won't want to miss this spot that features an interactive playground featuring The Tree House. Parents will love this spot for live music, shopping, and plenty of dining options.
Venture Outside of Las Vegas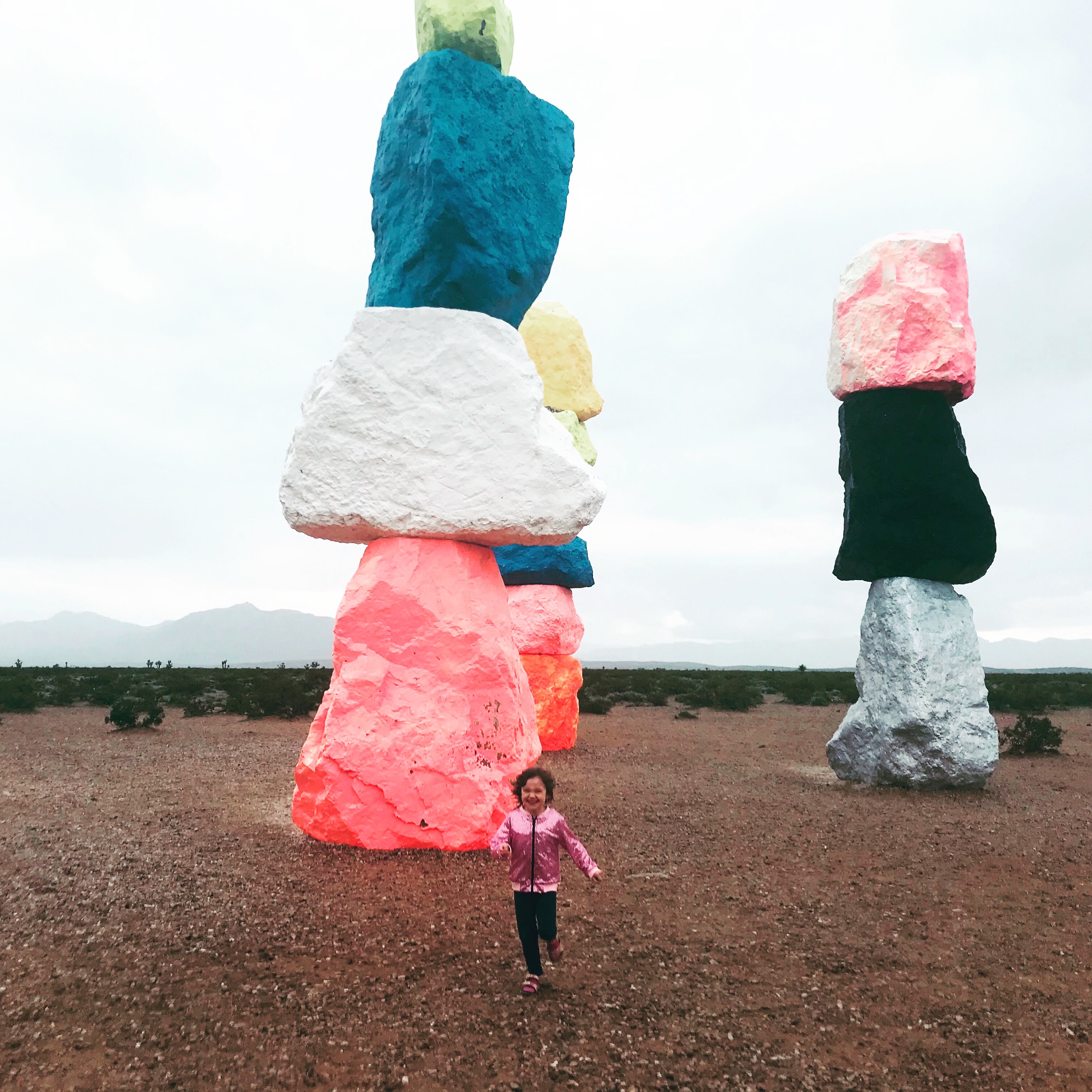 Who said you have to stay within the boundaries of Las Vegas to have a good time? At least ten miles south of Las Vegas, Seven Magic Mountains wait to be explored. Installed by the famous Swiss artist Ugo Rondinone, these mountains are made up of seven colorful towers that are made out of boulders.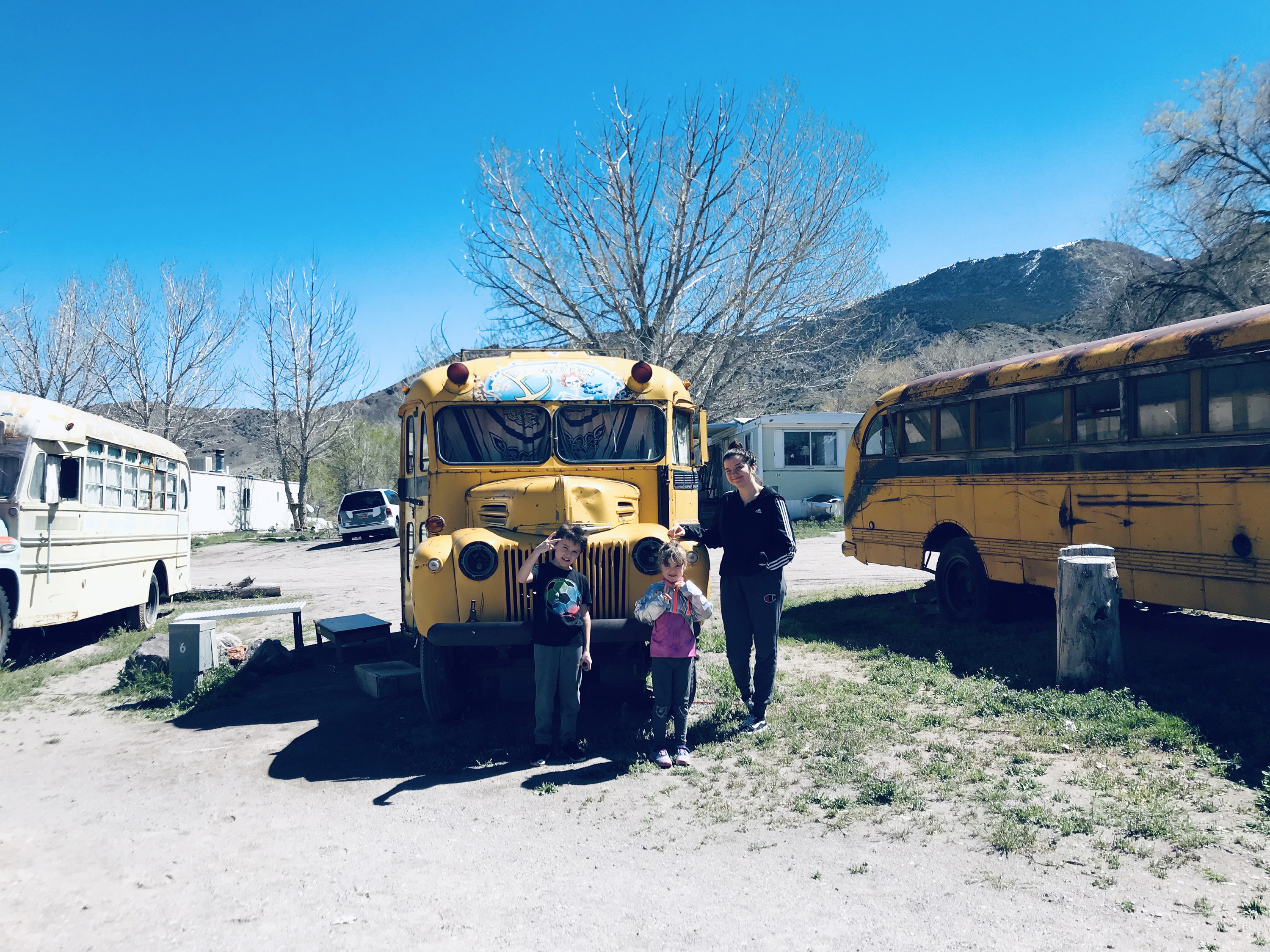 Take a Road Trip to Utah
If you're really adventurous, we suggest taking a road trip from Vegas! There are so many stunning places to visit that is just a short trip from Sin City. This year, we made a visit to Mystic Hot Springs in Monroe, Utah. Stay in their popular cabins or cool buses that are decked out with hippie furnishings and everything you need for an incredible getaway. But don't leave without taking a soak in their mineral-rich hot springs–either their two pools or their six vintage cast iron bathtubs that give off stunning views and breathtaking sunsets.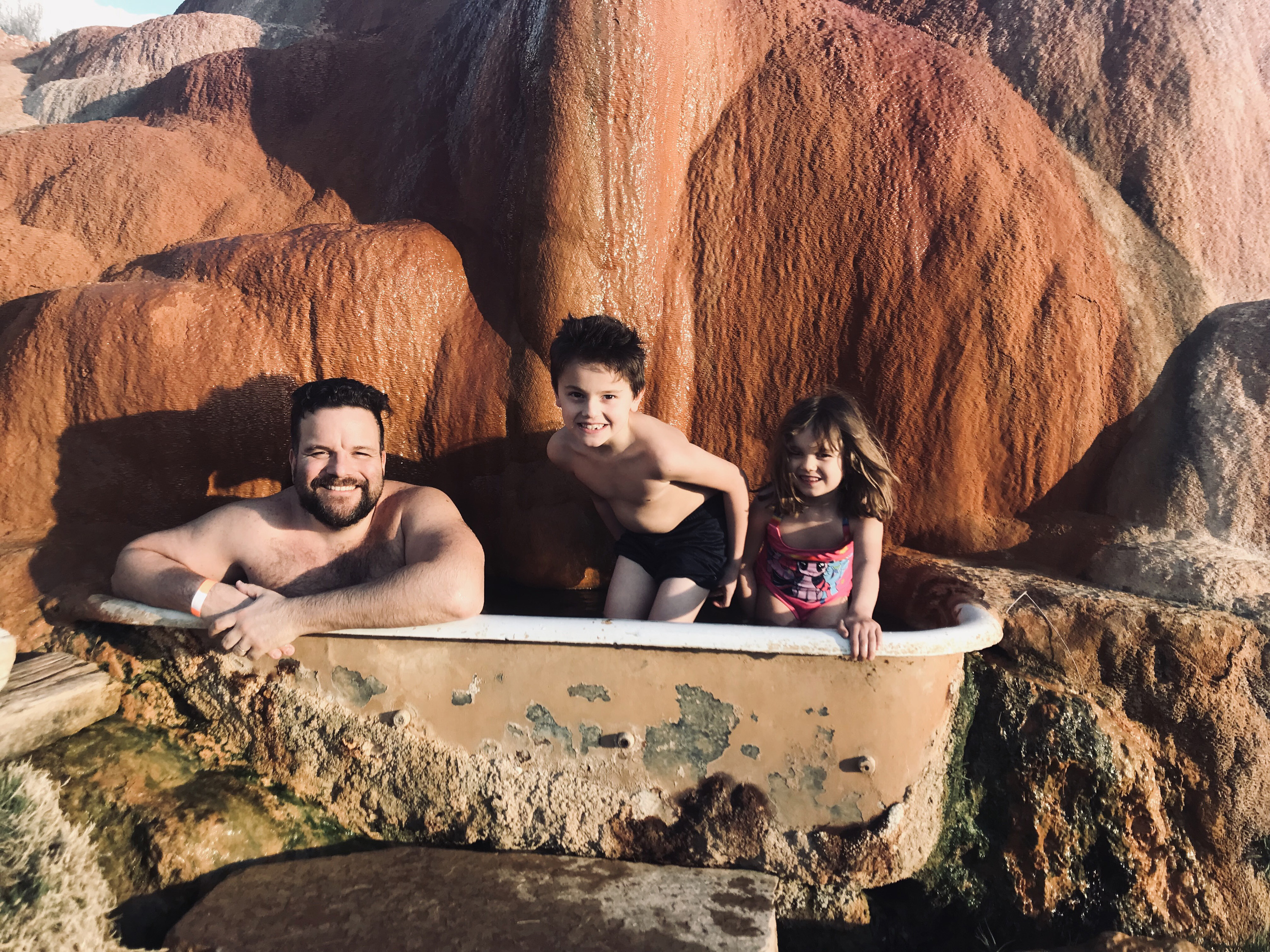 Utah is known for its stunning beauty and there isn't a shortage of things to do and places to see. We then ventured to Zion Ponderosa Ranch Resort, which was truly a city kids' dream come true. Onsite, you can get the true glamping experience with fully furnished tents and have the best camping experience. Cabins are also available to rent. The activities are endless. There's canyoneering, zip-lining, a rock-climbing wall, and even horseback riding (even if you aren't a rider, be sure to visit the stables after dinner or in the morning after breakfast to see the horses!).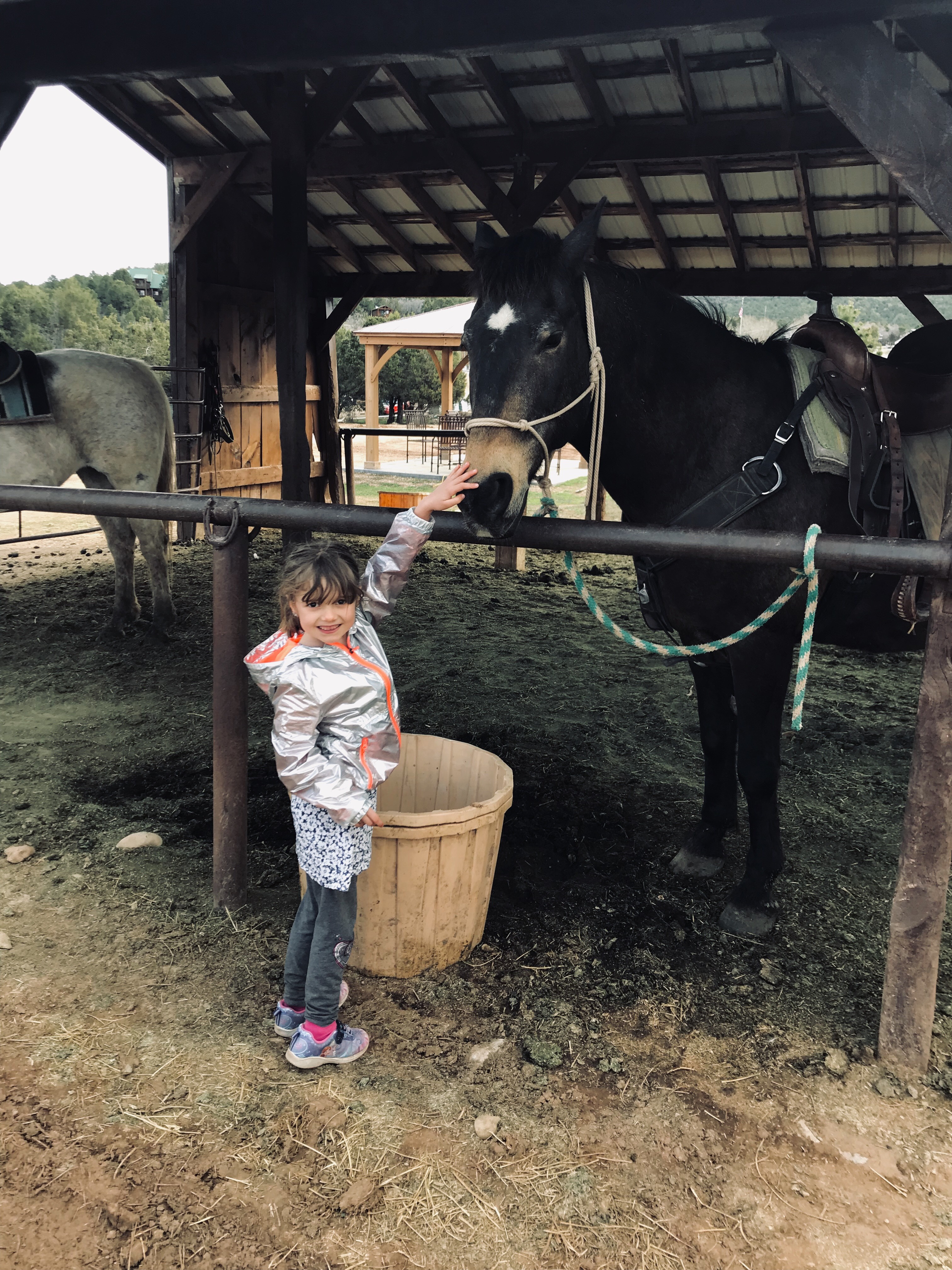 If your family likes to hike, then we recommend visiting any of these national parks depending on how far you want to travel during your road trip, including Zion National Park, Bryce Canyon National Park, Arches National Park, The Narrows, and Antelope Canyon. We suggest choosing one to really get the best experience!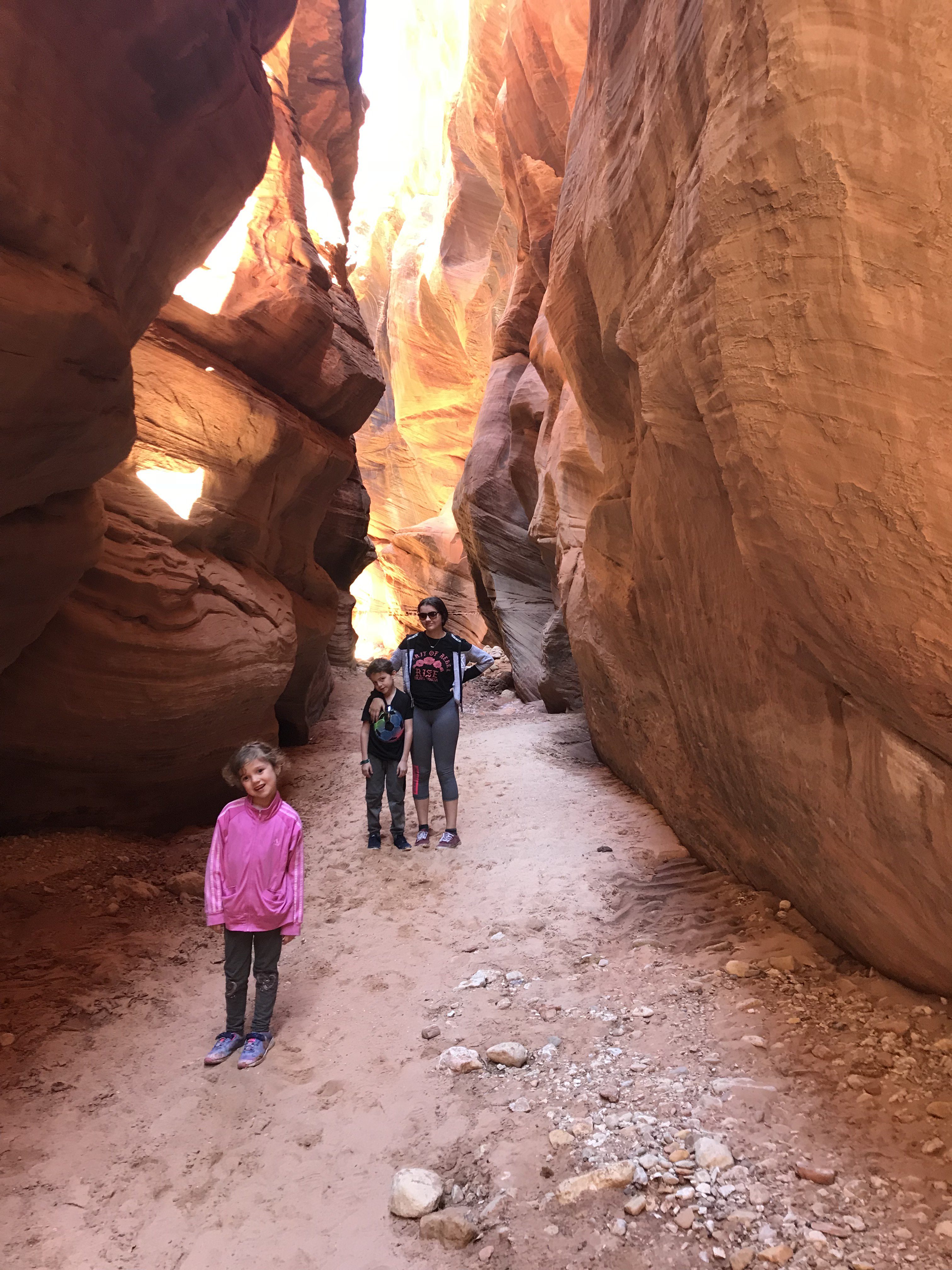 During this trip, we went to Buckskin Gulch located in southern Utah and famous for being the longest and deepest slot canyon. The kids loved the experience and we even saw petroglyphs which the kids couldn't stop talking about.
All in all, our trip to Vegas with the kids is one that we will never forget!