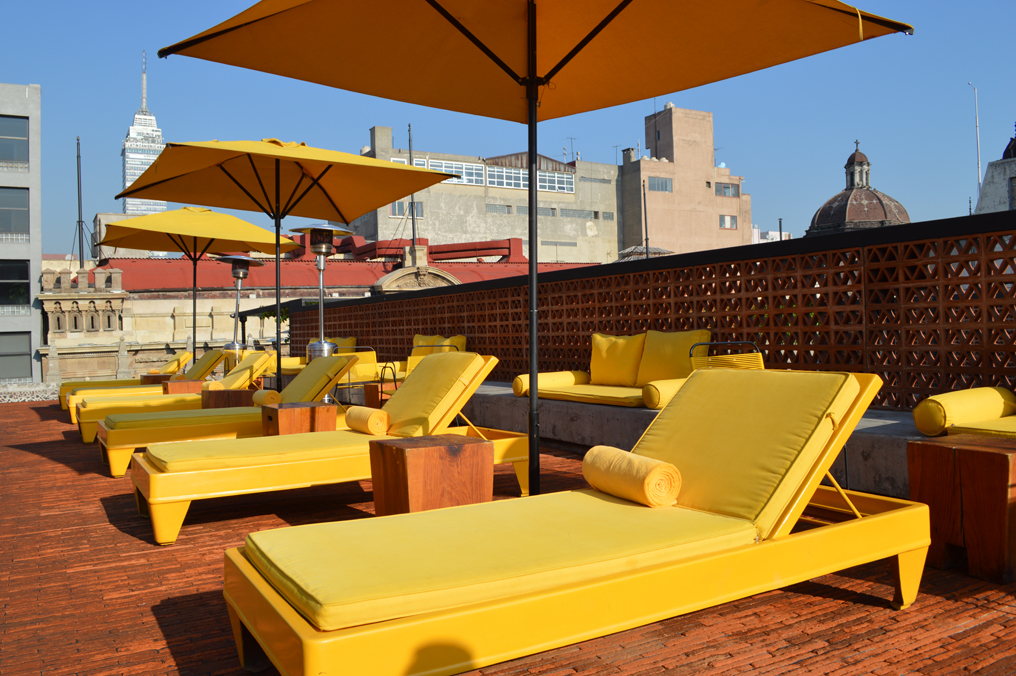 Surrounded by historic buildings and just a few blocks from the Zocalo and the historic center of Mexico City, the boutique hotel Downtown Mexico has the perfect balance of XVII colonial architecture mixed with modern touches. From the moment you step inside and pass the entry doors, you will step back in time to a 17th-century colonial palace. A discrete front desk lobby with low lighting sets the mood for the place, right next to an antique steel/copper elevator which takes you to the 17 suites that the hotel has on the second level just above the courtyard.
Rooms are spacious with modern furniture and amenities with some of the highest hotel room ceilings we have ever seen. A comfortable bed and pillows await you –and if you're in the mood for some room service before bed, order the fresh guacamole and chips and for your main dish, try the Habanero shrimp tacos which are not to be missed.
At sunrise, head to the rooftop terrace of the hotel to check out the amazing views and for some early morning reading. I was tempted to jump in the pool a couple of times, but the weather wasn't cooperating, so we just sat and relaxed on one of the bright, yellow lounge chairs and enjoyed the incredible ambiance. Don't forget to revisit the terrace at night to catch the sun hiding between buildings and try some of their signature drinks from the bar.
Mexico City is a wonderful city full of excitement and places to discover!
Downtown Mexico Hotel, Isabel La Católica 30, Cuauhtémoc, Centro, 06002 Ciudad de México, Distrito Federal, Mexico
www.downtownmexico.com