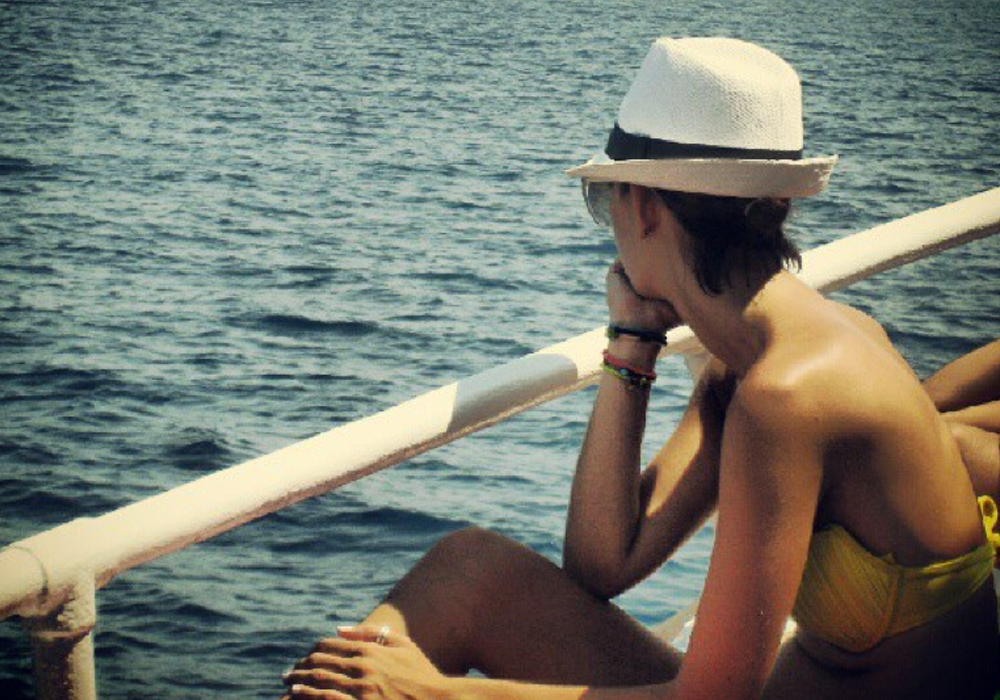 Eleni Trianti considers herself a citizen of the world. Having studied in Greece and Chicago, Trianti has found her calling in the creative field as a graphic designer and photographer in her home town of Athens, Greece. She takes us through some of her favorite attractions, from the Acropolis to the Aegean islands that you must visit during your trip to Greece.
What city were you born in?

I was born in Athens, but I lived in different cities and places in Greece because of my father's occupation. I consider myself a citizen of this world… a nomad.
Tell me about your career.

When I was a child, I wanted to be a painter, but instead, I studied Photography at the Technological Institute of Athens and Multimedia Communications at the Illinois Institute of Art in Chicago.
My passion is to travel and take photos of the moments I live and Ι see.
I am a freelance photographer and web-graphic designer.
I worked for years for the Olympic Games "Athens 2004" as a web designer, which was a unique experience within a great team of people motivated by a passion for the revival of the Olympic Games and with a vision to make the best Olympic Games that were ever organized.
Since then, I have worked as a freelancer on many projects in Greece and since 2005, I am a partner in the real estate company of my family.
What is the best time to visit Greece?
Greece is a place to visit in any season. It has mild winters with snow up in the mountains and at the same time, not very cold weather near the sea. I love autumn and spring on the mainland of Greece and summer on the Greek islands.
What are your favorite restaurants and/or cafes in Athens?
To drink coffee with friends is a habit that the Greeks will never forget to do during their weekends or after work. They would stay in a café for hours discussing with friends about the news and their lives… it is a kind of psychotherapy…. My favorite café is a small café with live jazz music called "Petite Fleur" located in the Halandri area in the north suburbs of Athens –it's part of a chain so you can also find a "Petite Fleur" in Kiffisia, and the Kolonaki area.
Moreover, every museum in Athens has a café! My favorite is the café of the Acropolis museum with a great view to the Acropolis.
Where in Greece would you suggest a traveler to stay?

Greece gives so many choices depending on the season you are visiting. I will suggest during summer the Aegean Sea and the Ionian Sea… If you ever visit Greece in summer, go to an island then rent a sailboat and do a small or long journey to the islands around it… You will discover the beauty of the Greek nature and the beaches won't be crowded.
If you are not a sailing person, then do a road trip to the mainland or the island Crete where you will discover ancient monuments, sandy beaches, very hospitable people and very picturesque villages.
If you decide to visit during winter, the north of Greece and the north west of Greece are perfect for snow vacations. For example, the village Nymfaio – near Kastoria city and Florina city – it's like a fairy tale with beautiful architecture and delicious cuisine.
Tell me about 5 places that I have to see while visiting and why they are so special to you?

Very difficult question…but I have to choose! My first choice would be the Acropolis in Athens… it's special to me because it reminds me of our heritage, our culture, and every visitor must visit because it's the jewel of the ancient Greek civilization one of the seven miracles during the ancient time.
Also, I have a special bond with the Acropolis temple, fond memories of my uncle Stelios Triantis who was a great sculptor and a wonderful person, one of his projects was the replica of the female statues in the Acropolis (temple Erechtheion) and numerous restorations and replicas of monuments and statues that had to be protected from the outside weather and the prototypes were moved in the museums.
Stelios Triantis was always saying to me to stay authentic and "keep your Greek temperament". I love Athens and especially the Acropolis, it's like a part of my body that I will always carry and I will always depend on. Like our heritage, the Ancient Greek philosophy is having a base to start from and to continue feeling and creating for better living.
The second choice will be the Ionian Islands, especially Lefkada where I lived five years when I was a child and I have the most beautiful memories because I love the sea and there the waters are crystal clear – like in all the other seven islands of the Ionian Sea.
Lefkada is an island that can be reached with no boat because of a small bridge connecting it with the mainland, so it can be included within a road trip in the north west of Greece.
My third choice will be the Aegean islands and especially Santorini because its beauty is unique and in general, the Cycladic architecture is so beautiful and special. The last time I visited Santorini was during autumn…. and I enjoyed the local wine and food there is amazing.
My fourth choice will be Crete. Crete is the biggest Greek island –every region in this island is unique. I traveled there years ago and I suggest visiting Phalassarna Beach and Balos Beach which reminds me of the Caribbean. You will be tasting the amazing local cuisine and enjoying the traditional hospitality. Don't forget to visit the ancient Minoan cities and the little villages over the mountains or on the south part of the island.
Last but not least, my fifth choice is Mykonos: a lively island that is well-known for its nightlife and the all day partying by the sea… Mykonos has both crowded and not crowded sandy beaches with crystal waters and picturesque hotels and restaurants by the sea with excellent service. Don't forget to visit the island of Delos, which has access from the Mykonos port. Delos, an archeological island, one of the most important mythological, historical, and archaeological sites in Greece is an extraordinary place.
When you travel where do you usually go on vacation?
I used to go to my father's village–a small village near Preveza, over the mountains.. 30 minutes from the Parga village. But in the last decade, I decided to visit every year a different place every time… Because although I lived in different cities and traveled abroad … There are so many still to see. Greece is a small country, but so rich in picturesque places and the historical monuments are so many Delphi, Olympia, Delos, Dion, Epidaurus, Mycenae, Knossos, Vergina, etc. The beauty of Greek nature – a combination of sea and mountains – is amazing and it seems to my eyes that the entire world is here.
What do locals love to eat and drink? Is there are national dish I must try?
We drink usually wine, tsipouro / tsikoudia and rakomelo (rakomelo is hot raki with honey).
You must definitely try the different pies, there are salty and sweet, my favorite is the chicken pie made with homemade pastry, chicken, red pepper from Florina, and spices.