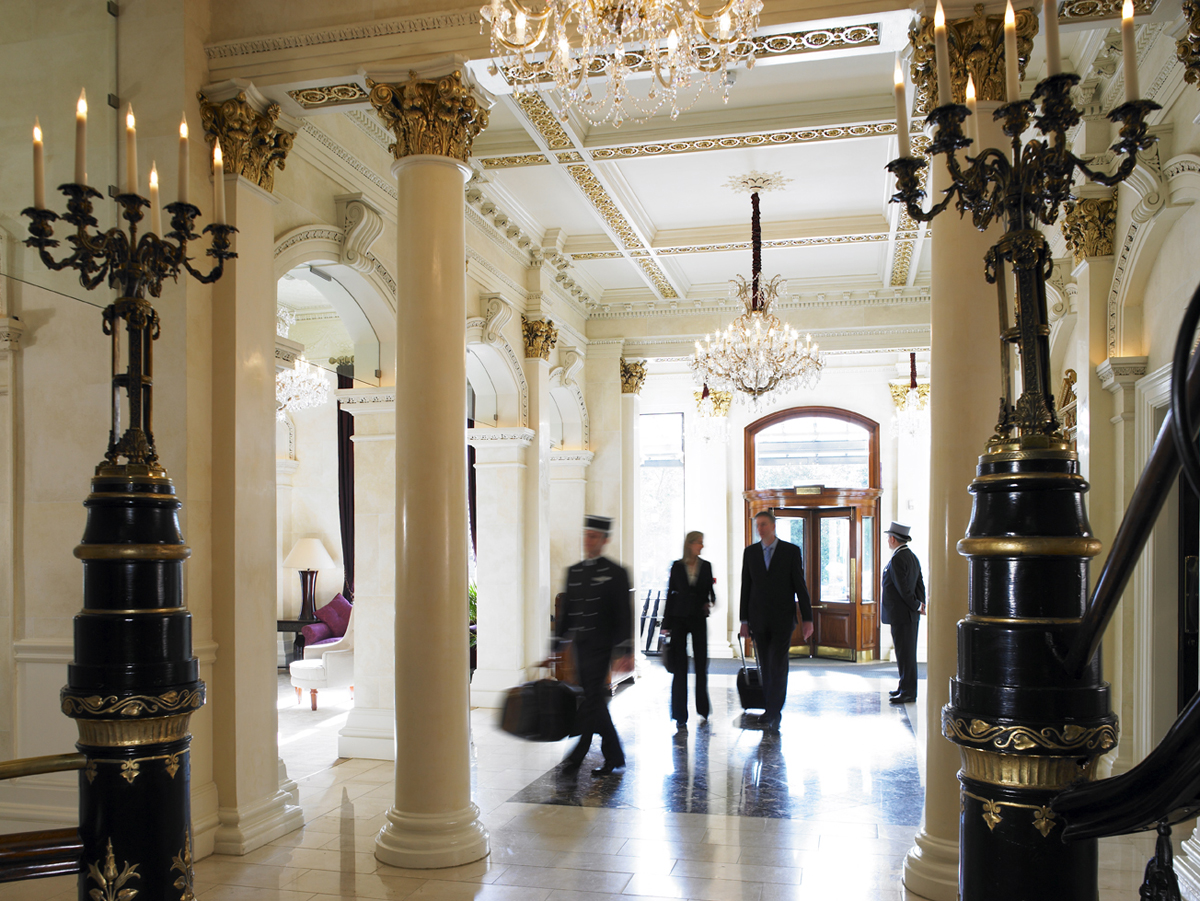 Dublin's stately Shelbourne hotel has been open for nearly 200 years and has seen a fair share of history being made in its confines. (The Irish Constitution was drafted there; movie stars and big-name politicians alike have had a cocktail at its Horseshoe Bar.) The hotel just wrapped up a massive renovation and proved an ideal place to stay during our recent trip to Dublin. Here's a peek at its grandiose features.
Rest
Your room will be your home base, so thank goodness for the TK-thread-count sheets here. The décor is stately and soothing, in champagne hues with Cinderella-blue accents; there's also a flat-screen TV, a marble soaking tub, and a plush bathrobe at the ready. After an overnight flight to Dublin, we lost steam early on the first night and were glad to have a room we could comfortably chill in. (With a tasty club sandwich, of course, thanks to the 24-hour room service.)
Eat
Speaking of snacks, don't leave without checking out breakfast in the Saddle Lounge (you'll find it on the lobby level). The breakfast is included in the room cost and offers everything from smoked-salmon omelets to pancakes with apple compote. There's also a juice bar in the restaurant, which stays open for lunch and dinner as well.
Drink
Though you'll want to get out and explore the nearby pubs (this is Dublin, after all), the hotel has a couple of bars worth visiting to get the night started. There's the smaller, historic Horseshoe Bar, as well as the sleek, lowly lit No. 27 Bar and Lounge across the hall. At the latter, look for eye-catching details and street-lamp-style lighting fixtures decking the tables. The signature cocktails include one named after Grace Kelly, one of the hundreds of celebs who have stayed at the hotel throughout its history. The princess-pretty drink is garnished with fresh rose petals.
Get Pampered
There's a full-service spa on site, as well as a fitness center equipped with a steam room, sauna, and lap pool. There's also—we were thrilled to discover—a brand new salon. In a former cloakroom decked with chandeliers and carved cherubs, the cozy space has services such blowouts named after style icons. The celebs' signature hairstyle is paired with a manicure and a glass of the stars' favorite drink—try the Grace Kelly to get a classic coif, a pink polish, and a chilled glass of rose champagne.
Explore
The hotel's central location makes it easy to travel around to big sites—or reach public transportation—by foot. We were blown away by the beautifully decorated bars lining the nearby Dawson Street (definitely check out the patio at Sams) and loved visiting the cute shops along Grafton Street. We also pretty much became regulars at Cornucopia, the city's oldest vegetarian and whole food joint. If you want to get outside the city, heading to Greystones in Wicklow makes for a quick day trip, and is the starting point for a gorgeous seaside hike that ends up in Bray Head.